Exhibiting an impressive display of skill at the Chase Center in San Francisco, the Oklahoma City Thunder secured a 130-123 overtime victory against the Golden State Warriors, handing the home team their 6th straight defeat. Shai Gilgeous-Alexander led the charge for the Thunder, amassing 40 points, seven rebounds, and six assists. Meanwhile, Steph Curry finished the game with 25 points, seven rebounds, and three assists in a valiant effort.
Despite the Warriors' belief that they had secured a late win with Andrew Wiggins' three-pointer three seconds before the end of the game, an unexpected twist unfolded. The Chase Center fell silent as rookie Chet Holmgren stunned the crowd with a game-tying three, sending the game into overtime. The Thunder outscored the Warriors 13-6 in overtime to secure the win.
Gilgeous-Alexander continues to showcase remarkable performance this season. Currently averaging 29.6 points, 6.2 rebounds, and 5.8 assists, he maintains impressive shooting percentages of 53.5% from the field, 36.0% from beyond the arc, and an exceptional 92.8% from the free-throw line. Undoubtedly, he stands as one of the best players in the NBA.
Next for the Thunders is a visit to the Paycom Center by the Chicago Bulls.
Shai Gilgeous-Alexander mocks Steph Curry
After the Thunder's overtime victory against the Warriors, Shai Gilgeous-Alexander posted a montage on his Instagram page, which seemed like him throwing shade at the Golden State Warriors star, Stephen Curry.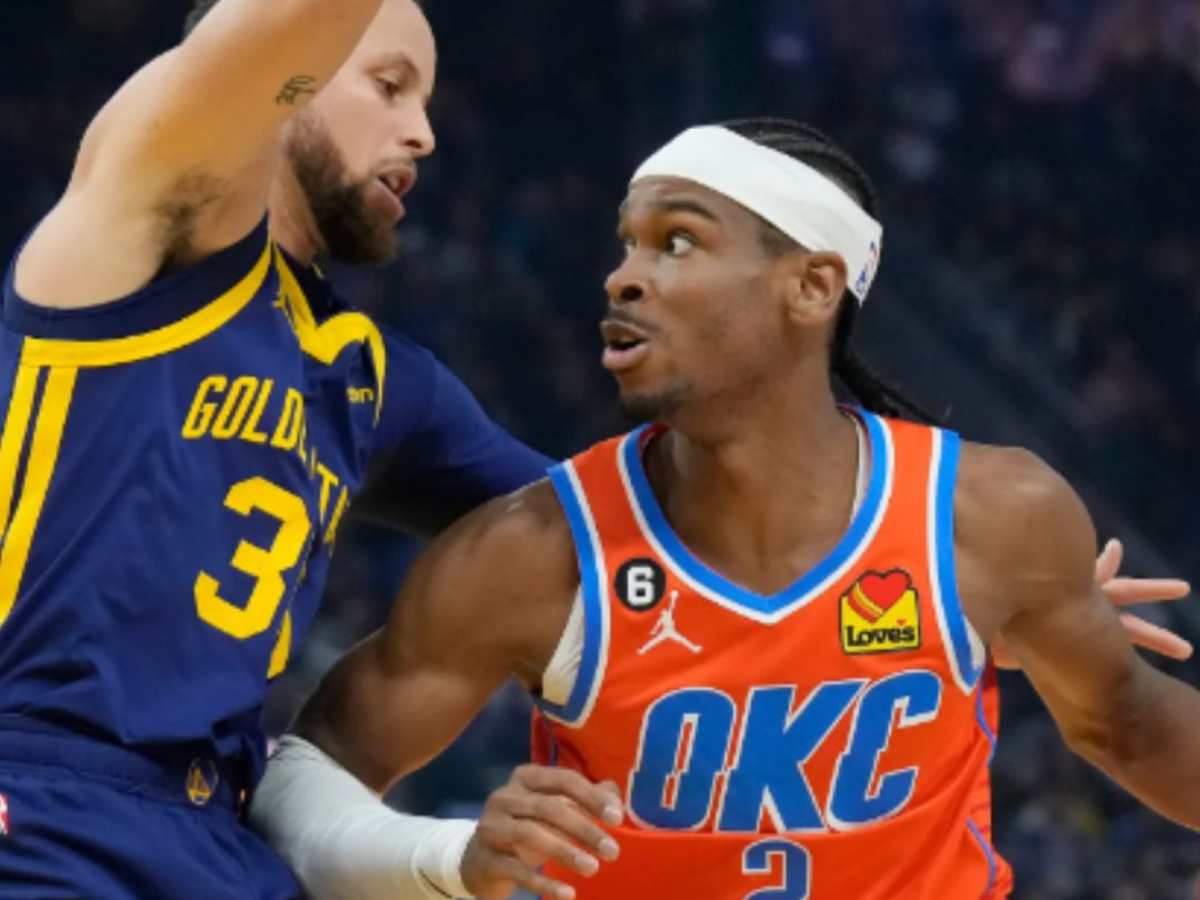 Despite Curry's return, Draymond Green continued to be absent from the lineup due to his suspension. Additionally, Klay Thompson struggled on the floor, going 5-of-13. On a positive note, Andrew Wiggins, who initially faced a slow start to the season, found his rhythm and scored an impressive 31 points on 12-of-19 shooting.
SGA put on a masterclass performance in OKC's overtime win against the Warriors and is among the frontrunners to win the NBA MVP award alongside Denver Nuggets' Nikola Jokic and reigning MVP Joel Embiid. Meanwhile, the Warriors find themselves in a significant slump, having suffered six consecutive losses. Their struggles extend to both ends of the floor, highlighting a challenging period for the team. Curry maintains a season average of 30.3 points, 4.8 rebounds, and 3.8 assists. The two-time MVP boasts impressive shooting percentages, hitting 47.9% overall, 44.7% from beyond the arc, and an exceptional 93.3% from the foul line.
In case you missed it: