Legendary quarterback Tom Brady announced his retirement from football for the second and final time on February 1, breaking millions of hearts all around the globe. The reason why everyone loved watching him play besides his insane skills and clutch victories at the last moments was because of the journey he had to reach that spot.
Brady was the 199th pick of the 2000 NFL draft and was overlooked by the entire league. That's when he decided to show everyone what a grave mistake they did, passing him over to others. And he did what he said he would do. Tom Brady went on to become the greatest quarterback of all time, winning 7 Super Bowls and basically every record a signal-caller can have.
The 45-year-old knew it was time to hand up his cleats, given the poor season he had in 2022. Brady went through a lot of personal trauma during the season, which directly impacted his game and he ended his 23rd season with an 8-9 record, which marks his only losing season.
Related: "They passing my dawg around like a blunt" – The Commanders release Carson Wentz after one season, NFL Twitter reacts
Quarterback to stand-up comic – Tom Brady planning to shift careers after retirement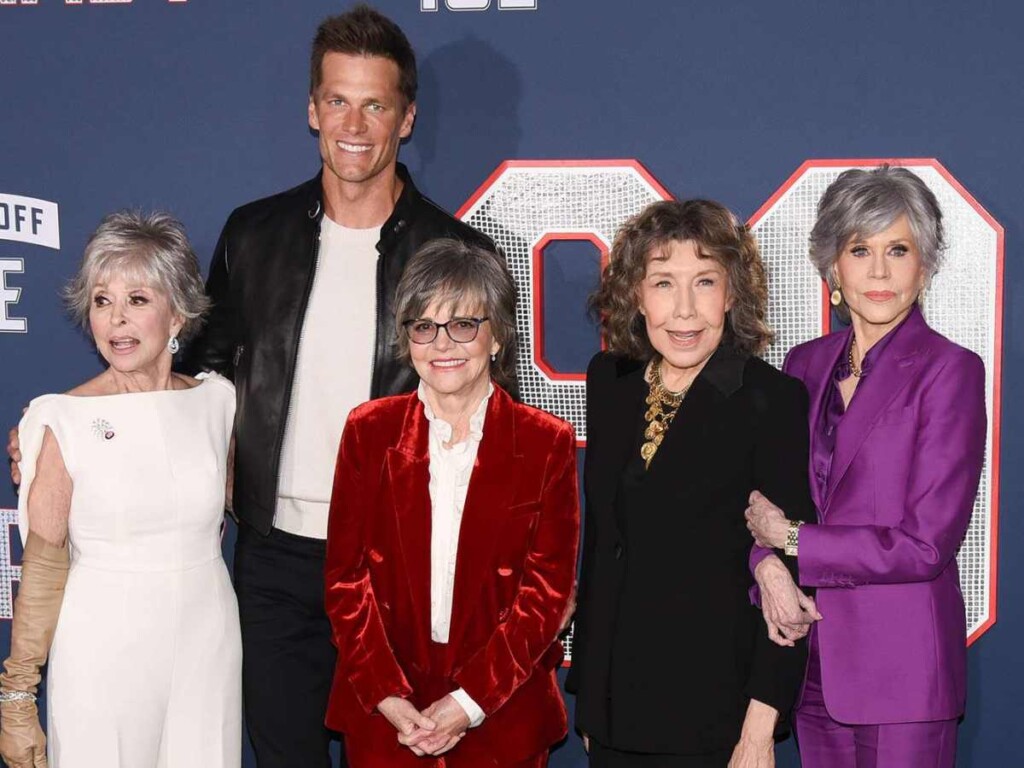 Retirement has been treating Tom Brady well. He is spending a lot of time with his kids and recently went on a skiing vacation with them and shared a lot of snaps of the family having the time of their lives on his Instagram stories. In the days following his retirement, Brady also went to the premier of his movie 80 for Brady and enjoyed himself.
His production company 199 Production also announced that they are developing a biography series on legendary head coach John Madden. While the 5x Super Bowl MVP hasn't decided on a specific thing he wishes to pursue but sources close to him revealed to RadarOnline.com that Tom Brady is looking to venture into the stand-up comedy scene.
As per the source, Tom Brady isn't nearly as good at stand-up as he is at being a quarterback. "Tom was a terrific quarterback, but he needs to toss this idea before it's too late," the source said after sitting through Brady's show. "As a comic — he's strictly a water boy. He'll be playing in a whole different league if he takes up the stand-up stage. He does a great impersonation of former teammate Rob Gronkowski — and his over-the-top Boston accent is hilarious."
Looks like we won't be seeing Tom Brady on the stand-up comedy circuit anytime soon. We are all familiar with how Brady responds to being overlooked and criticized. Maybe this is the incentive he needs to become the next greatest comic! Who knows? This might actually happen. Let's hope he shares some spicy stuff from his locker room days and gives the fans an inside look into the life of the GOAT!
Do follow us on: Facebook | Instagram | Twitter
Related: 'End of an era?' Packers reportedly set to move on from Aaron Rodgers as they believe in Jordan Love's ability to lead the team
Related: 'Back to where he belongs?' Geno Smith attracts interest from the Jets after Zach Wilson fails to prove himself as a franchise QB