The Chicago Bears and the Tampa Bay Buccaneers played each other on Sunday. The Bucs came out of that game with a record of 2-0, whereas the Bears slipped to 0-2. The Bears QB Justin Fields hasn't had a great start to the season, and that has reflected on the team's poor start. He finished the game against the Bucs with 211 passing yards and 2 interceptions.
Fields was drafted by the Bears in the first round of the 2021 NFL Draft. There were a lot of expectations surrounding Fields when he entered the league. He received a lot of criticism for his decision-making as he missed wide-open receivers on some of the plays on Sunday. He opened up about his play to the Chicago media on Wednesday.
"I felt like I was playing robotic," Fields said. "My goal this week is to say F it and just play football. That's when I play my best when I am out there playing free. I am going to go out there and be me. That includes thinking less and just going out there and playing off of instincts rather than so to say info and data in my head." He blamed "coaching" for his struggle during the Bucs game.
Fields also talked about a critical third-down strip sack. He said that his internal clock told him to get out of the pocket and make a play. "I'm leaving. I'm gone. Time clock, I'm gone out of the pocket." Fields said.
Fields and the Bears will take on the reigning Super Bowl champions, the Kansas City Chiefs in their next game. It will be another test for the Bears and Fields and they will have to come up with a sound gameplan or else they will be staring down the barrel of a 0-3 deficit.
Related: Is Carson Wentz still playing football?
Bears CB Jaylen Johnson says Justin Fields is 'not himself' after two poor performances
Justin Fields has struggled in the first two games of the season. He hasn't looked comfortable with the Bears' offense. He completed only 16 of his 29 pass attempts against the Tampa Bay Buccaneers in the Bears' week 2 loss.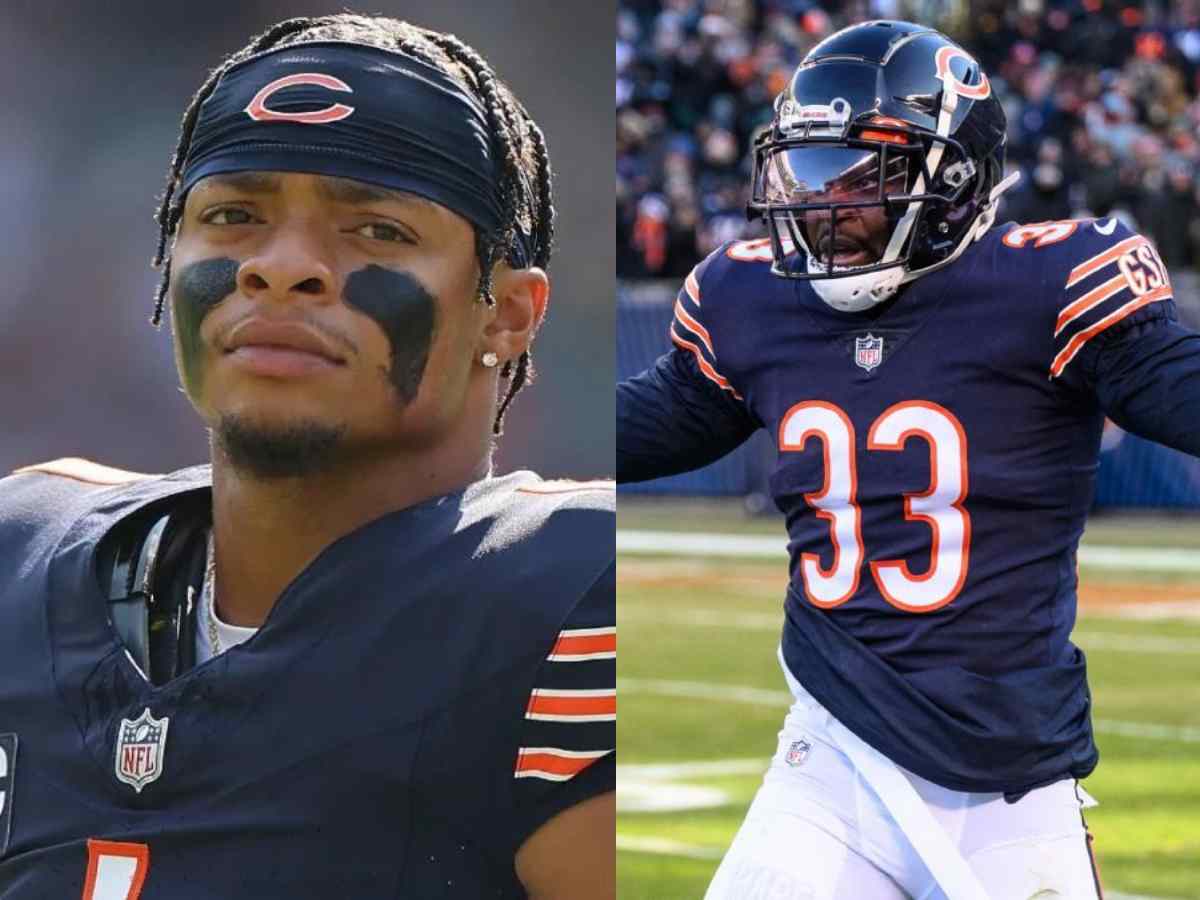 Bears starting CB Jaylen Johnson got candid on his starting QB saying, "I can definitely say that I know he's not himself, I know that he can definitely play the game at a high level. Now the answer to why? I'm not sure. Maybe it's a lot of things going mentally."
He further continued, "I definitely know it's not a physical thing. He can do whatever he puts his mind to. I think it's just him getting back to himself, getting back to what works best for him and not what works for anybody else … I think he just has to go out there and play each game."
Fields opened up about his struggles saying he felt 'robotic' during the Bucs game. The Bears will play their next game against the Kansas City Chiefs and Fields will hope to get his act together as soon as possible or else the Bears will be looking at a long season ahead.
In case you missed it:
Do follow us on: Facebook | Instagram | Twitter
Follow Firstsportz on WhatsApp Channel