The New England Patriots' head coach Bill Belichick is a certified Taylor Swift fan. He recently revealed that he watched Swift perform at the Gillette Stadium on a rainy night and admired her performance. In a recent appearance on the WEEI's 'The Greg Hill Show,' Belichick was asked about the budding romance between Swift and Kansas City Chiefs' TE Travis Kelce.
The rumors of Kelce dating Swift were more or less confirmed by Travis Kelce's brother, Jason Kelce, in a recent interview. Swift was present at the Chiefs' game on Sunday at the Arrowhead Stadium against the Chicago Bears. She was sitting with Kelce's mother, Donna Kelce, and celebrated a touchdown reception from her rumored boyfriend.
Belichick was asked about his thoughts on the situation between Kelce and Swift. He joked about it, saying, "I would say that Travis Kelce has had a lot of big catches in his career, this would be the biggest." The Patriots and the Chiefs have played each other seven times since Kelce got drafted into the league in 2013, with the Chiefs holding a 4-3 advantage. So Belichick knows a thing or two about Kelce and big catches.
The rumors of Kelce and Swift started picking pace when the Chiefs' All-Pro TE invited the singer to watch a game at Arrowhead Stadium. "I've seen you rock the stage in Arrowhead," Kelce said on a recent episode of The Pat McAfee Show. "You might have to come see me rock the stage in Arrowhead and see which one's a little more lit." Rock the stage he did!
Related: "This ain't 2005" – NFL fans have mixed reactions for Usher being named as the headliner for the 2024 Super Bowl halftime show
Taylor Swift celebrated Travis Kelce's touchdown with his mother
Taylor Swift and Travis Kelce are apparently a thing now. The rumors had started swirling this past week when Kelce revealed that he had invited Swift to watch him play on Sunday. Swift accepted that invitation and was seen sitting in the suite with Kelce's mother, Donna Kelce.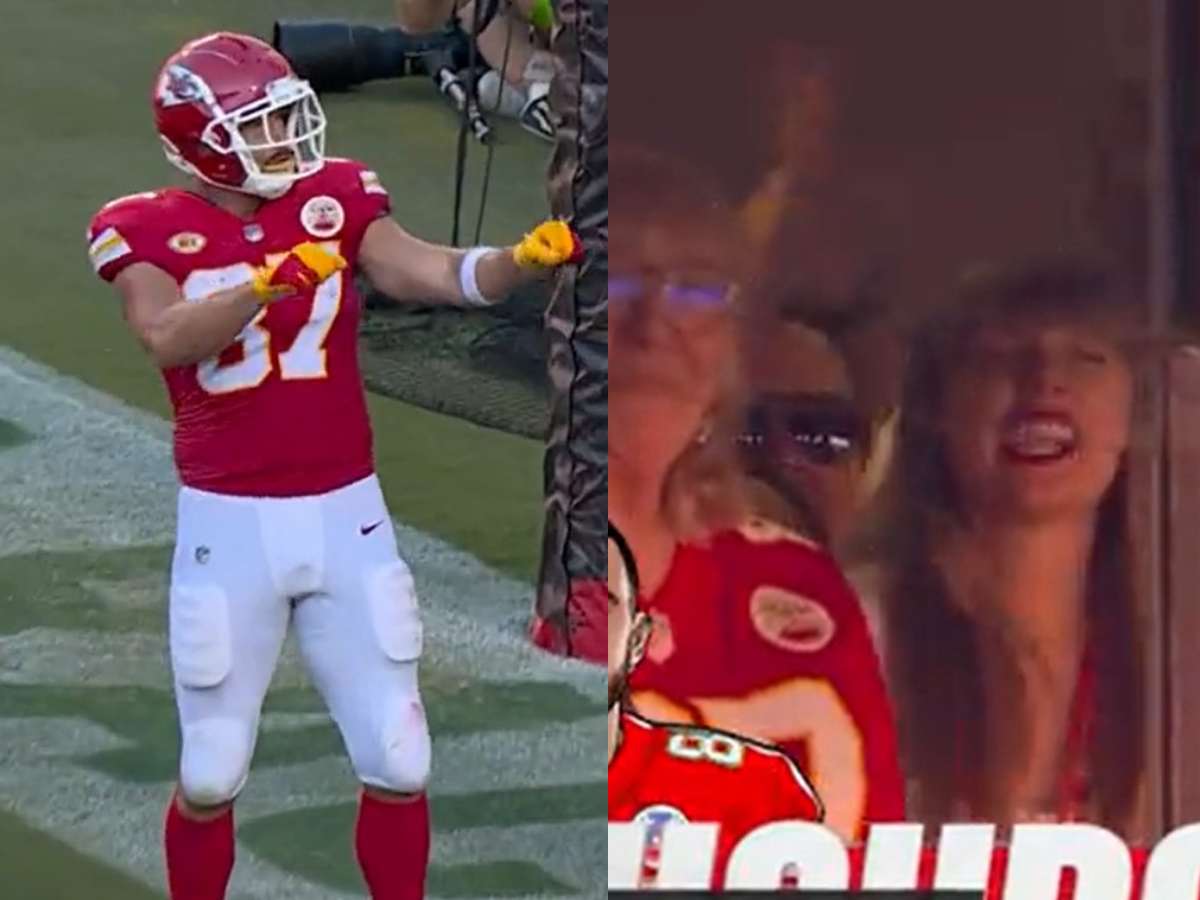 Kelce had a good game against the Chicago Bears on Sunday as he caught a pass from QB Patrick Mahomes for a touchdown. The cameras instantly shifted to the suite where Swift was sitting. She was seen celebrating the touchdown, yelling "Lets f****** go!"
The Kansas City Chiefs ended up winning the game against the Bears, 41-10. Kelce had seven receptions for 69 yards and one score. The Chiefs have now improved to 2-1 and they will play the New York Jets next Monday, October 2.
In case you missed it:
Do follow us on: Facebook | Instagram | Twitter
Follow FirstSportz on WhatsApp Channel