There are multiple instances of athletes fighting against addiction odds. Their journeys often inspire sports lovers. Jim Irsay, the owner of the Indianapolis Colts, seems is also not an exception in this case. Though he is not an athlete, his journey against his addictive habit might prove inspiring for many.
The 64-year-old Indianapolis Colts owner's issues with addiction are not a secret. The enthusiasts of the NFL world are well aware of his struggles to get back to the rhythm of a stable life.
In a recent interview with Andrea Kremer for Real Sports on HBO, the veteran shed more light on the addiction issues. Irsay admitted he almost got himself killed with the addiction habits. He even admitted that he overdosed on drugs when the interviewer had a particular drug-related question.
One time, I was trying to detox myself, and I mixed multiple drugs that I didn't know anything about. So all of a sudden, I start slurring my words. And then code blue, I stop breathing. And they revive me and the doctor goes, 'Jim, you're one lucky man because I had virtually signed the death certificate'
His addictive issues started playing out in public in 2014. He was a sitting owner at that time. Irsay went to rehab after police arrested him on charges of driving under the influence and four felony counts of possessing a controlled substance. In addition to that, the NFL suspended him for six games and fined him $500,000.
Police later revealed that they found multiple bottles of prescribed drugs and a high amount of cash ($29,000). He failed to pass the sobriety test and his driving license also got suspended for a year.
Rehab took an important place in Irsay's life as the Colts' owner was subjected to rehabilitation centers 15 times. However, Irsay has got back to his usual life and opened himself up multiple times regarding his struggles.
'Overcoming addiction' stories are in abundance in the NFL
The story of Jim Irsay draws a significant similarity to Maxx Crosby's journey against addiction. The Las Vegas Raiders' star defensive end was on the verge of losing his sanity due to his addictive issues. However, he came back strongly. Like Irsay, he also spent a significant time in his career in rehab. However, his stint at rehab was not long like Irsay's.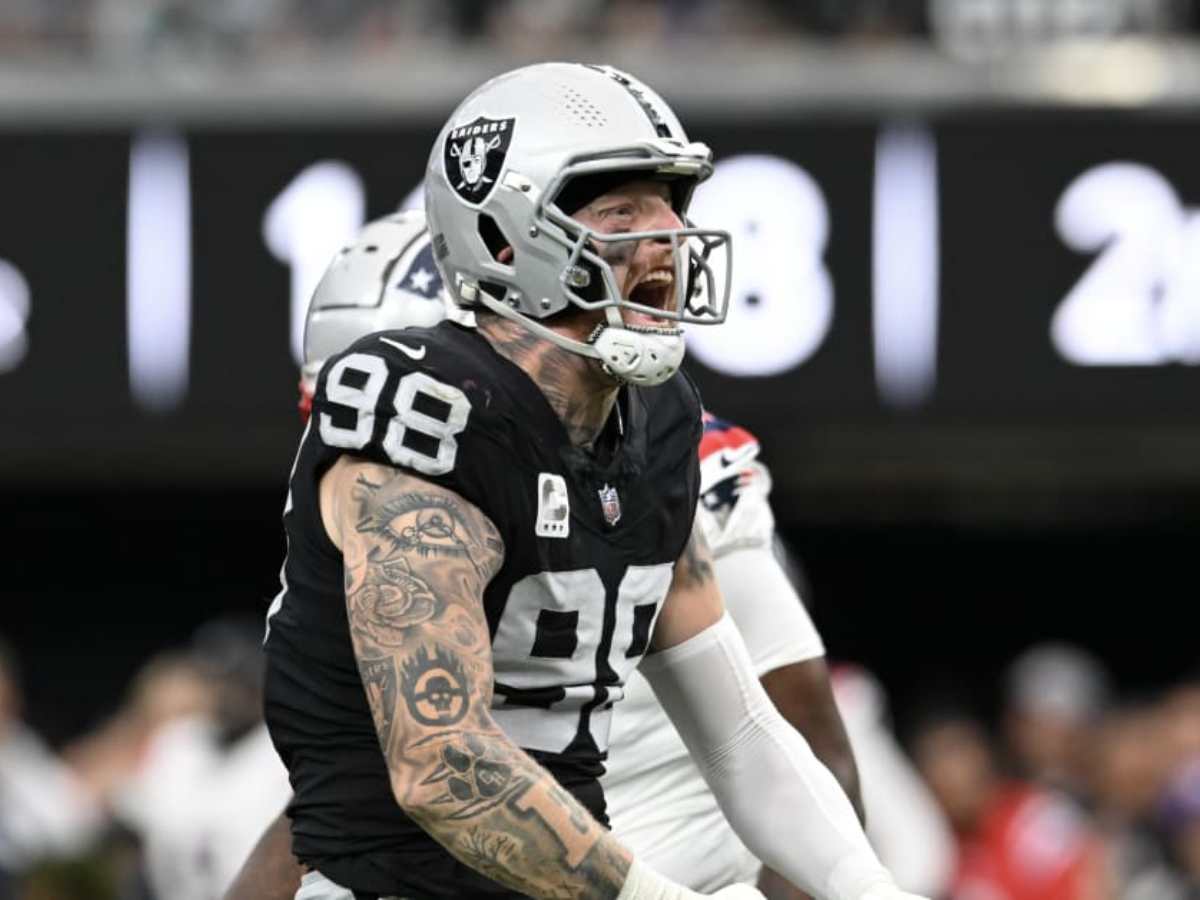 In the last month's episode of his podcast 'The Rush', the DE shared his experience with sobriety. As a remembrance of his sobriety, Crosby wears a triangle facemask.
The triangle to me represents sobriety. It's everything. It's why I'm here. It's why I'm doing this podcast with y'all. It's why I got a beautiful daughter, a family, great circle of people.It literally is everything. If I didn't make that decision to clean my life up, get in AA and the 12 steps, I wouldn't be here. So that's literally what it comes down to. 
Crosby opened up about this aspect after the NFL asked the DE to change his triangle facemask in the game against the New England Patriots in Week 6.
In case you missed it: