Patrick Mahomes is considered the modern-day gold standard amongst quarterbacks in the NFL. While it was Tom Brady a few years ago, Mahomes has now become the QB that teams want to have and players aspire to be.
Quarterbacks in the NFL are constantly compared to one another and that makes sense, let's say the Chiefs are playing the Eagles, it would be natural to compare Patrick Mahomes and Jalen Hurts because they are the starting QBs and are going up against one another.
However, what if one decided to start comparing Patrick Mahomes or Jalen Hurts to Tua Tagovailoa in a game where they are not even playing? This is exactly what happened on Sunday Night Football when broadcaster Cris Collinsworth decided to name-drop his golden boy Patrick Mahomes and compare an offensive play made by Russell Wilson and the Denver Broncos to a play the Chiefs' QB made a year ago.
Cris Collinsworth exclaimed after seeing the play,
When I first saw it, I almost screamed Patrick Mahomes. Just like the one in Tampa a year ago.
The analyst then went on to say that he held himself back from doing so because he did not want to go down the path of comparing this play to what Pat has done in the past.
Cris Collinsworth got trolled online for his irrelevant reference of Patrick Mahomes
The broadcaster went on to justify his comparison of the play to what Patrick Mahomes did by saying,
You can't help yourself because there are flashes of those kind of plays.
Fans online did not understand why Cris Collinsworth was hell-bent on bringing Patrick Mahomes up in between a game wherein he is not even playing.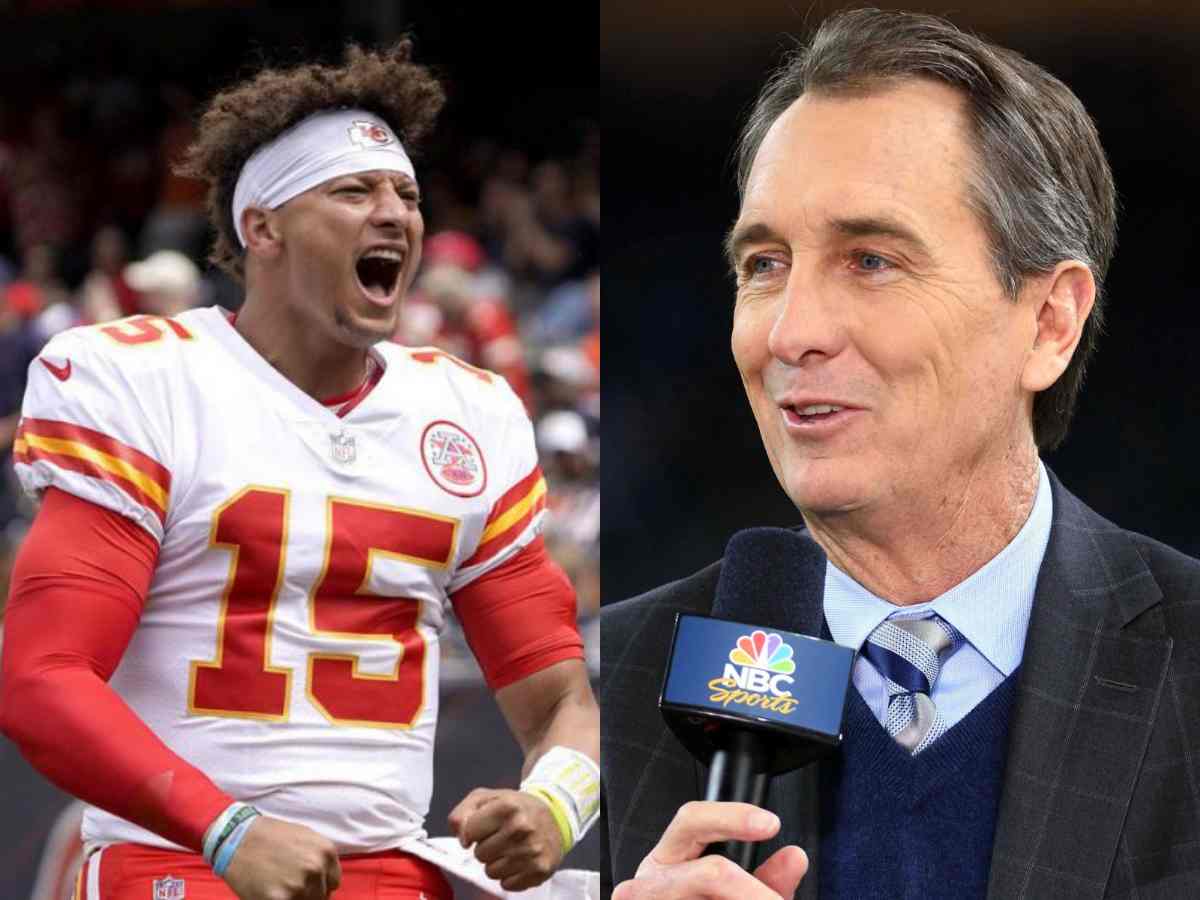 This infuriated them because some believed that the broadcaster was allowing his personal bias for Mahomes to get in the way of his job and overlook the talents and plays made by the two talented QBs on the field.
Cris Collinsworth meatriding Mahomes in a game he's not even playing inpic.twitter.com/p8BsZ62ZVb

— Barstool Sports (@barstoolsports) November 20, 2023
Bro is balls deep in Mahomes

— American Dad (@_NotAmericanDad) November 20, 2023
Well, I guess Aaron Rodgers got replaced in Collingsworth's obsession

— Generic Lions Fan (@LionDetroit20) November 20, 2023
Chris Collinsworth tonight broadcasting pic.twitter.com/uDAmZEt5Eh

— Slowpoke Rodriguez (Chubby Boxer) (@ChubbyTrevno) November 20, 2023
Collinsworth isn't even in the top 5 worst announcers of the past 5 years.

— Just A Cryptosis (@justacryptosis) November 20, 2023
He was pretty quiet when the Broncos won 😂

— Lt. Bella Lexi 👮🏼 (@real_bella_lexi) November 20, 2023
Did Taylor swift get a mention?! If not fire him immediately

— Harecules (@harecules) November 20, 2023
He does love mahomes

— Tommy (@tm1515152005) November 20, 2023
What would have be the reason for this

— @Psalmist22 (@EkedumA) November 20, 2023
Can't stand him or Mahomes

— Brian patrick (@br56pat) November 20, 2023
The broadcaster got called out for his statement. The Denver Broncos won the thriller against the Minnesota Vikings owing to a game-winning drive from Russell Wilson.
In case you missed it: