Philadelphia Eagles, the No.1 NFC seed with a 14-3 regular season, came up short in the Super Bowl. Jalen Hurts scored when it was required of him during the entire game and tied it 35-35 with less than 2 minutes left in the game. However, a holding penalty by cornerback James Bradberry gave the Chiefs a new set of downs to convert on and win the game.
The holding penalty called on Bradberry by the refs created a lot of debate on social media. Fans were divided into two factions – Chiefs fans on one side and literally everyone else on the other. The second faction accused the NFL of favoring their 'Golden Boy' Patrick Mahomes and Kansas City and intentionally flagging the play which wouldn't have been on any other day.
The same thing also happened in the AFC Championship game when Cincinnati Bengals' Joseph Ossai was given an unnecessary roughing passer penalty, which put the Chiefs in field goal range and they kicked it to advance to the Super Bowl. Still, there were some who hurled expletives at James Bradberry and trolled him for tugging at JuJu Smith-Schuster's jersey.
Related: Odell Beckham Jr takes a shot at New York Giants for trading Kadarius Toney after his record-breaking performance in Super Bowl LVII
James Bradberry is looking for a team to play in 2023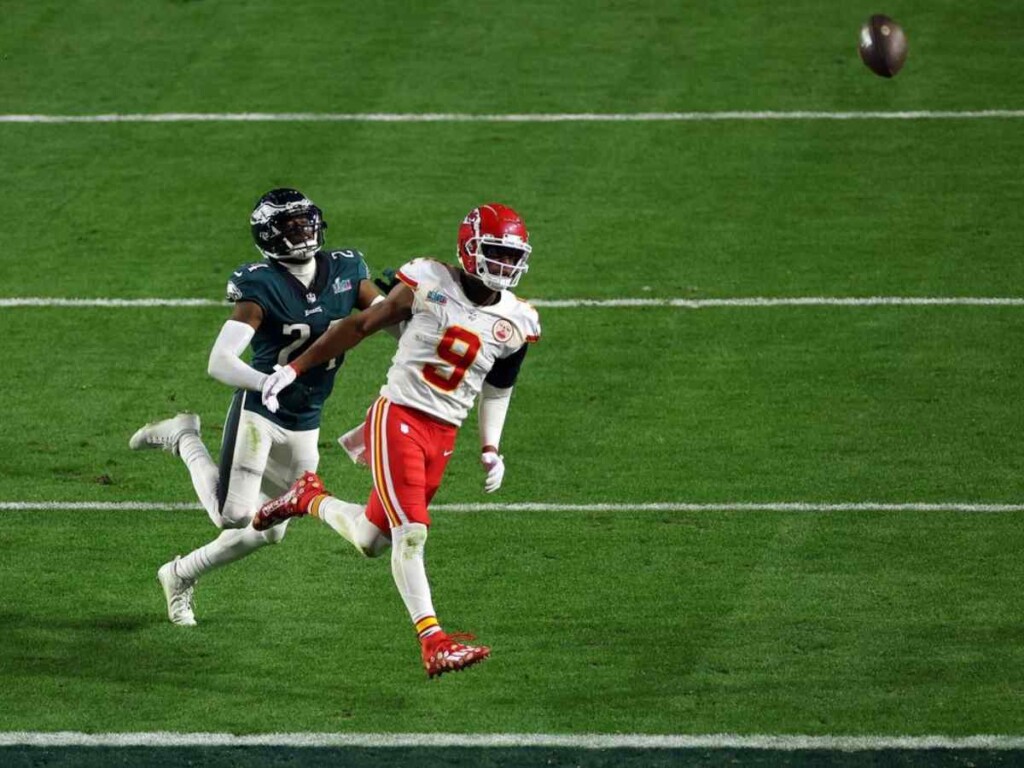 After the game ended, cornerback James Bradberry owned up to his penalty during the locker room interview and admitted that he tugged at Smith-Schuster's jersey but was hoping the refs would let it slide. The 29-year-old was drafted in the second round of the 2016 NFL draft by the Carolina Panthers. After completing his rookie contract with the Panthers, he signed with the New York Giants but was released after two seasons. In May 2022, the Eagles signed him to a one-year $7.5 million contract.
Bradberry's contract is up and he is now a free agent, along with 18 other Eagles players. The now-infamous cornerback had a good season with Philly as he recorded 42 solo tackles, 3 interceptions, and 17 pass breakups, which earned him a second-team All-Pro nomination. James Bradberry knows he has had a great season and can leverage that into getting a lucrative contract, but not necessarily with the Eagles.
While talking with Eliot Shorr-Parks of 94 WIP, Bradberry revealed his plans moving forward in terms of his contract. "It's kind of hard to put like a percentage on which one is more important," Bradberry said. "It's kind of just based upon case-by-case scenario. But I do know those two things are probably the most important to me — being on a good roster, having the ability to get to the playoffs and win in the playoffs, but also I don't want to play for cheap, you know."
Unlike fans, teams know that one play doesn't make or break a player and with the great numbers Bradberry has put up, he is bound to get huge offers. It'll be interesting to see which team scoops him up in the free agency.
Do follow us on: Facebook | Instagram | Twitter
Related: Patrick Mahomes reveals what was the THREAT that HC Andy Reid issued to players midst Rihanna's halftime show
Related: "The league needs good quarterbacks," Tom Brady gives his verdict on Aaron Rodgers' potential retirement