A disappointing result for the Green Bay Packers as the team lost against the Detroit Lions by a margin of 34-20. The Lions killed the game in the first half after they got a lead of 27-3. It became impossible for the Packers to come back after such a result in the first half.
Addressing the media in the post-match presentation, Matt LaFleur, the head coach (HC) of the Packers, lost his mind over a question. A media person asked what went wrong in the first half and the coach lost his cool. In utter disgust, he answered, "We got our a– kicked. If I knew, it wouldn't have happened. That's a BS question, man," he said. "They came in and whooped us pretty good. They manhandled us, really, in every has," he further added. 
The coach has every right to become angry as the team failed to create any impact on the field.  Though they tried to make a comeback in the third quarter by then the game was already dead. LaFleur had high hopes for his team and thought that they would provide more effort to clinch a win. Last season, the Lions beat the Packers and that loss cost themselves high as the team failed to make it to the playoffs. This was a match of vengeance for the Packers, however, they ruined the opportunity. 
The game registered poor performance from none other than Jordan Love who was sacked four times in the first half. The team choked despite not suffering a lot of offensive efforts from the Lions. The coach tried to inspire his players at the break but it all went in vain.
Related:Travis Kelce breaks down his 'magical' night with Taylor Swift with a cheeky 'Getaway car' reference
Jordan Love's performance this season for Green Bay
For the first time in 18 years, the Packers are playing without Aaron Rodgers as the legendary quarterback jumped onto the boats of the New York Jets this offseason.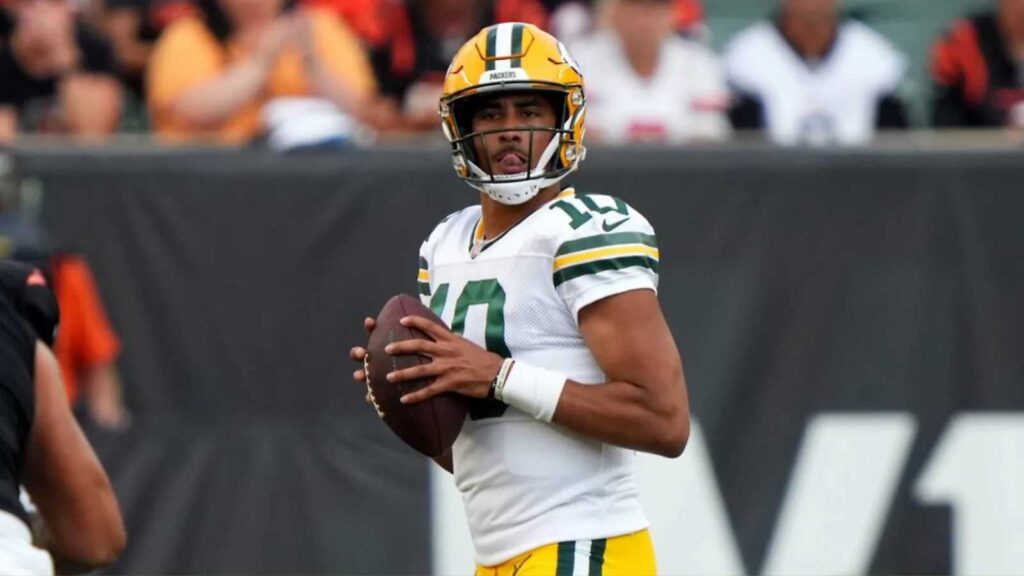 Jordan Love stepped into his shoes and was named the regular starting quarterback. After three years of waiting, Love was given this opportunity to showcase his skillset. 
As a starting quarterback Love did not disappoint. In four games, he covered 901 passing yards and registered 8 touchdowns. He was intercepted three times. After three games, the player has a QBR of 52.1. His passing completion rate is 56.1%. The player needs to perform better than what he is doing. He is not disappointing but can perform better than this.
In case you missed it:
Do follow us on: Facebook | Instagram | Twitter
Follow FirstSportz on WhatsApp Channel