They say there's a first for everything. Well, for Kansas City Chiefs star quarterback Patrick Mahomes, his goal of defeating the Cincinnati Bengals has come true. Going into the AFC Championship game 0-3 against the Bengals, Patrick Mahomes produced a brilliant performance to oust them.
The Chiefs defeated the Bengals 23-20 in the AFC Championship game and will now have a shot to win the Super Bowl. What adds more intensity to this is the fact that Patrick Mahomes played this game with an ankle sprain and yet managed to do so well.
Mahomes finished the game with 29 out of 43 passes completed, threw for 326 yards, two touchdowns, and zero interceptions. On the other hand, Joe Burrow completed 26 out of 41, threw for 270 yards, one touchdown, and two interceptions.
Related: "F**king bulls**t" – NFL Twitter accuse the referees of 'foul play' for their 'brainless' call to give the Chiefs "a 5th-down" against the Bengals in the Championship game
Shannon Sharpe puts Patrick Mahomes miles ahead of Bengals' Joe Burrow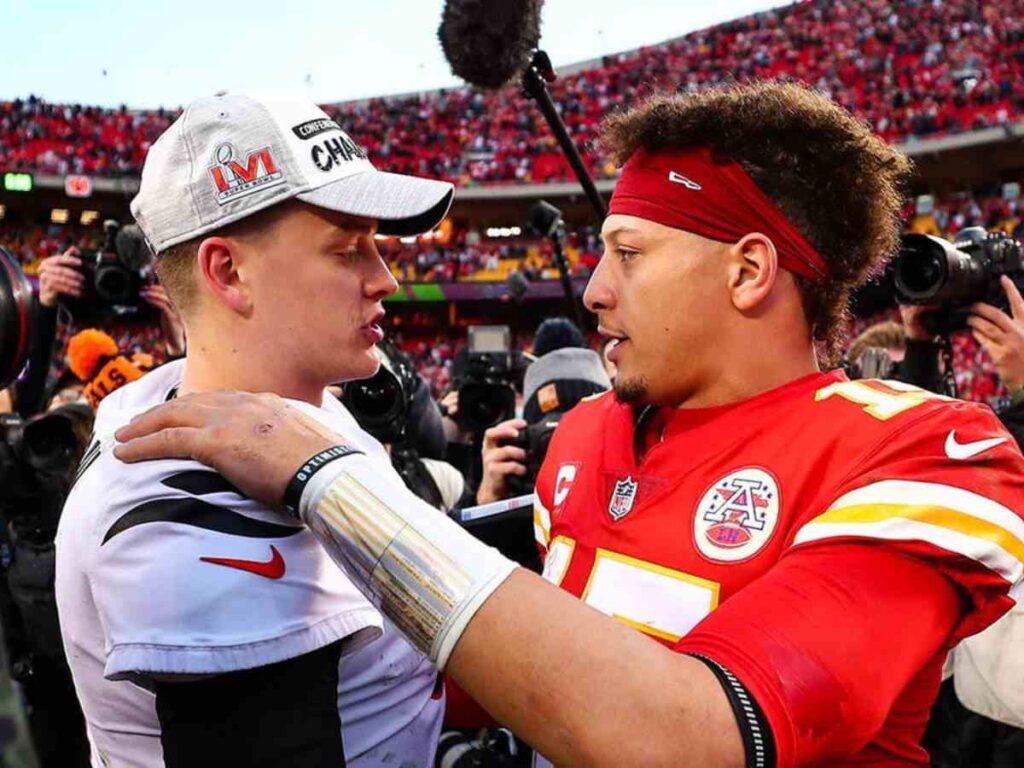 Speaking on the Undisputed Show NFL pundit and analyst Shannon Sharpe revealed his thoughts on Joe Burrow and Patrick Mahomes. Sharpe was clear in his mindset that Joe Burrow doesn't come close to Mahomes at this stage and the Kansas City Chiefs man is the best in the NFL currently. Additionally, Sharpe added that there's nothing to debate about who's better, as Patrick Mahomes is the clear winner.
"There was really no debate. There's nothing to debate. The resumes don't line up, and I think he put that notion to bed yesterday with the performance that he had. He answered all the questions," Sharpe said.
"He checked all the boxes yesterday. He [is saying], 'until other notice, I am, unquestioned, the best quarterback in football.' Yesterday you saw the great attributes [that] Patrick Mahomes possesses."
Shannon Sharpe did appreciate Joe Burrow as well but believes this competition definitely belongs to Patrick Mahomes at the moment. Even if an ankle sprain against an inform Cincinnati Bengals team, he pulled out the goods.
"I watched Joe Burrow slightly, I'll just go slightly outplay Patrick Mahomes yet again. He was in position to be 4-0 against Patrick Mahomes. But I'm gonna give Mahomes this. He was on an ankle that I thought was about 80%. That's what I predicted it would be, and that's exactly what it was. And he practiced all week," said Sharpe.
Do follow us on: Facebook | Instagram | Twitter
Related: "Jimmy G is a fraud" – NFL Twitter ANGRY on Jimmy Garoppolo for laughing on the sidelines as the 49ers watched their Super Bowl dream go down the drain
Related: WATCH: "F*cking broke b**ch," Chargers OLB Joey Bosa gets into a fierce NSFW altercation with a heckling Eagles fan