Skip Bayless and Shannon Sharpe are part of the famous sports talk show UNDISPUTED. Sharpe and Bayless have been a dynamic duo on sports television since they joined forces back in 2016. Bayless ended his partnership with ESPN and Stephen A. Smith to create a new show for the Fox Network with Sharpe as his co-host.
And now, after a successful run that lasted nearly eight years, reports suggest Shannon Sharpe has reached a buyout agreement with Fox Network. Sharpe's final appearance on the show is expected to be after the NBA Finals between the Denver Nuggets and the Miami Heat, which will conclude in June. Furthermore, Sharpe's own popular podcast, "Club Shay Shay," which predominantly airs on Youtube, will also be leaving Fox Sports, according to a report by The New York Post.
This fallout has been predicted by a lot of people since there was a visible drift in the relationship between Shannon Sharpe and Skip Bayless in the last few months. Back in December, when the Buffalo Bills defensive back Damar Hamlin collapsed on the field due to cardiac arrest, Bayless posted a controversial tweet that angered a lot of people, including Sharpe.
"No doubt the NFL is considering postponing the rest of this game – but how? This late in the season, a game of this magnitude is crucial to the regular-season outcome … which suddenly seems so irrelevant," tweeted Bayless.
Related: Bills star QB Josh Allen and Hailee Steinfeld raise romance rumors with NYC 'sushi date'
Shannon Sharpe and Skip Bayless fallout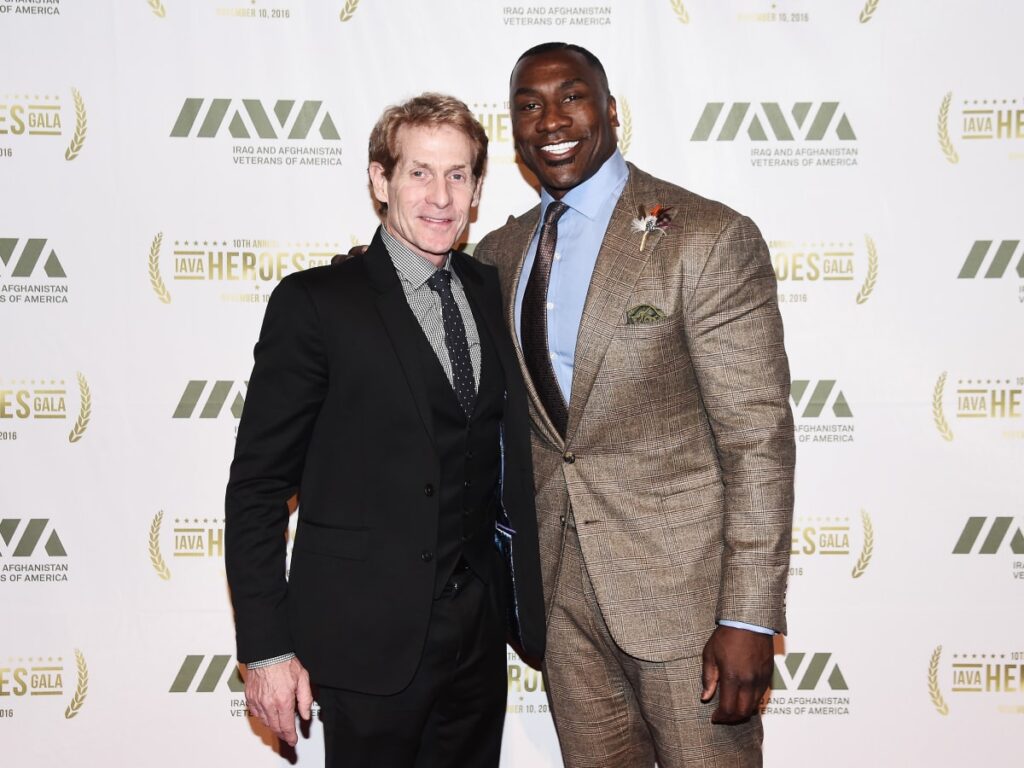 Following his controversial tweet, the UNDISPUTED show host Skip Bayless received a lot of heat on social media. An irritated Shannon Sharpe stayed home and skipped the show the next morning.
When Sharpe returned to the show, he implied that taking the tweet down would be a better move by Bayless, but the 71-year-old NFL analyst stood by his tweet and refused to delete it.
Most people believe that's where the fallout began between Skip Bayless and Shannon Sharpe. Additionally, back in December, Bayless took a shot at Sharpe's age when defending the Tampa Bay Buccaneers QB Tom Brady's poor performance in the 2022 NFL season.
The tension has been growing between the two great talk show hosts in the past few months, which has led to Sharpe leaving the show. There is no news about Shannon Sharpe's future or his replacement in the show UNDISPUTED yet.
Shannon Sharpe's parents are Pete Sharpe and Mary Alice Dixon and he played in the NFL for 14 years with two different teams. During his time in the league, he received eight Pro Bowl nods, four first-team All-Pro recognitions, and has won the Super Bowl ring three times. He was inducted into the Pro Football Hall of Fame as a player in 2011.
Do follow us on: Facebook | Instagram | Twitter
In case you missed it!