Tyreek Hill is fast. His nickname is 'the Cheetah' for crying out loud. Of course, he is fast! But sometimes, even his colleagues are left mesmerized by his speed. The Miami Dolphins' star man is one of the best players at his position in the sport right now. Travis Kelce knows about it too, as they both won a Super Bowl together in Kansas City.
However, it seems like Travis' brother and Philadelphia Eagles' star center, Jason Kelce often underestimates the explosive speed of Hill. On a recent edition of their show, New Heights, the Kelce brothers talked about the former Chiefs' star receiver. The big lineman fawned over Hill's 'impeccable' speed as he called it 'insane.'
Jason Kelce said on the show:
Can I just say, every time I think I'm used to how fast Tyreek Hill is, I'm not used to it...I mean it's insane! 
That cracked Travis Kelce up as he admitted through fits of laughter and acknowledged Jason saying that there is nothing like it. Jason continued his praise as he said:
TV does not do justice like you see it on the field, you're like, 'bro how is he that quick?'
The Eagles' star center played against Hill during the Dolphins-Eagles matchup in week 7.
Hill is having a fantastic year with the Dolphins. He is on pace to break the single-season receiving yards record and has already accumulated 1,076 yards and 8 touchdowns through nine games of the season. He and the Dolphins are currently 6-3 and are in prime position to win their division this season.
Tyreek Hill heads to the locker room in the second quarter with an injury
The Miami Dolphins are currently locked in a tight battle against the Las Vegas Raiders. The Dolphins are leading the game by one point after the first half. However, their star man, Tyreek Hill left the game with an apparent hand injury in the second quarter.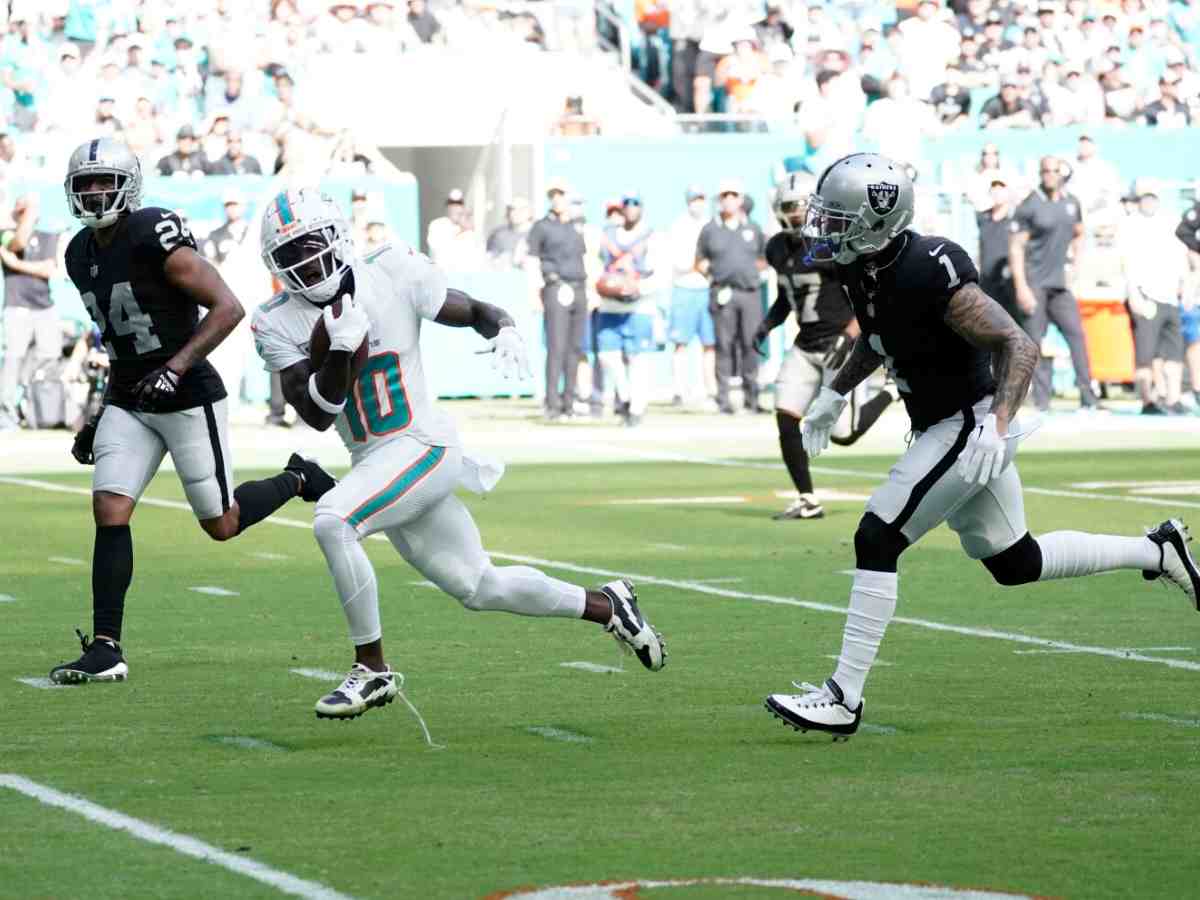 The injury took place during a fourth-down play as Hill was tackled and stopped on the play. He immediately went to the locker room with the trainers following the play. Hill was clutching his right hand/wrist while heading to the locker room. The receiver, however, returned to the sideline and wore his helmet later in the second quarter.
Hill already has a 38-yard touchdown catch that gave the Dolphins a 7-3 lead. He has seven receptions for 80 yards and one touchdown through two quarters and is well set to have a huge game. The only concern for the Dolphins fans would be his injury.
In case you missed it: