Five years back on February 4, 2017, the Philadelphia Eagles won their first Super Bowl in franchise history, all thanks to quarterback Nick Foles, who outplayed NFL legend Tom Brady and the titans New England Patriots. Foles was named the Super Bowl MVP for the exceptional performance that had him completing 28 of his 43 passes for 373 yards, 3 touchdowns, and 1 interception.
Nick Foles will always be remembered as a legend in Philadelphia for his "Philly Special" play on fourth and goal during the final few seconds of the second quarter. Tight end Trey Burton threw the football to Foles, who caught it for a touchdown, and eventually, the Eagles went on to win Super Bowl LII 41-33.
With the Eagles making it to the Super Bowl once again under the leadership of Jalen Hurts, the former Philly quarterback had some great advice to pass on to the youngster who will be starting in his first-ever world championship game against Patrick Mahomes and the Chiefs who have made it to that stage three times in the last five years.
Related: "I plan on becoming a billionaire just like him," Dez Bryant levels heavy accusations against Donald Trump while aspiring to be a 'billionaire' like him
Nick Foles wants Jalen Hurts to continue the momentum he's had up until this point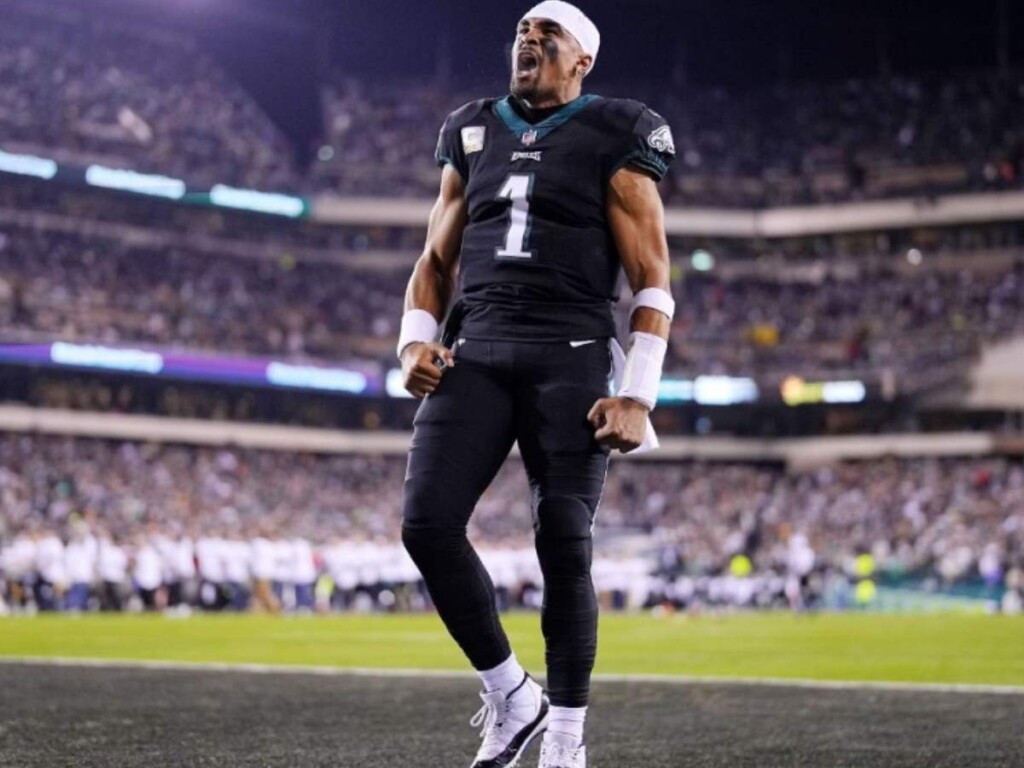 Nick Foles was spotted at the Philadelphia City Hall on Thursday for his testimony in his former Eagles teammate, Chris Maragos' trial involving medical negligence. He was welcomed with open arms by fans who were elated to see their savior back in the city. While the 34-year-old was making his way to the courtroom, he was seen offering sage-like advice to Jalen Hurts who will try to win his first Lombardi Trophy in Arizona.
"I think, just do what he's been doing. He's had an MVP-caliber year," Foles said via the Philadelphia Inqurier. He added that Hurts has been doing a great job of leading the team and that the guys in the locker room respond well to him. He also mentioned that when Hurts steps on the field, it seems like he can win the game in any situation, making him so valuable for the team.
Nick Foles further said, "He has great players around him. He's got a great O-line. He's got a great D. He's got a great team. Just go do your part and you're going to be fine." Jalen Hurts has been really exceptional this season. He has a 16-1 record this year including the playoffs which speak volumes about his skills. He amassed 3701 passing yards along with 22 passing touchdowns, 13 rushing touchdowns, and 6 interceptions in the regular season.
Despite his great quarterback skills, he is yet to face the Kansas City Chiefs, and that too at the Super Bowl. So, it will be a monumental task for him and the Eagles to win but if Nick Foles, who was a backup until the playoffs started, can go on to defeat Tom Brady, then Hurts can also do the same. Fingers crossed for the Eagles fans!
Do follow us on: Facebook | Instagram | Twitter
Related: "Tell him to buy me a house," Aaron Rodgers had a SAVAGE reply to a fan saying Davante Adams is in need of a 'new neighbor'
Related: Charles Barkley DECLARES Tom Brady's accomplishments 'unparalleled' and greater than LeBron James and Michael Jordan