It's a moment of celebration for the Kansas City Chiefs! Patrick Mahomes and his team won the Super Bowl LVII after defeating Philadelphia Eagles in a 35-38 win. This would be the second Super Bowl victory for Mahomes, making him the only Black NFL quarterback to have multiple Super Bowl victories to his name.
Brothers Travis and Jason Kelce faced each other for the first time in a Super Bowl, where Travis grabbed the win. However, the win was quite emotional for the Kelce brothers as Travis was moved to tears after winning Super Bowl LVII. He admitted that it is heartbreaking for his brother to lose out on an important match and make a heavy compromise beyond family ties to maintain their team's dignity.
Speaking to the press in the post-match conference, Travis Kelce said, "In a situation like that, there's not a lot you can say to a loved one." As he spoke, Travis started tearing up in front of the camera. He added,"You joke around all the time and say that you want to beat your brother on the biggest stage ever, but it's a weird feeling."
Related: "The Greatest Ever" – Social media APPLAUDS Patrick Mahomes for excellent performance in the Super Bowl despite an ankle injury
The Kelce brothers had an emotional moment after the Chiefs won Super Bowl LVII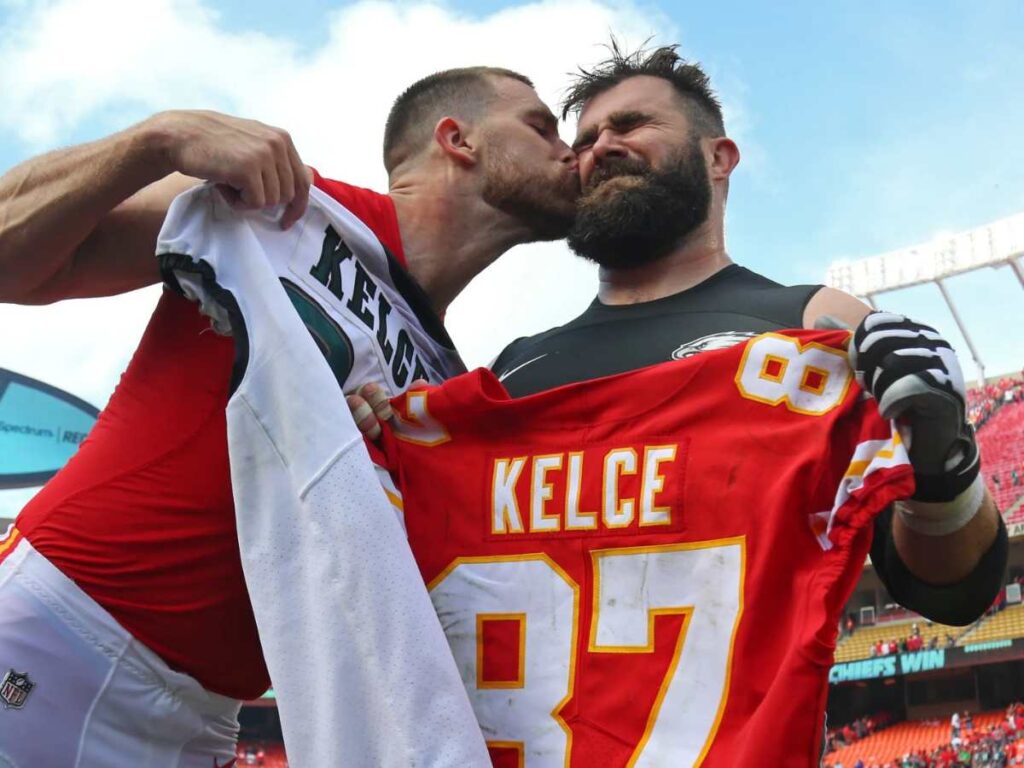 The Super Bowl LVII was between two evenly matched teams, with one of the most phenomenal seasons concluding with this event. Unfortunately, the Chiefs were up for grabs for the Vince Lombardi Trophy, winning their second since Super Bowl 2020.
The Kelce brothers faced each other for the first time in a Super Bowl this year, making it a much-anticipated event to watch for the fans. While Travis Kelce from Kansas City Chiefs won the match, his brother Jason Kelce took this loss maturely and congratulated his brother for the win.
In a short exchange between the brothers, Jason congratulated Travis by saying, "F**k you, congratulations," as the brothers hugged each other in an embrace. Donna Kelce, the mother of these two brothers, had mixed emotions of joy and empathy for her sons, who faced each other in this Super Bowl LVII.
An emotional Travis, speaking of his brother, said, "There's nothing really I could say to him, other than I love him and he played a hell of a year, a hell of a season." The Kelce brothers also host a podcast called the 'New Heights' which has featured some star guests such as Jalen Hurts and Patrick Mahomes.
Travis Kelce played an incredible role in the Chiefs' victory, with 81 receiving yards and a touchdown on six catches. Their mother seemed incredibly proud of her sons regardless and has become a celebrity in her regard with her half Chiefs-half Eagles jersey.
The NFL fans eagerly anticipate hearing more from the brothers about their Super Bowl experience against each other in the upcoming episodes of their podcast.
In case you missed it:
"Refs love the Chiefs" – Social media in JEOPARDY as DeVonta Smith gets denied a controversial catch completion which cost the Eagles the Super Bowl
"Going to hang around," Super Bowl LVII winning HC Andy Reid SQUASHES rumors of him retiring, confirms return for the 2023 season