The Philadelphia Eagles are in blazing form at the moment, and they continued their winning streak into the eighth week of the NFL as well. The Eagles earned a hard-fought 29-17 victory over the Houston Texans moving onto the best start to a season in the franchise's 90-year history.
Jalen Hurts continued to shine as the starting quarterback for the top-tier franchise of the NFL as he threw two touchdowns bringing his A-game in the second half of the encounter.
Despite the scoreboard showing a huge disparity between the two franchises, the Texans put up a good fight and went into the break 14-14. However, the Philadelphia Eagles made a big statement in the latter stages of the encounter to come up as glorious winners.
Also Read: "Best throw of the year" Chiefs QB Patrick Mahomes was fascinated by Panthers QB PJ Walker's 'Hail Mary' equalizing pass late in the Panthers-Falcons game
Eagles QB Jalen Hurts remains grounded with the fact that they haven't won anything yet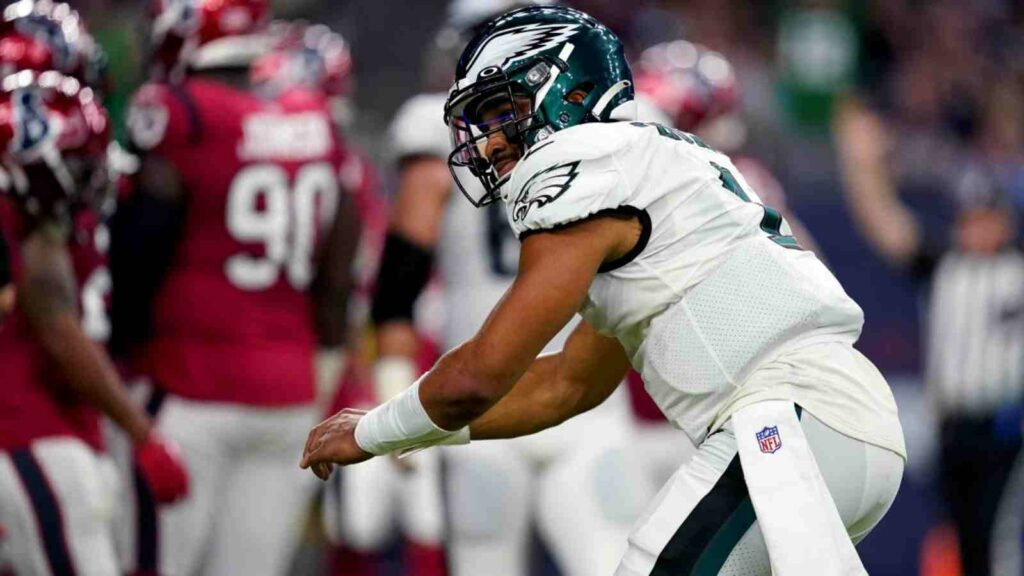 Jalen Hurts, the undoubted starting quarterback for the Eagles at the moment, however, did not want to get carried away with the Eagles' record-breaking start to the season. The 24-year-old, who is often the first person to speak up for the team's cause, made a critical point of looking to improve on a daily basis.
Speaking after the victory, Jalen Hurts said, "I know it's special for the city of Philadelphia. I mean, I've been 8-0 before and lost the national championship. Just take it day by day. Take it day by day. We haven't accomplished anything yet. It's a day-by-day thing of us controlling things we can, playing to our standard, and trying to grow every day. I think that's truly what it's about."
The Eagles have now earned themselves a well-deserved break with their next upcoming assignment against the Washington Commanders scheduled on the 15th of November.
Twitter Reactions to Philadelphia Eagles' record-breaking start to the season
The Eagles are one of the most feared teams in the NFL currently, but they need to keep up the momentum for the postseason when they would be pitted against better teams.
Do follow us on: Facebook | Instagram | Twitter
Also Read: "Didn't expect to win anyways": Aaron Rodgers gets called out on Twitter for his carefree attitude as the Packers get DESTROYED by the Bills
Also Read: "Help yourselves and trade him," NFL Twitter savagely reacts to Robert Saleh's comments of helping Zach Wilson after 3-INT performance