NHL Commissioner Gary Bettman stated that the league will re-evaluate the celebrations of Pride Nights as several teams and players have opt-out of events recently. Pride Night has been a controversy lurking in the league since January 2023. 
Philadelphia Flyers, Ivan Provorov was the first to back out of their team's pride night celebrations citing religious beliefs. Criticisms took over the internet regarding his rejection, as popular personalities including Elon Musk started critiquing his actions. 
Since then, teams like NY Rangers, NY Islanders, Minnesota Wild, and Chicago Blackhawks voiced out on pride night, rejecting the celebrations. Players like James Reimer, the Staal brothers, and Ilya Lyubushkin, also decided to opt out of the event. 
Related: Luke Prokop "disappointed" with NHL action following James Reimer pride jersey controversy
Gary Bettman to re-evaluate Pride Night celebrations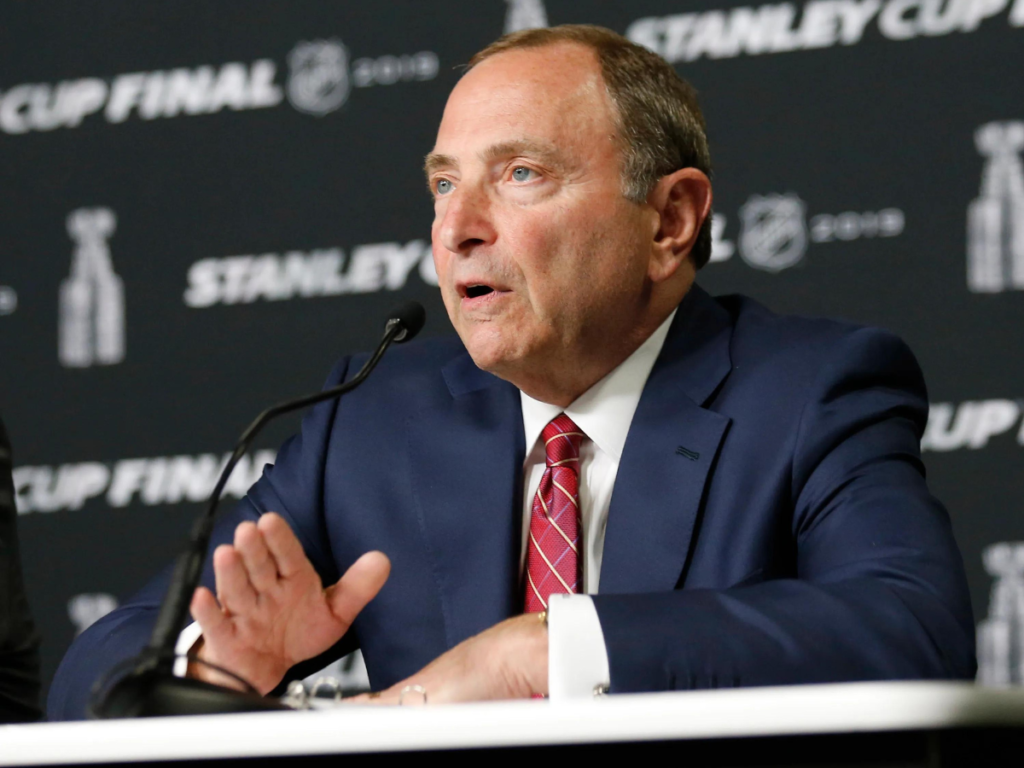 NHL's first gay prospect, Luke Prokop expressed his disappointment as these rejections have forced the league to take a step back in the inclusion process. Prokop being an active supporter of the LGBTQ community stated, "I share the disappointment in what feels like a step back for inclusion in the NHL".
He further stated that the league should be promoting Pride Nights not focusing on making players participate who have decided to opt out, "Everyone is entitled to their own set of beliefs but I think it's important to recognize the difference between endorsing a community and respecting individuals within it". 
Looking back at the situation, Gary Bettman stated that this issue has started to become more of a distraction rather than fulfilling the purpose of support to the LGBTQ community. He spoke on the matter with CTV News in Ottawa, noting, "This is the first time we've experienced that…" 
"…and I think it's something that we're going to have to evaluate in the offseason". "This is one issue where players for a variety of reasons may not feel comfortable wearing the uniform as a form of endorsement".
"But I think that's become more of a distraction now, because the substance of what our teams and we have been doing and stand for is really being pushed to the side for what is a handful of players basically have made personal decisions, and you have to respect that as well."
Last week, when Eric and Mark Staal backed out from their team performance, they stated, "After many thoughts, prayers and discussions we have chosen not to wear a pride jersey tonight". "We carry no judgement on how people choose to live their lives, and believe that all people should be welcome in all aspects of the game of hockey."
In the case of the Chicago Blackhawks, the organization made the decision rather than the players themselves citing safety issues regarding Russian players in their team. As Russia passed a law not promoting any LGBTQ acts, some Russian players decided to back out from the pride night celebrations.
In case you missed:
Russian player Ilya Lyubushkin cites safety concerns as defenceman refuses participation in Pride Night festivities
James Reimer REFUSES to wear LGBTQ-themed warmup jersey for NHL Pride Night