Toronto Maple Leafs' captain John Tavares celebrated his 1000th NHL game prior to their clash against Washington Capitals. The blue carpet was rolled out for the captain as he and his family attended the honoring ceremony on Sunday.
The event took place at Scotiabank Arena as Tavares' wife Aryne, and his children Jace and Axton took the center stage with him. His sons wore a custom-made jerseys with "Tavares 1000" written on the back. Their sleeves noted the words New York Islanders and Maple Leafs.
Tavares, 32, was part of the Islanders for 669 games before penning with Leafs. In his total NHL career, he has a record of 946 points in 1000 games with 412 goals and 534 assists. In the 2022-23 season, he has a score of 51 points in 51 games with 21 goals and 30 assists. 
Related: John Tavares Net Worth, Career, Endorsements, Wife, Family, and more
John Tavares celebrates his special day with family on ice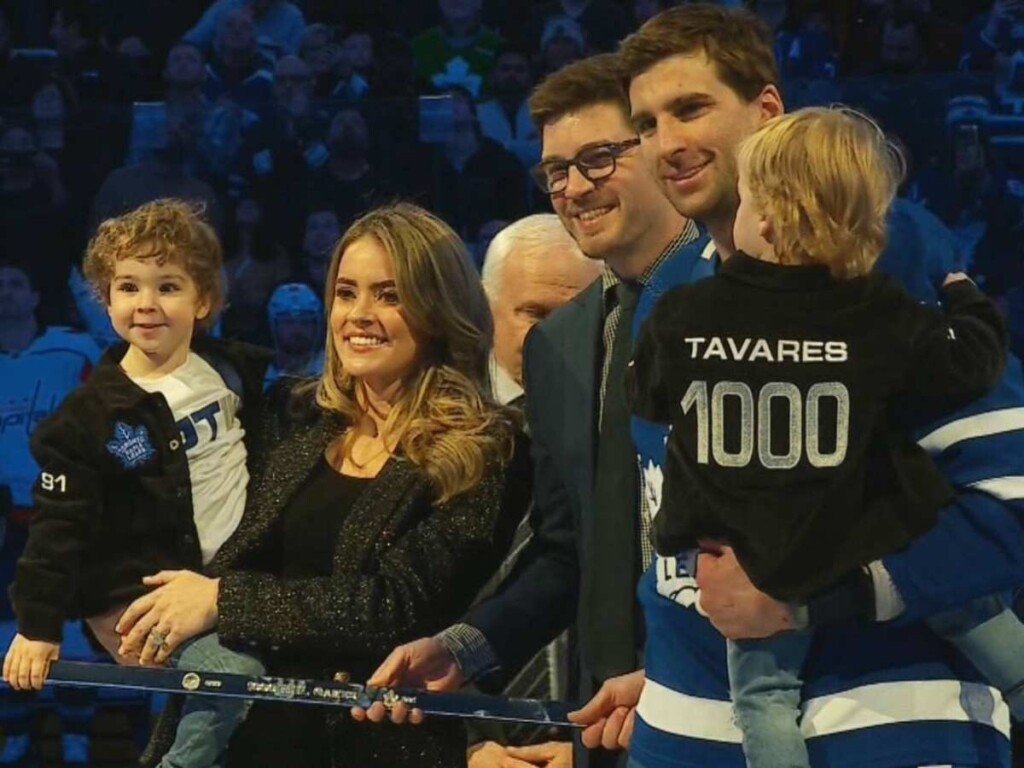 John Tavares' 1000th feat was honored by NHL Senior Vice President of Hockey Operations Colin Campbell who presented the Tiffany crystal along with GM Kyle Dubas presenting the captain with an engraved silver stick.
According to Sportsnet Tavares commented, "It's a tremendous honour. Just hard to put into words. Not gonna lie. Just have a lot of gratitude". "You love to play this game as a kid. You dream about playing in the NHL. To think that you get to do it for a thousandth time is pretty remarkable. You don't take that for granted."
To further make the day special, the Leafs won against the Capitals in a 5-1 victory. Morgan Rielly was also relieved, not only because of his captain's achievements but because of his first successful goal shot according to Salt Wire. 
It was Morgan's 36th game of the regular season in which he scored 22 points with 21 assists with 1 goal. In his NHL career, he played 690 games in which he scored 70 goals, and 325 assists in 395 points. 
During the Easter Seals skate on Saturday, Morgan told reporters that some kids asked when he was going to score in the season. In his reply, he said, "Tomorrow night, obviously", but it seems his casual prediction indeed came true.
Leafs' coach Keefe Sheldon commented on Tavares' celebration, "The players organized a great moment for him and had his kids involved this morning as part of our meetings". "It's a tremendous opportunity to acknowledge a great moment in our captain's career." 
"He has lots of hockey ahead of him, but certainly to get to 1,000 games, it's not easy, especially with the quality of those games that he has put in. It was a great opportunity for us to spend some time with him and to have his boys involved was important to him and cool to see."
Following the team's tremendous win over the Capitals, Tavares commented, "To get to this point, a lot of hard work, commitment, sacrifice". "But I think I'm still most excited about what's ahead and continuing to push forward.
"Still got a lot left in the tank and I really believe in myself to play at a high level and obviously help this team here and want to do some great things. It's a great milestone. Happy to be there but excited to push forward now."
In case you missed:
WATCH: Alex Ovechkin HUGS Kris Letang showing support while Evgeny Kuznetsov hilariously creeps on Penguins' game plan 
Darryl Sutter under SCRUTINY as fans demand Bruce Boudreau to replace Flames coach