Thursday night's game between Pittsburgh Penguins and Washington Capitals turned out to be both serious and hilarious for the fans. Fans who came to watch the game witnessed three iconic scenes on the ice. The first mention is Alex Ovechkin's warm gesture toward Kris Letang.
Prior to the game, Ovechkin skated to the center ice to hug the Penguins' defenceman and share a few words before returning to their warmups. The Capitals and Penguins are arch-rivals and have faced off countless times till now. Ovie and Letang faced off over 50 times in the game.
Both of them respect the other, the best example being Ovie's attitude toward Letang. Letang who had his 2nd stroke in his NHL career, and later lost his father this year, had been going through a lot. The Penguins flew over to honor the passing of his dad.
Related: Sidney Crosby's little CHAT with linesman grabs Capitals' attention following Penguins' 3-2 loss against Washington
Alex Ovechkin and Kris Letang share some sweet moments despite their rivalry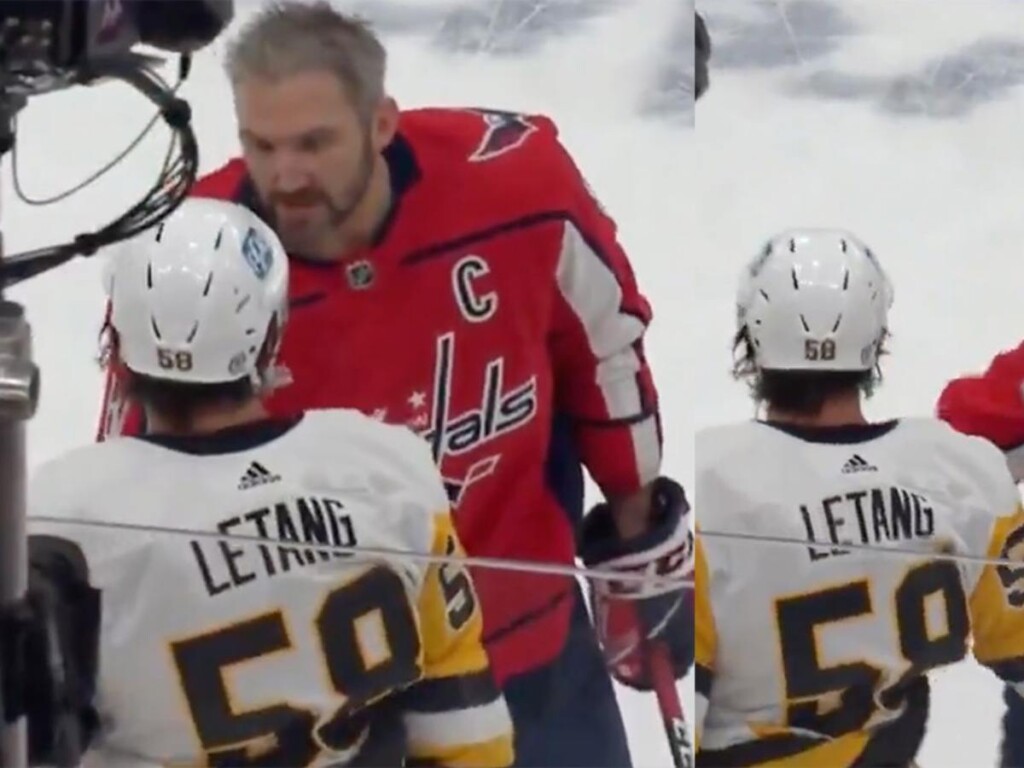 Even after suffering his 2nd stroke, he was back on ice shortly but had to leave again due to family circumstances. Alex Ovechkin seemed to have shared a few words of condolences and asked how he was doing to Kris Letang.
The regular season is ending and every team is tensed to grab a playoff spot for the Stanley run. In situations like these fights break out between rival teams. Ovechkin and Letang were able to surpass the tension and talk with one another. Ovie's gesture warmed the hearts of the people. 
Shortly following this incident Evgeny Kuznetsov trolled the Penguins. Letang, Evgeni Malkin, Dumoulin, Jason Zucker, and Richard Rakell were discussing their game plan when they noticed Kuznetsov behind them hearing their conversation.
It was a pretty awkward moment, but shortly after the Penguins kicked Kuznetsov out of the group. Kuznetsov trolling the Penguins proudly skated through their circle as if nothing was wrong. The scene was hilarious as he crept on listening and the team players noticed someone behind them.
According to RMNB, "Kuzy was standing behind Penguins defenseman Brian Dumoulin listening to what they were saying for a good minute". "Once the Penguins players finally noticed, they appeared to kick him out. Kuzy showed his appreciation by skating right through the middle of their huddle."
The third incident was after the Penguins lost to the Capitals 3-2. Captain Sidney Crosby seemed to skate over on the ice to talk with the linesman when he grabbed the attention of Capitals players including Alex Ovechkin.
As the lone Penguin on the ice, the Capitals seemed to skate with the linesman trying to hear what Crosby had to say. Though it was not made official, some reports noted that Crosby was talking about the game and their team's loss.
In case you missed:
WATCH: Steven Stamkos 500th goal celebrated by Alex Ovechkin and Sidney Crosby on video message prior to game against Wild
Darryl Sutter under SCRUTINY as fans demand Bruce Boudreau to replace Flames coach