NHL favorite Marc-Andre Fleury discloses reason why he chose to confront Jordan Binnington in Wilds' 8-5 win against Blues. Following the whole fiasco on the ice, the NHL suspended St. Louis Blues goalie for unsportsmanlike behavior in the game.
Binnington not only confronted Wilds forward Ryan Hartman but also went for goalie Fleury in an attempt to rile up the crowd. Even after the officials pulled him out of the pack, he went on to rile up the crowd with his actions, only to get ejected from the game.
Binnington is widely known for his antics on ice, and his temper in NHL popular. Not only did Fleury and Hartman blast Binnington for his actions, but former NHLer Jay Rosehill commented that he'd love to "pump eyes out" of the Blues goalie. 
Related: WATCH: WWE legend Ric Flair amps crowd as NHL officials deny fight between Marc-Andre Fleury and Jordan Binnington
Jordan Binnington gets suspended for actions in Wild vs Blues game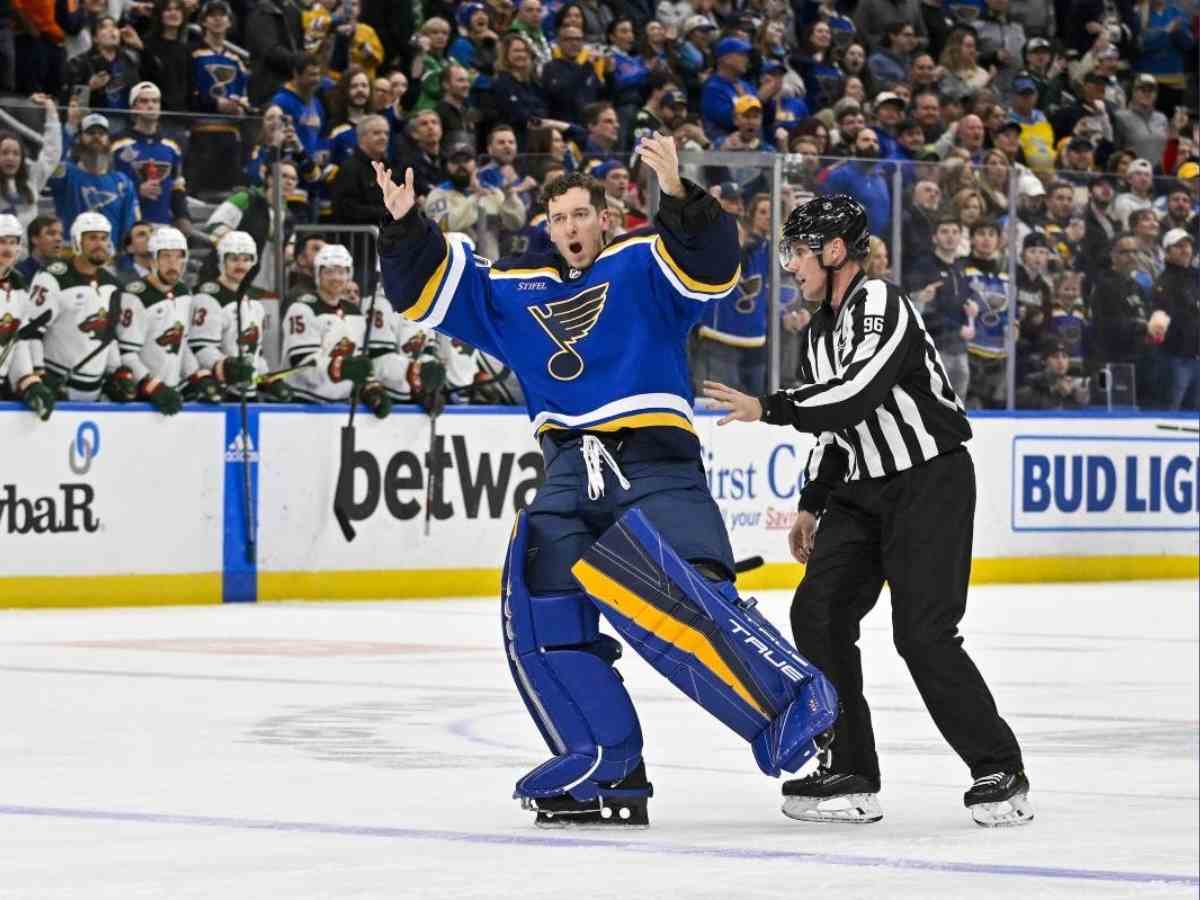 It is said that St. Louis Blues goalie Jordan Binnington usually starts acting up if things don't go his way. Considering how the Wilds forward Ryan Hartman tied the game in the second period, Binnington had plenty of reasons to act up.
After tying the goal at 4 in the second period, Ryan went to celebrate with his teammates when he tripped over one of the goalie's pads. Binnington didn't waste a minute jumping on the forward player as Blues and Wilds gathered together to support their teammate.
While Marc-Andre Fleury skated the long way toward Binnington for the fight, NHL officials intervened, keeping the two goalies apart. Fleury later disclosed what made him agitated, "One of the guys said [Binnington] hit them in the nuts, in the nutsack." 
"Can I say nutsack? Then when I saw him throw another one at our guy, that was the time". Contrary to Fleury's rage, Binnington rather praised the Wilds goalie to have the guts and stand up for his teammates, "I'm not surprised. I kind of think it was our moment, but I got nothing but respect for Fleury, too."
"He's a legendary goalie. Coming down there, shows a lot about him." Fleury on the other hand commented, "I'm not surprised. I've seen Jordan do a few things in his career". "That's why I went. I made [his decision] pretty quick."
Hartman said of the confrontation with Binnington, "I mean, those blockers aren't soft". "We don't have much protection on our face. I'd say so [it was a cheap shot]. It's nothing new from him. He's been doing stuff like this for a while." Hartman received a 2-minute minor for roughing, as did Fleury for leaving his crease.
Binnington commented on his thoughts on the situation focusing on his encounter with Hartman, the Blues goalie said, "We know the type of player he is. I actually like his game, to be honest". "…He plays the game hard, and I respect it and it's no problem." 
"It's kind of how it played out and it's all good." "It's kind of how it played out and it's all good." Video of their confrontation has made social media go wild as fans speculate the situation, ridiculing Binnington for his actions.
In case you missed:
Jordan Binnington PISSES OFF Blues coach Craig Berube with his on-ice temper tantrums, NHL Twitter reacts
Patrice Bergeron concerned as team's "disconnected" play hands NHL-leading Bruins 6-3 loss against Blackhawks