The name of former Kentucky swimmer Riley Gaines has grabbed a lot of attention in the past few months. The ex-NCAA swimmer has gained a lot of popularity in her stance against the inclusion of transgender athletes in women's sports. She has now been praised by former New York Yankees pitcher David Wells for her efforts.
Wells has been a highly vocal figure in the MLB. The retired southpaw has not been shy about voicing his thoughts. In the Yankees' recent Old-Timers Day celebration, he blasted the players for their poor season and supported Brian Cashman and Aaron Boone. A few days later he also slammed Alex Rodriguez for snitching on other PED users and called him a rat.
"She is so spot on when it comes to transgender in sport, men playing women's sports," he started off while speaking about Gaines. "You just you can't do that. It's not right, and it's dangerous," he further added. Wells would later explain this take by expressing it would not be right if he threw 95 mph while switching genders to women.
Wells has also taken issues with Nike and Bud Light in recent times. Bud Light has received heavy backlash from the fans and media following their team-up with TikTok influencer Dylan Mulvaney. The social media star's personal life as a transgender activist became a talking point across the country.
Related: Former swimmer Riley Gaines roars by SHATTERING gender norms in sports, paving the way for fairness and inclusion
David Wells explains reason for hatred towards Nike and tapping its logo on Yankees jersey during Old-Timers Day
The 75th Old Timers-Day celebration at the New York Yankees home stadium was a blast. Several former teammates rejoined each other to share a lovely afternoon in NY. At the ceremony, David Wells gained the most attention. The reason for this was that he had covered up with the Nike logo on his jersey. This left many to wonder why he did so. The former pitcher has now explained this move and why he does not like Nike.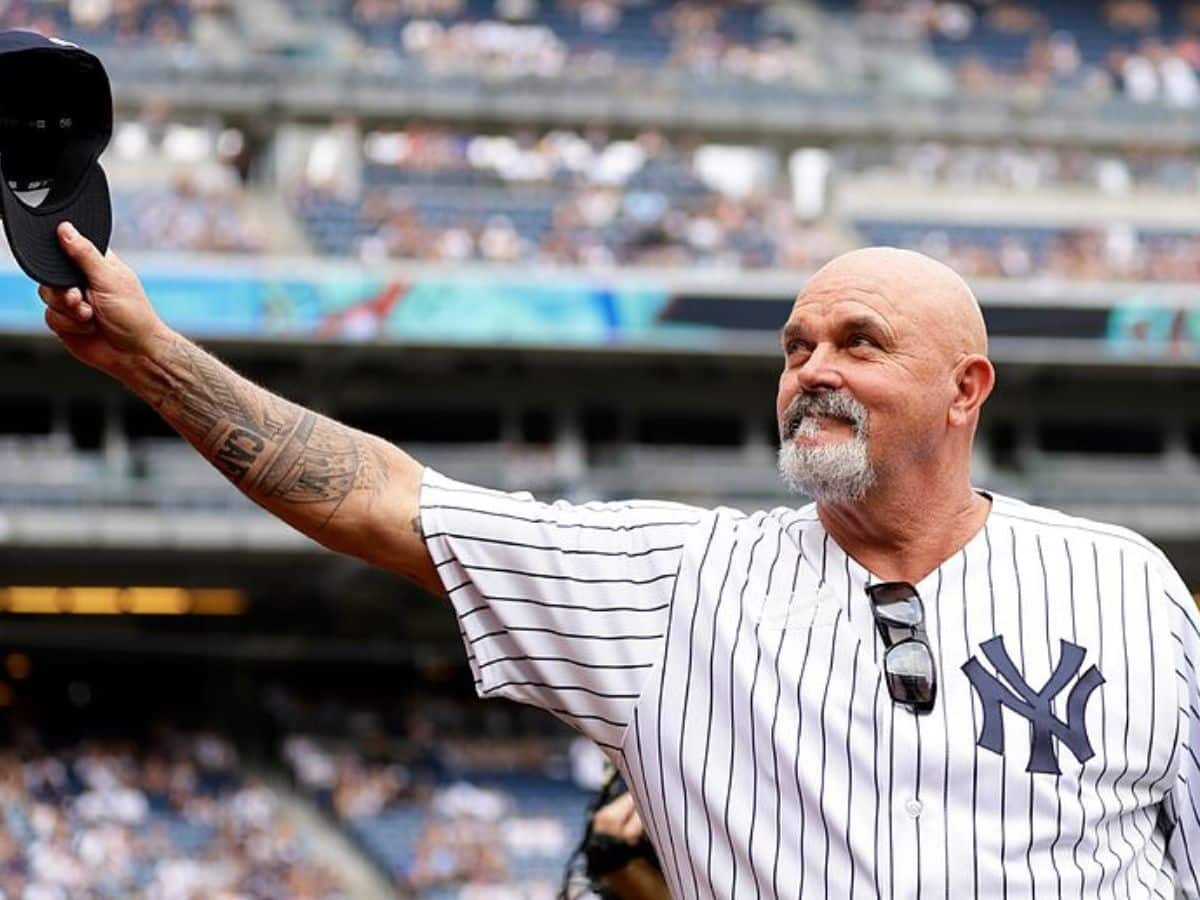 Nike is one of the most renowned sporting brands in the world. Their huge popularity has seen them attract a lot of huge names in the sporting industry. They recently gave activist Colin Kaepernick a platform to form. This was not appreciated by Wells who slammed him for being an anti-American.
Wells recalled he got angry when Kaepernick took a knee against the US national anthem. He further added that Nike's decision to reward him was the moment he got pissed off by the company and decided to show his displeasure against them. "I told myself if I was playing in today's game and we had a Nike jersey, I'd tape it up. I'd cut a hole in it," he said.
The companies have not responded or made any comment regarding the comments by Wells. The words from the ex-pitcher are sure to fall on the ears of many and it could see some effect in the future.
In case you missed it: