According to Kim Reynolds' campaign, Riley Gaines a former swimmer from America. Originally hailing from Gallatin, Tennessee, she will be a special guest on October 14 at the governor's 6th Annual Harvest Festival. Governor Kim Reynolds of Iowa has invited a special guest to join her at the upcoming annual fundraiser next month.
The special guest is a competitive swimmer who has a unique perspective on transgender women engaging in women's sports. Riley Gaines was a member of the swim team at the University of Kentucky. Presently, she vehemently opposes the idea of transgender women participating in women's sports teams.
Riley Gaines held a contrary opinion towards the NCAA's ruling that enabled Lia Thomas, to take part in a women's championship race. Riley Gaines and Lia Thomas both achieved fifth place during the NCAA Swimming and Diving Championship in freestyle 200.
According to the Associated Press, the transgender swimmer complies with the rules set forth by the NCAA and Ivy League. In May 2019, she initiated her transition and underwent hormone replacement therapy. Thomas has done well, but some people are unhappy because they think it's not right for someone who used to swim with men to compete with women.
Conservatives, especially lawmakers from Iowa, strongly disagree on this topic. Last year saw Reynolds establish a law in Iowa, which dictates that transgender women are ineligible to compete in female sports at all schools within the state. In the current year, Reynolds implemented fresh legislation that prohibits doctors in Iowa from offering gender-affirming care to minors.
Additionally, they established guidelines for which restrooms pupils might use based on their biological sex and eliminated any gender identity education prior to the seventh grade. According to her, "Gaines played a significant role in shaping his outlook. She thinks that the most important problem for women today is the one that Riley is actively working to fix. She is completely unconcerned about standing up…motivated by her fight."
Related: Riley Gaines SLAMS trans activist Kelley Robinson in US Senate hearing over 'biological advantage' debate on trans athletes participation citing Serena Williams
Riley Gaines slams Lia Thomas for participating in women's swimming competition
Reynolds stated that Riley Gaines is working hard to address the most crucial problem concerning women today. She is not scared to say that men should not participate in women's sports because it doesn't make sense. She is happy to have Riley Gaines come to Iowa because she has inspired Reynolds with her determination.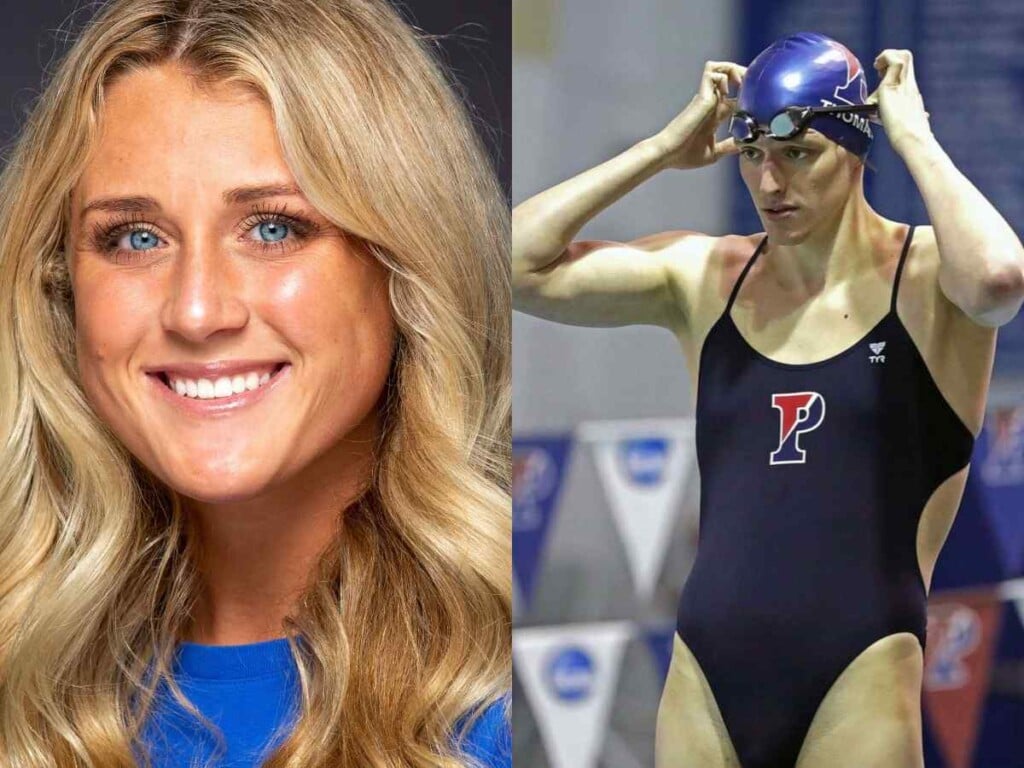 Lia Thomas, a transgender swimmer, recently complained that "trans kids miss out on chances." Riley Gaines has responded to this by criticizing Lia Thomas. Lia Thomas has been a prominent figure in discussions about transgender athletes over the past year.
Lia Thomas was a member of the men's team at the University of Pennsylvania. Afterward, the swimmer received treatment to replace their hormones and began competing as part of the women's team. Lia set new records when she began participating in the women's category.
Riley Gaines, according to Reynolds' campaign, said that "the Iowa governor has been a strong advocate in opposing the radical ideas about gender from the Left."In her leadership role, Iowa has protected children from undergoing irreversible gender transition surgeries. She has supported and stood by parents, as well as proudly stood up for women's sports," stated Riley Gaines.
In case you missed it:
Riley Gaines recalls 'red flag' trans-swimmer Lia Thomas snubbing trophy from NCAA directors during TPUSA speech
Riley Gaines calls out trans runners Athena Ryan and Lorelei Barrett for being 'no-show' at California track race