Since her retirement in 2019, Lindsey Vonn hasn't stopped with her relentless will to remain fit. The former American alpine skating legend is one of the legends of the sport to grace the field and the Olympics.
She is one of the top three athletes in the sport with the highest number of World Championship wins. She also has one gold and two bronze medals from the Olympics.
In her post-retirement life, Lindsey Vonn still tries to remain in the best shape. In one of her latest Instagram posts, she updated her followers with a workout video focused on her legs. Throughout her career, Vonn has sustained several injuries, which have rendered her knees to be feeble.
In an interview with Mario Lopez from Access Daily, Vonn said that these injuries have also sustained insomnia for her. Nevertheless, she never let her injuries come in the way of the illustrious that she has had.
Currently, Lindsey Vonn is considering knee replacement surgery to help with the constant pain of these injuries. This workout video is a part of her prep for the surgery, where she shows relentless willpower to stay fit and active.
Related: Lindsey Vonn SLAUGHTERS trolls on social media following Mikaela Shiffrin's iconic 83rd World Cup win

Lindsey Vonn shares her leg workout video with fans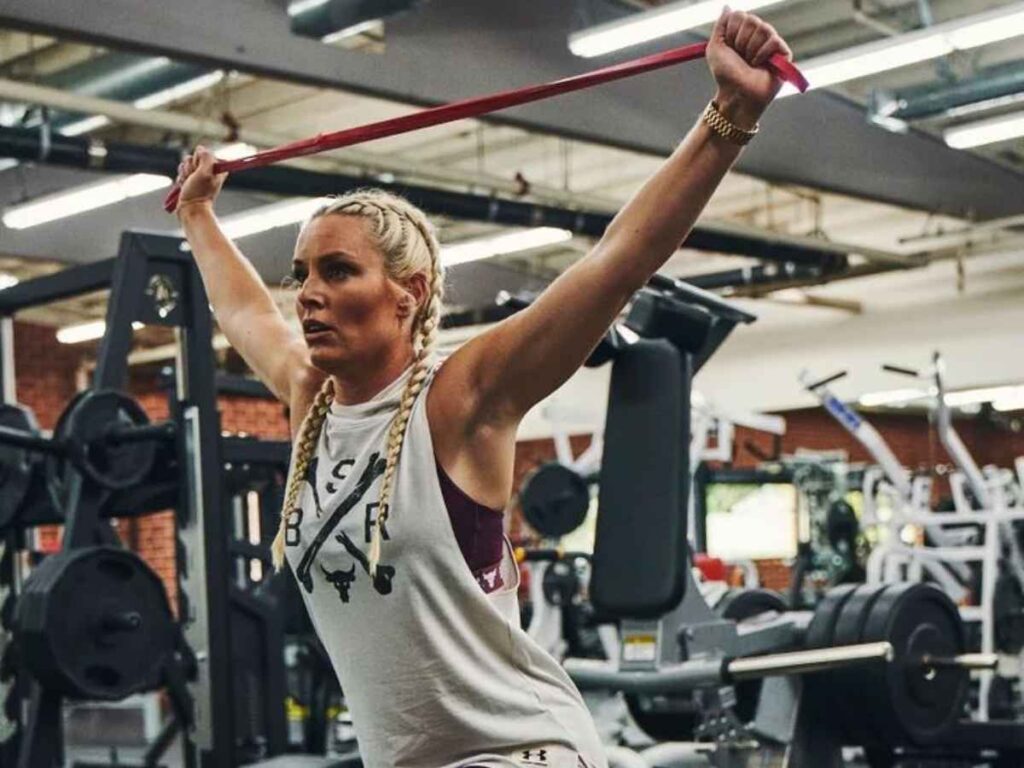 While there is not much information on her knee surgery, Lindsey Vonn has already started taking all measures to prepare for the same. She informed her followers via her Instagram story about the same, captioning, "Now training for knee replacement surgery."
Vonn can be seen lifting heavy weights in the video while mastering her lunges. She seems in no mood to give up and is very confident about her fitness and recovery. In the video, fans would also notice her dog casually strolling around her, giving her the best company as a pet. She captions the video, "Retired from skiing, not from grinding. Work, workout, recover, repeat."
In an interview with the TODAY show, Lindsey Vonn also gave her fans further insight into her dealings with insomnia. She says, "I actually have had insomnia for quite some time and it started when I have my first big knee surgery. You know as an athlete how important sleep is. I was laying in bed after surgery in a lot of pain and trying to sleep and I couldn't. The anxiety behind it just got me down really bad."
She recommends and has also partnered with Idorsia's QUVIVIQ, which she says has worked as the best solution for her to resolve insomnia. Speaking about it, she further adds,  "I have tried so many different things to try to rectify that. I hadn't found anything until now, and I am so excited to be partnered with Idorsia and to be able to share sleep story with everyone."
Fans hope that the former skating superstar recovers well from her surgery and continues to inspire her followers to follow a great fitness routine like hers.
In case you missed it:
WATCH: Speed queen Lindsey Vonn quenches her dream thirst of sliding down the Streif in MINDBLOWING drive
Lindsey Vonn once sent her well wishes to ex Tiger Woods on his golf comeback with a subtle dig