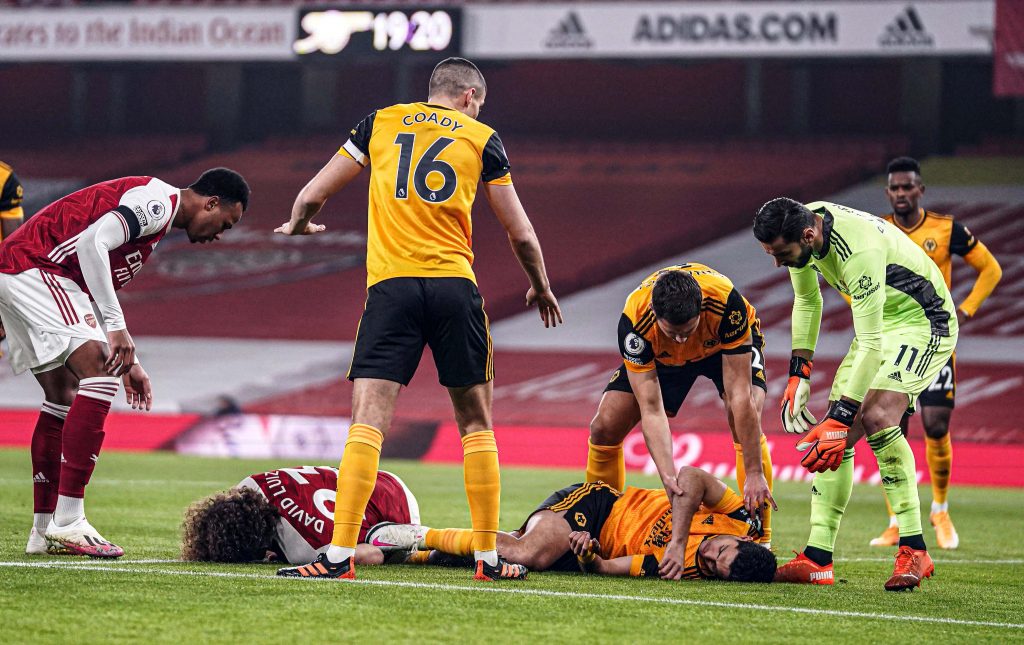 The Mexican seemed to have collapsed on the field and was unconscious for the majority of time as he remained still. He was stretchered off and was immediately driven to a hospital to receive medical attention. David Luiz was able to carry on for the first half despite being bandaged and bleeding from the head and that caused a lot of controversy.
Calls rise again for more concentration on concussion injuries
It was stupid enough to let David Luiz continue after his clash of heads with Raul Jimenez, let's get that out of the way. When the latter was unresponsive and stretchered off, the former should have been given due consideration and subbed off as a precaution. Allowing to him even after seeing him bleeding from the head was the worst mistake anyone could do. The medical staff should've been more firm and recommended him being taken off.
Arsenal went on to lose the match 1-2 as Pedro Neto and Daniel Podence scored while Gabriel scored in the between. Updates have come in that Jimenez has regained consciousness and is talking properly now. Further scans will only determine his availability for this week's matches, but he is expected to miss some of the coming fixtures.
Nuno Esprito Santo and Mikel Arteta echoed the same sentiments that it was a terrifying injury and that the horrified looks of the players confirmed it. It was reported that Raul Jimenez was unconscious and hadn't moved a muscle for the whole time he was there on the ground until he was stretchered off. This comes right after Sir Nobby Stiles died when he was suffering with prostate cancer and advanced dementia. Defenders are expected to head the ball and it could lead to early onset of dementia.
Former players like Gordan Banks and Alan Shearer have campaigned for head injuries to be taken seriously as it leads to dementia. The Premier League and FA are planning to trial an extra substitute who can be used in the case a serious head injury happens. It'll be put into trial from the 2021/22 season, but it is too late for some people. Changes should happen and changes should happen now.
Also read: Liverpool's forgotten man Fabio Borini