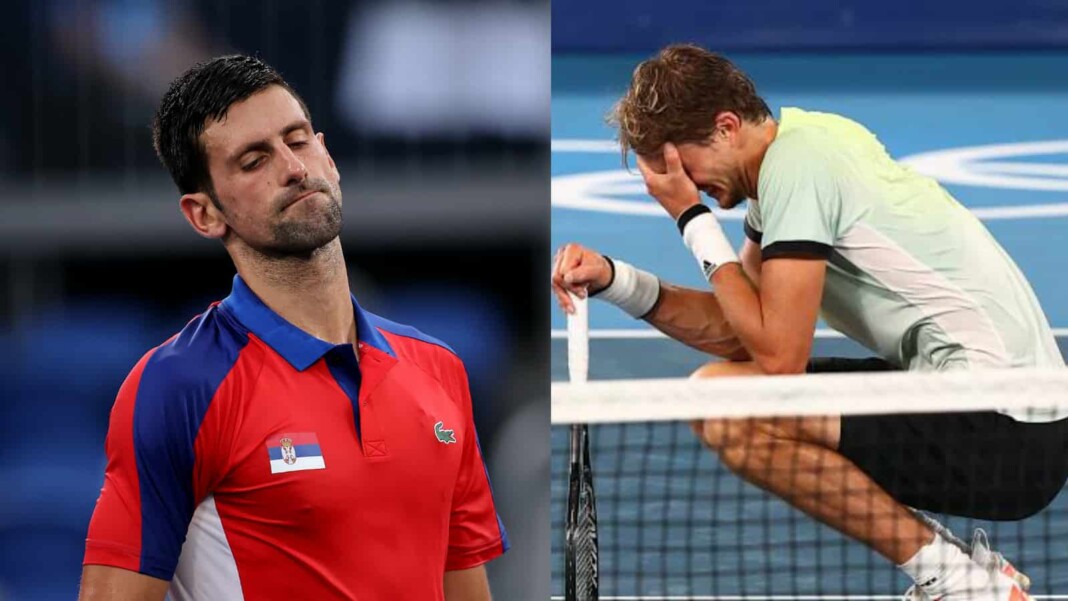 It was a dream come true for Alexander Zverev as he beat the world no.1 and overwhelming favorite Novak Djokovic against all odds in the semifinal of the Tokyo Olympics. Zverev came from a set down to defeat Djokovic in three sets 1-6,6-4,6-1 and secured himself a medal. Zverev, who is playing his first Olympics will now play for the gold medal against Karen Khachanov.
With this defeat, Djokovic's quest for the golden slam has also ended. The Serb was looking very good to win gold in Tokyo but that was not to be the case. The Olympic gold is the only piece of silverware eluding Djokovic emphatic trophy cabinet and he will now have to wait another three years to win it.
Zverev burst into tears after his win and couldn't believe what he has achieved. What is more special about the victory is the first set. The German ace wasn't anywhere near to Djokovic in the opening set. He had no rhythm on his serve and was making an unforced error in almost every second point. The top seed wasn't going to mind that and took a double break's lead. He wrapped up a first set pretty easily 6-1 and it looked like Zverev was down and out in the match.
Djokovic had the momentum in the second set and like all week, he was cruising towards a solid win. He broke Zverev's serve and was up 3-2. But that is when things took a turn. Zverev decided to take risks and go all out on the winners. The strategy worked well for him as he got a break back and in return, broke Djokovic's serve again. He won the second set 6-4 and forced a decider.
The world no.1 did not see the late surge from Sascha coming. Djokovic was taken aback and had no momentum in the start of third. To his dismay, he got broken upfront as Zverev cruised to a 2-0 lead. All the momentum was with Zverev as Djokovic struggled with his serve and was starting to make unforced errors, which he didn't do all week. Eventually, with a double break's lead, Zverev cruised to a 4-0 lead and broke Djokovic one final time to win the match 6-1. Emotions poured, it was agony for Djokovic, ecstasy for Zverev!
Zverev will now face Karen Khachanov in the gold medal match while Djokovic will battle it out with Pablo Carreno Busta for bronze.
Also read: "Novak Djokovic will end up with 24 majors": Martina Navratilova