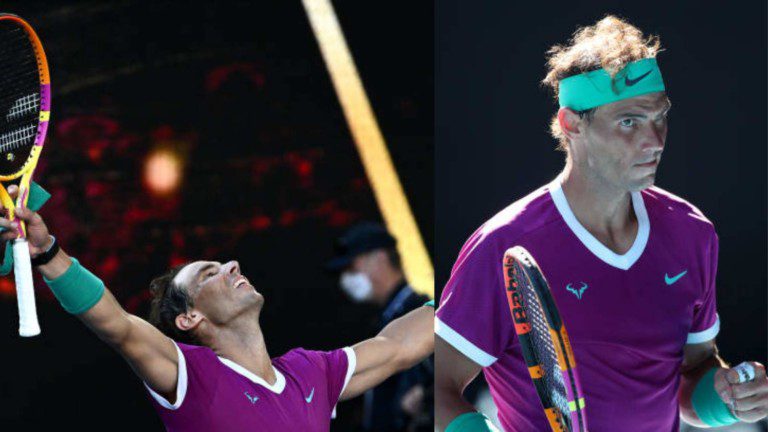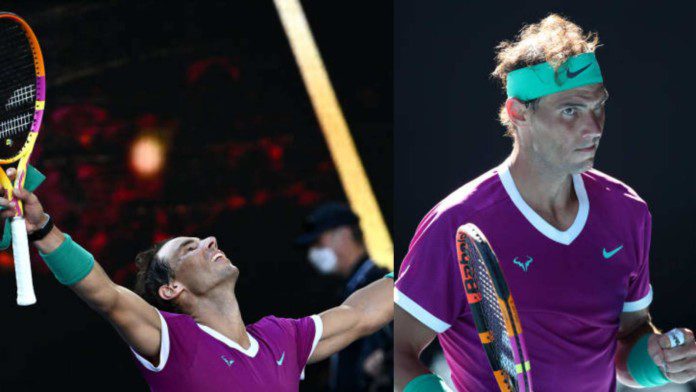 Despite not being 100% fit, 35-year old Rafael Nadal survives a stern test from Canadian Denis Shapovalov to enter the semifinals of the Australian Open for the 7th time. He defeated Shapovalov in five sets 6-3,6-4,4-6,3-6,6-3 to reach the semifinals at Melbourne Park for the first time since 2018.
Grit and determination- these are the two words you associate with Rafa and that's what he showcased on the Rod Laver Arena once again. On Friday, Nadal will play his 36th grand slam semifinal against either Matteo Berrettini or Gael Monfils.
Nadal was on song at the start. He served well and was aided by a lot of errors from Shapovalov. The Canadian's shot selection was questionable as he handed an early break to Nadal. He eventually held serve to win the first set 6-3. The second set was pretty much similar to the first. The Canadian was matching Nadal from the baseline but he wasn't able to close out the points at times. Another sloppy service game out of the blue cost him his serve as Nadal won the set 6-4.
In the third set too, both players held serve comfortably and neither one of them were able to get the break early on. Serving to survive in the set 4-5 down, a couple of costly errors gave an opening to Shapovalov as he took the set 6-4 to forced a fourth set.
Both players created chances early on in the fourth set but weren't able to get the break. But suddenly, Nadal complained to the umpire that he has some stomach issues and got a bit of treatment. His movement was clearly restricted as he didn't even go for some shots and lost the set 3-6.
Nadal was putting pressure on Shapovalov's serve early on in the fifth set but mainly was relying on the Canadian to make errors. Shapovalov had his chances but a string of errors cost him as he handed a crucial break to Nadal. Luckily for the Spaniard, he was able to serve well and hold serve. He eventually dragged himself to the finish line and won the set 6-4.
'Two months ago we didn't know whether we will be able to be back on tour at all': Nadal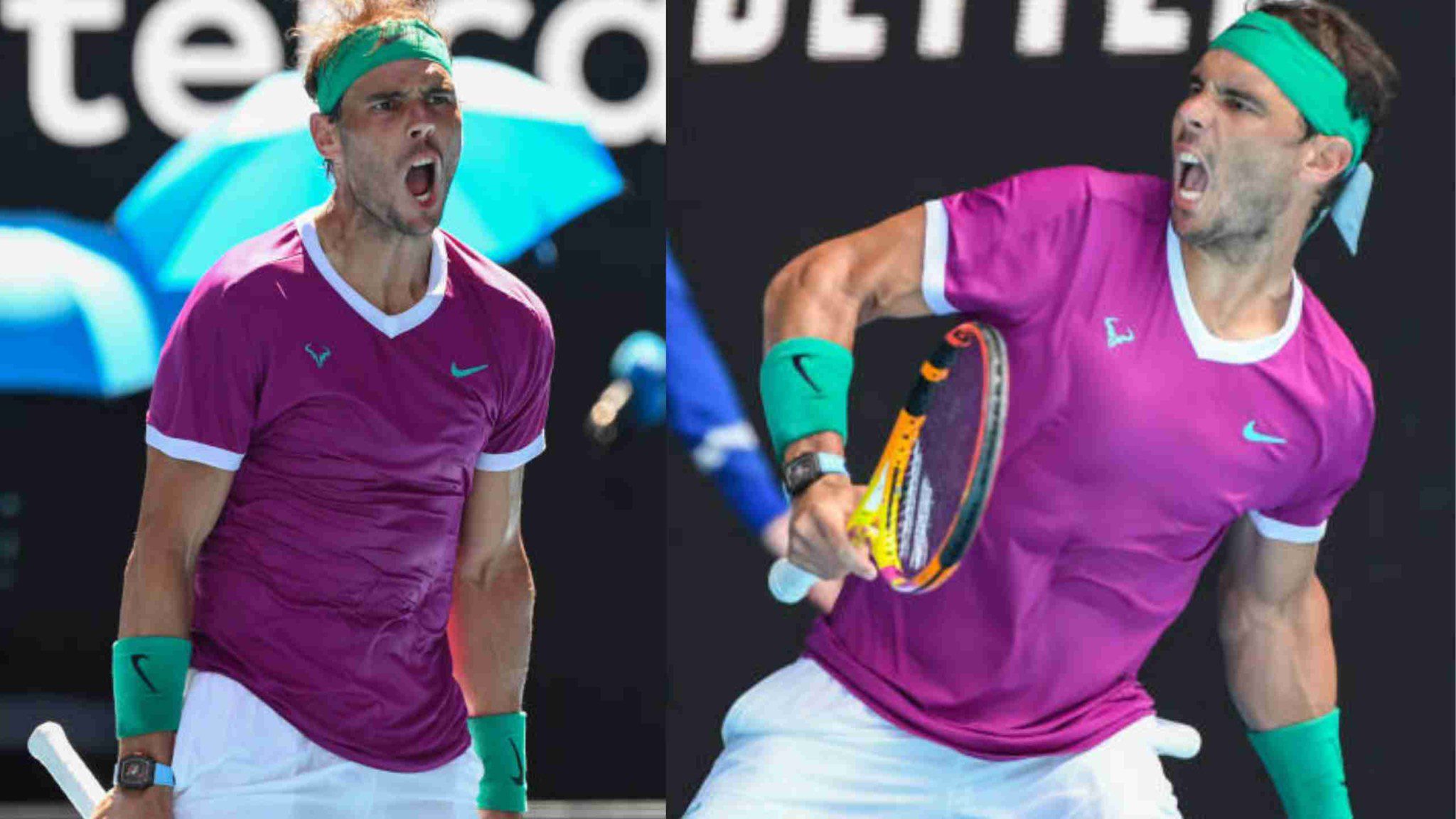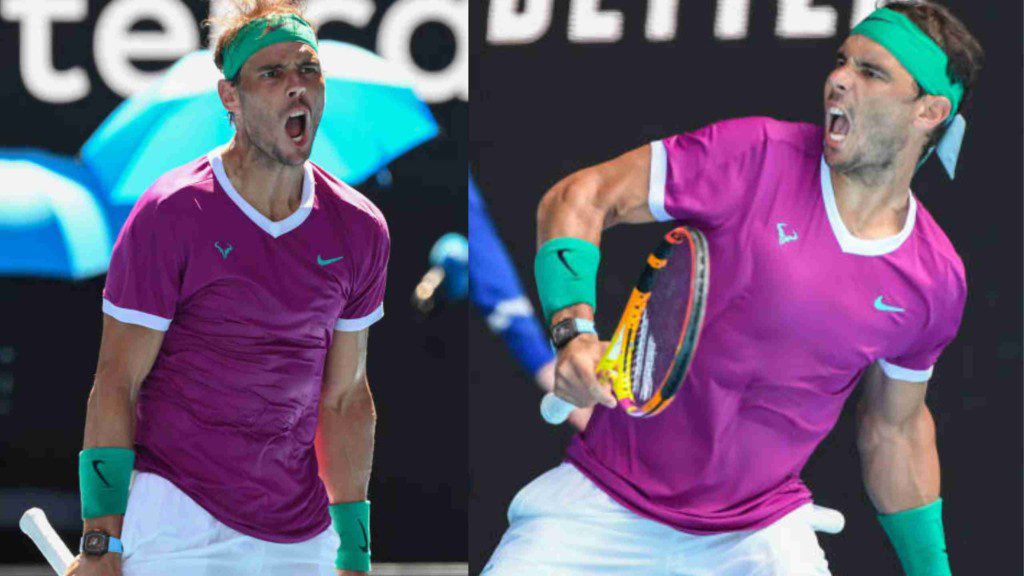 In the on court interview, Nadal revealed that he was completely destroyed after the stomach issue and then analyzed that match. He also lauded Shapovalov's effort to push him in the third and fourth set.
He said: "I was completely destroyed! Very tough day, very warm- I didn't practice for it but yeah, I was a little bit lucky at the beginning of the fifth set. At the beginning of the match, I was playing great. I know how difficult it is to play a player like Denis."
"He's very talented, very aggressive, he was serving huge- especially the second serve. I think I had my chances in the beginning of the third but I didn't get it and then I started to feel a little bit more tired and then he pushed me. For me, it's amazing to be in the semifinals."
About his fitness issues, Nadal clarified that it was something in his stomach and not a muscle injury. He even took some tablets to be in shape as soon as possible.
"I started to well not very well in my stomach so I just asked if they can do something. We went inside, they took the tension and checked if everything was all right in my body. And then I took some tablets to improve my body," he said.
And when asked whether the tablets worked, he replied: "So, so… I think I was lucky that I was serving great in the fifth set."
For a change, this year, both Men's Singles semifinals will be played on Friday which means that Nadal will have a 2-day break. When asked if that is relevant because of his physical state, he said: "Today yes, very important. I'm not 21 anymore. After such matches, it's great to have 2 days off."
"I think I felt quite good physically in terms of movement but it's true that the conditions here haven't been that hard for the last 1.5 weeks. Now I just hope and really believe that I'm gonna be ready for that semifinal. For me it's everything to able to play one more time in the Rod Laver Arena. So I'm just excited and happy and can't thank everyone enough for the support!" he added.
Nadal is now just 2 matches away from winning a historic 21st slam. When reminded of that, he said that he didn't even know a couple of months ago whether he will compete once again at the highest level and to be able to do that is a present of life.
"We can create history here but the real truth is that two months ago we didn't know whether we will be able to be back on tour at all. So here I am, it's just a present of life- I'm here playing tennis again and enjoying," Nadal concluded.
Also read: WATCH: Stefanos Tsitsipas comes to ball girl's RESCUE during the 2022 Australian Open