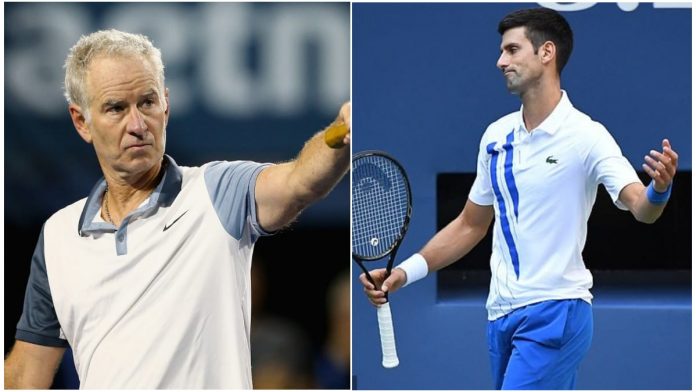 World No.1 Novak Djokovic had a difficult time in Australia last month when his stay was limited to just 10 days as he was deported from Australia on 16th January 2022, a few hours before his 1st round match in the 2022 Australian Open, where he was the 3-time defending champion and a record 9-time tournament champion.
The Serbian returned to action at the Dubai Tennis Championship earlier this month. However, his much-awaited comeback didn't go to plan as he lost to Jiri Vesely in a shock upset in the quarter-finals. which also resulted in the Serbian dropping to the 2nd spot in the ATP rankings.
John McEnroe slams both authorities and Novak Djokovic for Australian Open fiasco
Like many figures in the sport, seven-time Slam champion John McEnroe has shared his thoughts on the series of events that eventually saw Novak Djokovic deported from the country on the eve of the Australian Open.
The American revealed that he cannot really comprehend both the sides, that is, why Djokovic refuses to get vaccinated and why the Australian authorities had handled the situation so badly, labelling the whole situation as utter chaos.
"Listen I've been part of some chaotic scenes in Australia. But what's gone on the last 12 days tops everything. That is total and utter chaos. Absolute joke what's gone on the last 12 days. I actually texted Novak during this. It's total BS," said McEnroe.
McEnroe especially talked about the grey area that allowed Djokovic to attempt to play the Australian Open unvaccinated in the first place. Had the option to play been wholly dependent on vaccination status, the problem could have been avoided entirely.
"Look, if he decided not to have a vaccine, and the Australian authorities say to him "you cannot go down there, unless you're vaccinated, end of story," it's black and white. [From there] he decides whether or not he wants to do it. He's got very strong beliefs, he's entitled to those beliefs," added McEnroe.
READ NEXT: WATCH: Young fan breaks down in tears of joy after getting autograph from Rafael Nadal