In a recent interview, Jannik Sinner's coach, Darren Cahill, spoke very highly of World No. 2 Carlos Alcaraz. The Australian coach opined that what Carlos Alcaraz achieved in the 2023 Wimbledon Open by defeating Novak Djokovic in the final was remarkable. He not only proved his doubters wrong but also established himself as the next big thing in the world of tennis. In the same interview, he also compared Alcaraz to Jannik Sinner. 
"I think what Carlos was able to achieve at Wimbledon was remarkable. People used to think 'it will take a few years before he becomes a threat on grass', and then twelve months later, he won the trophy, defeating Novak Djokovic in the final. That's everything about how competitive Carlos is, his work, his determination, and also his maturity. He might say that he is not mature enough, but he is," Cahill said. (H/T: Advantage Connors)
He also said that the Spaniard was extremely humble and honest. Comparing him to his player, Jannik Sinner, Cahill said that the two players are alike in many ways. However, the Australian coach conceded to the fact that the youngster is a bit ahead of Sinner right now, given the fact that he has been in lethal form lately. 
He further added, "He is an amazing young man, certainly very humble, very honest. He and Jannik are very alike in many many ways, that's why they are good friends off the court… Carlos is a bit ahead of Jannik, at the moment."
Carlos Alcaraz's recent run in the US Open 2023 was disappointing. He lost to Russia's Daniil Medvedev in the semifinals of the tournament and failed to defend his title. As a result, he lost his World No. 1 ranking to the eventual winner, Novak Djokovic. However, that does not change the fact that the Spaniard is currently on the rise and has been in impeccable form throughout this season. 
Read More: Bjorn Borg admits he hid things from his wife only to disclose them during the creation of his biography which is authored by his wife
Carlos Alcaraz vs. Jannik Sinner: Head-to-Head
Spain's Carlos Alcaraz and Italy's Jannik Sinner have played a total of seven matches against each other, and the 20-year-old is just slightly ahead at the moment. Alcaraz has won four of those matches, while Sinner has won three. Alcaraz is 2:1 ahead on hard courts and 1:0 ahead on indoor hard courts, while Sinner is 1:0 ahead on grass courts. They have a 1:1 draw on clay courts.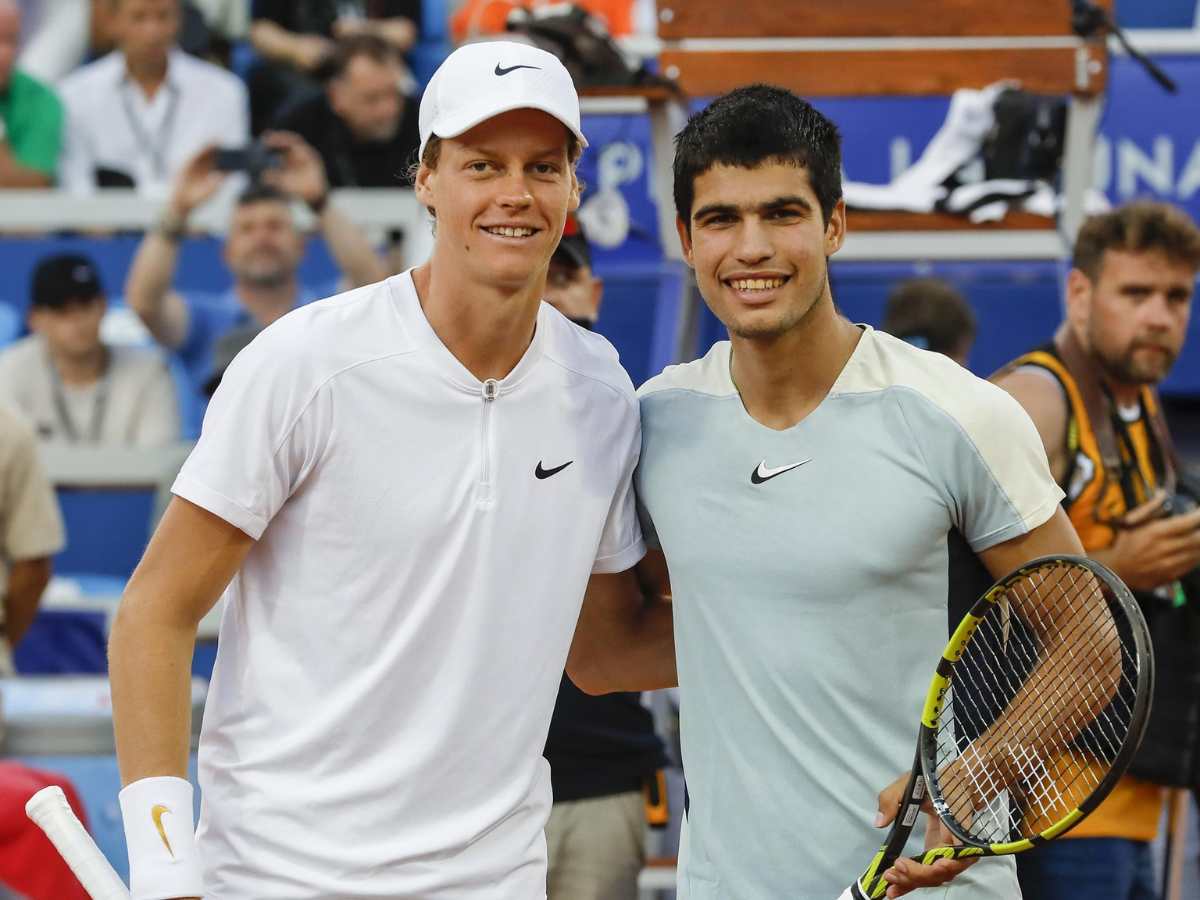 Carlos Alcaraz is currently World No. 2, while Jannik Sinner's ranking is World No. 3. Their most recent meeting took place at the 2023 Miami Masters, where Jannik Sinner emerged victorious. 
In case you missed it: