Carlos Alcaraz is a name that has been making waves in the world of tennis recently. At just 19 years old, the Spanish player has already made a name for himself as a rising star in the sport. He has shown remarkable talent and skill on the court, impressing fans and fellow players alike. One of those players Daniil Medvedev, who recently faced off against Alcaraz on On Sunday, Alcaraz defeated him in the 2023 BNP Paribas Open final in Indian Wells, winning 6-3, 6-2.
Cervara had nothing but praise for Alcaraz after the match, describing him as "the Tyson of tennis" due to his ability to hit forehands with brutal power and speed. He spoke of the blows that were displacing Medvedev 10 meters with ease and leaving him without options.
"He is the Tyson of tennis because of how he is capable of hitting those forehands with the racket. There were blows that They were displacing Daniil 10 meters with brutal power and speed." Cervara said. Cervara was in awe of Alcaraz's skill, admitting that he had expected the young player to make mistakes but was instead left feeling that he could not fail.
Then, after complimenting the Spaniard on his talent, Cervara said that he and Medvedev will start examining the teen's game for potential weak spots. "We will have to start looking for his weaknesses for the future."
Alcaraz's success can be attributed to his hard work and dedication. He has a strong team behind him that helps him recover from injuries and prepare for matches. His coach, Juan Carlos Ferrero, is a former world No. 1 and French Open champion who has helped guide Alcaraz's career.
However, despite his impressive performances, Alcaraz remains grounded and focused on improving his game. He is aware that there is still a long way to go in his career and that there are areas in which he can improve. Alcaraz's rise to fame has been meteoric, but it remains to be seen whether he will continue to dominate the sport in the coming years. While some have hailed him as the next big thing in tennis, others have cautioned against putting too much pressure on such a young player.
Related : "He will be right at the top," Andy Murray showers high praise on Carlos Alcaraz and draws comparison with his contemporaries
Carlos Alcaraz's weaknesses: How the rising tennis star overcomes them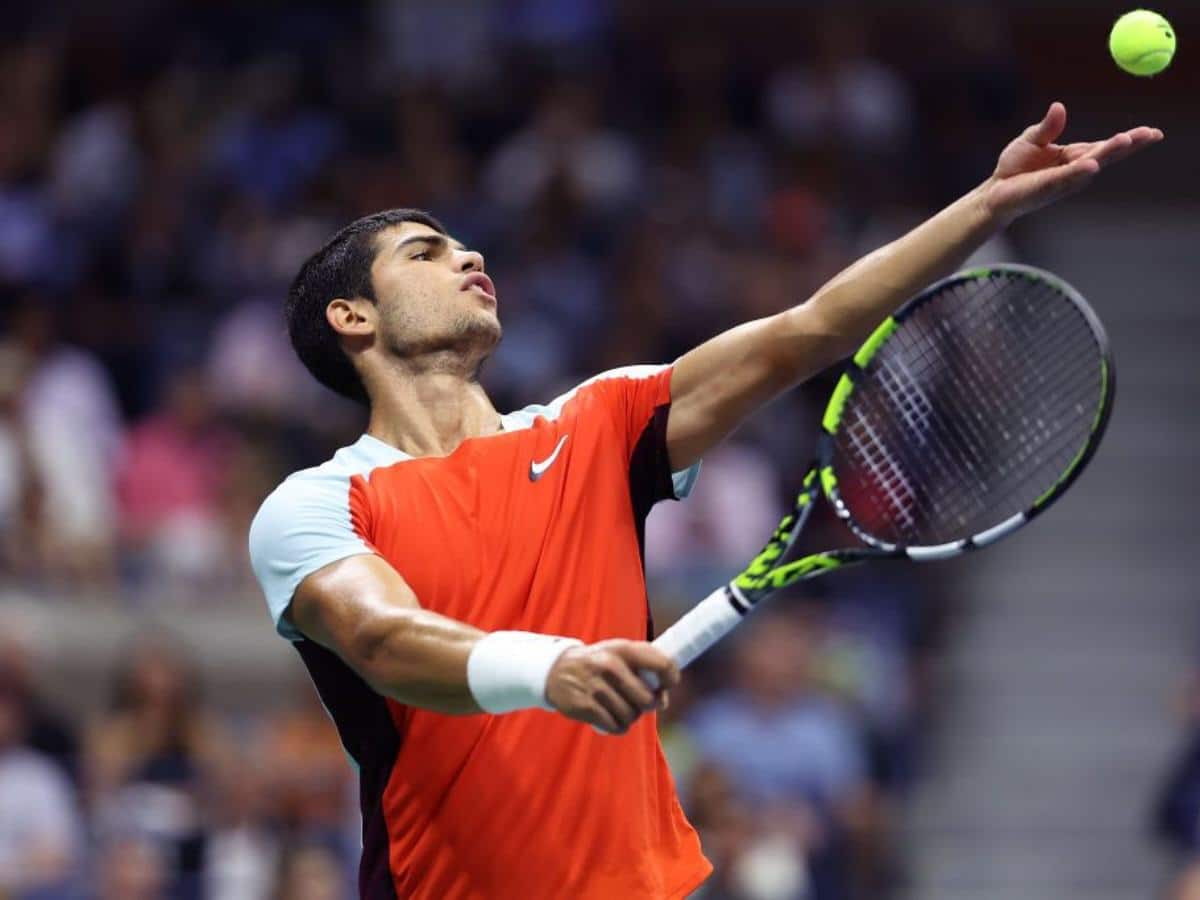 Carlos Alcaraz is a rising star in the world of tennis, but like any athlete, he has his weaknesses. One of his biggest weaknesses is his serve, which has been pinpointed by former players and analysts alike. However, Alcaraz has not let this weakness hold him back. Instead, he has worked hard to improve his serve and other aspects of his game.
Alcaraz's dedication to improving his game is evident in the way he trains. He works with a team of coaches who help him identify areas for improvement and develop strategies to address them. He also studies footage of his matches to analyze his performance and identify areas where he can make adjustments.
In addition to working on his physical skills, Alcaraz also focuses on mental preparation. He practices visualization techniques to help him stay focused during matches and maintain a positive attitude even when things are not going well. He also works with a sports psychologist to develop mental toughness and resilience.
Despite his weaknesses, Alcaraz has achieved remarkable success at a young age. He has defeated some of the top players in the world, including Rafael Nadal and Novak Djokovic. His impressive performances have earned him widespread acclaim and made him one of the greatest players.
In case you missed it :
"Can't you just let him retire in peace," Roger Federer becomes the victim of Mardy Fish's sarcasm as fans enjoy the banter
Why Stefanos Tsitsipas broke up with girlfriend Theodora Petalas?