The Sunshine Double has never been won by a teenager, nor has anyone ever claimed the title without losing a single set. However, 19-year-old Carlos Alcaraz is on the brink of achieving both milestones after his impressive victory over American men's No. 1 Taylor Fritz in the quarterfinals of the Miami Open, with a score of 6-4, 6-2. Alcaraz has extended his winning streak to 10 matches, with a remarkable run of 20 consecutive sets won.
In the first-ever meeting of Top 10 players, World No. 1 Carlos Alcaraz wasted no time in setting the tone, breaking No. 10-ranked Taylor Fritz in the opening game of the match. The two players then held serve until Alcaraz secured the first set. The match statistics spoke volumes, as Alcaraz recorded 20 winners and just 13 unforced errors. Notably, his forehand proved to be the most potent weapon, generating 11 winners and only 3 unforced errors.
Along with this win, the Spaniard registered a unique record too. He recorded the season-high forehand score in a match with 9.6. These shot qualities are measured on various parameters that give the probability of that player winning the point. Tennis fans and experts believe that to record such a high score against a top-quality opponent is extraordinary from the world No.1.
Taylor Fritz, who had been lethal and ruthless throughout the tournament not losing a single set faced a humiliating defeat against Alcaraz. It shows how the Spaniard is currently operating. With Novak Djokovic and Rafael Nadal missing out on the big tournaments, he is making sure to utilize them at most. He reached yet another semis this season after returning from an injury.
Related: Novak Djokovic becomes eligible for the US Open after the Senate passes new bill
Carlos Alcaraz set to play Jannik Sinner again in the semifinals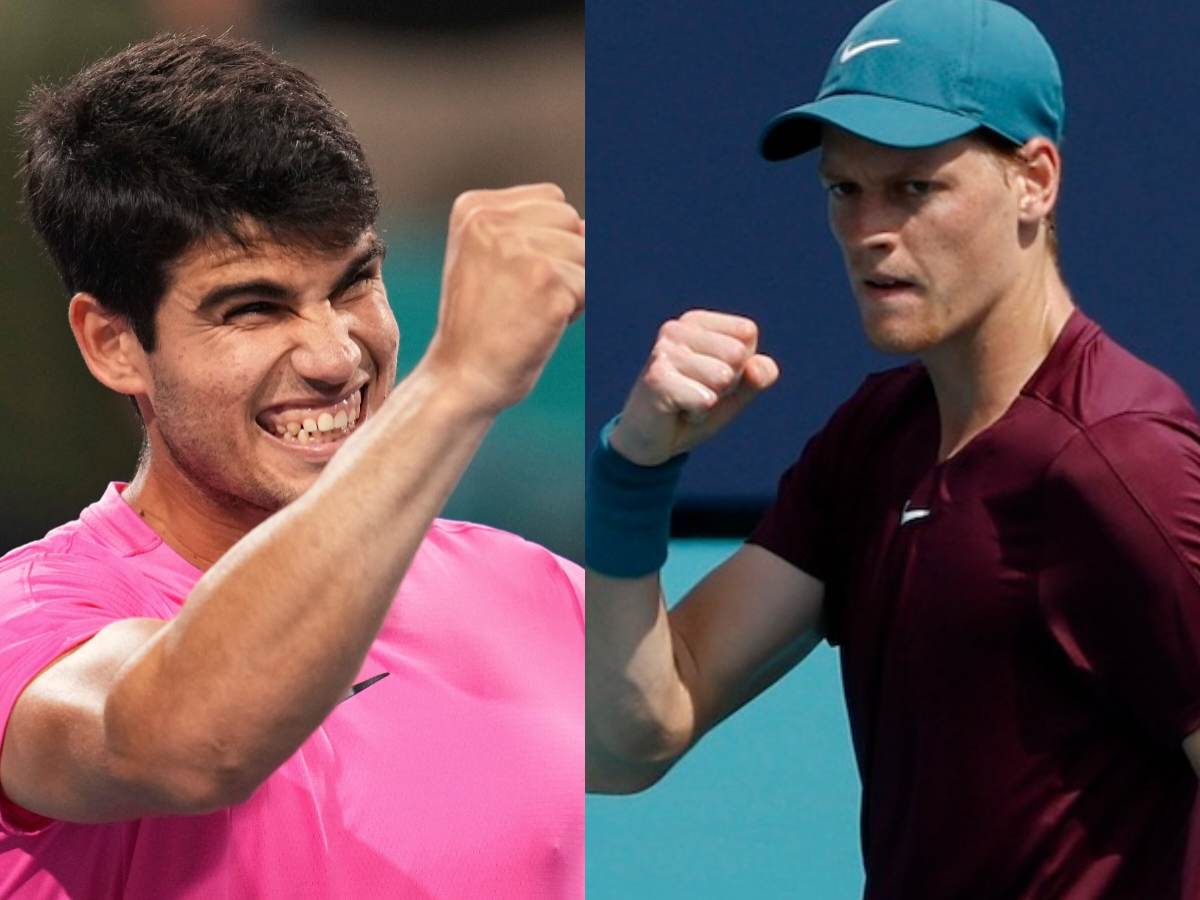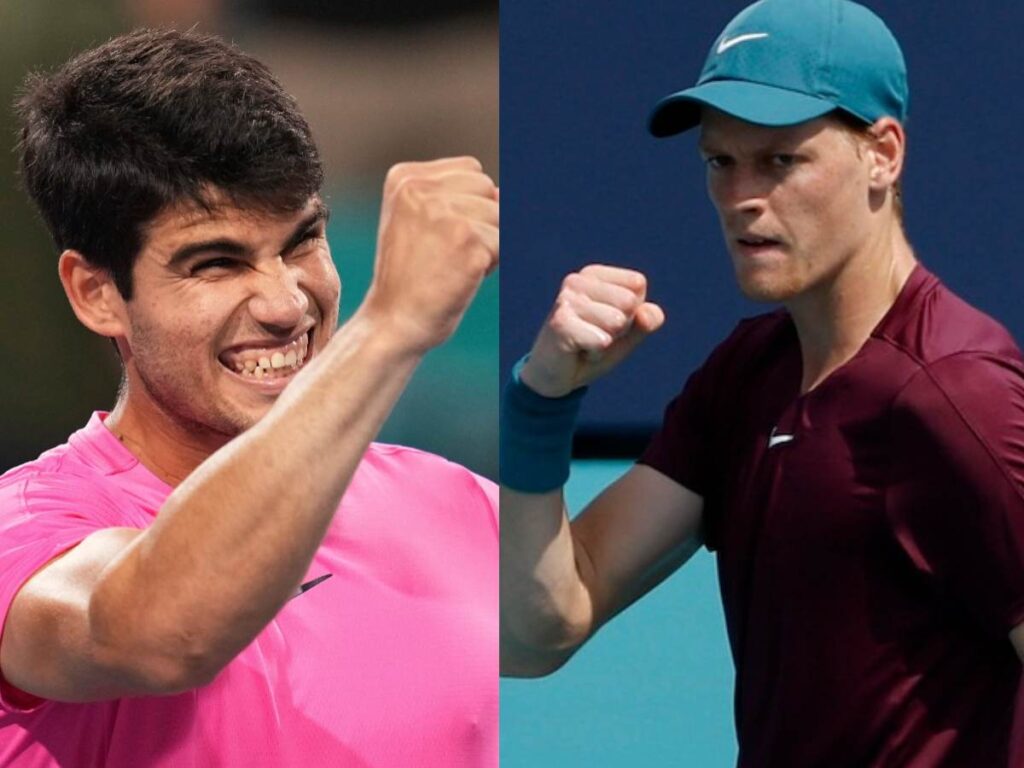 The ATP Tour has witnessed the emergence of a thrilling rivalry between Carlos Alcaraz and Jannik Sinner. The 19-year-old Spaniard and 21-year-old Italian both possess powerful groundstrokes and impressive agility, leading to several exciting encounters on the biggest stages of the sport.
With Alcaraz currently leading Sinner 3-2 in their ATP Head2Head series, the two will meet once again in the semi-finals of the Miami Open on Friday, setting the stage for a potentially electrifying match. If Carlos Alcaraz wins the Miami Open, he would join the elite group of only seven men to achieve the "Sunshine Double", winning both the Indian Wells and Miami tournaments consecutively.
The entire tennis world is closely watching these two battle out in almost every major tournament only to build up a rivalry. Some fans even believe that only Sinner can give a tough fight to the current world No.1. While the Italian looks to equal the head2head record and win his first Masters 1000 title, Alcaraz has many targets to be achieved with the win in Miami.
Continue Reading:
Christopher Eubanks gushes over his relationship with NFL star Chad Johnson and Jamie Foxx
Jennifer Brady, out since 2021, reveals her comeback tournament eyeing much-awaited return to the Tour