Carlos Alcaraz aims to achieve the rare feat of completing the Sunshine Double, which involves winning both the Indian Wells and the Miami Open in a single year. Having already claimed the 2023 Indian Wells Open title without losing a set, the Spanish tennis prodigy has continued his winning streak by securing three consecutive straight-set victories to advance to the quarterfinals of the Miami Open.
On Tuesday, he defeated Tommy Paul, a local favorite, in just one hour and 36 minutes, by breaking his opponent twice and hitting 24 winners, while the American managed only nine. As the current World No. 1, Alcaraz is determined to make history and become the 12th and youngest player ever to accomplish this impressive feat.
The two-time Formula 1 world champion, Fernando Alonso, has one of the best starts to his F1 career, scoring two podiums in two races. His shift to the Aston Martin team from Alpine this year did work out brilliantly as he finally returned to the top to compete for the race wins. The 41-year-old currently has 32 Grand Prix wins, with his last win came in 2013 Spanish Grand Prix with Scuderia Ferrari.
After almost 10 years, Alonso is having the best chance to win the race, and his compatriot, Carlos Alcaraz wished to see him victorious at the upcoming Australian GP. Speaking after his latest win, Alcaraz said, "I want to be a part of that few players that made the Sunshine Double. Well, I try not to think about that but it's difficult," Carlos Alcaraz said. "You know, it's something that I really want it. So for me, it would be great to achieve that."
Related: Martina Navratilova backs Carlos Alcaraz and Elena Rybakina to win the Sunshine Double
Carlos Alcaraz determined to win the 'Sunshine Double' in Miami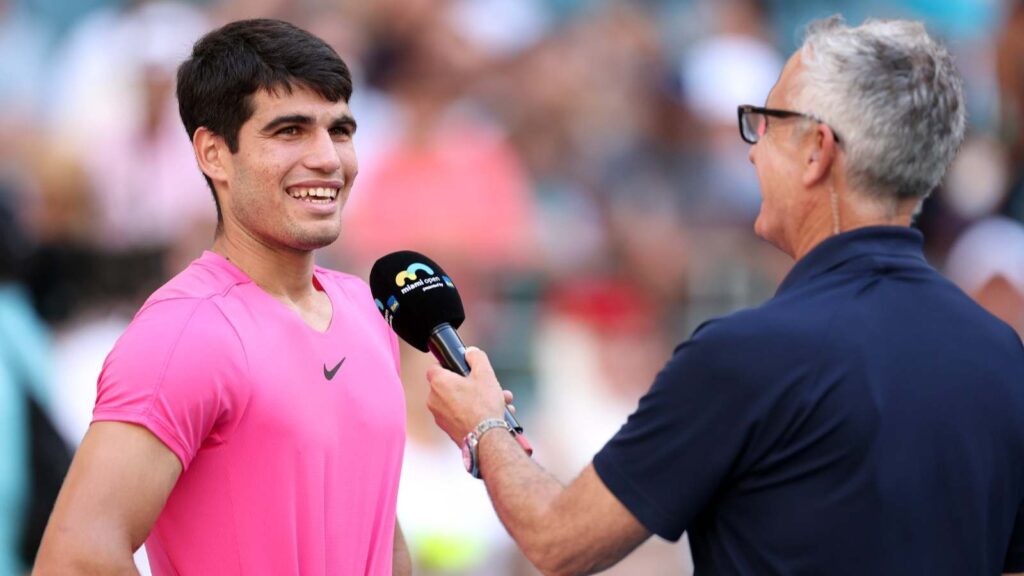 Having won the Indian Wells a week ago, the defending champion of the Miami Open, Carlos Alcaraz looks to defend his title once again. He not only retains his top spot in the ATP charts by doing so, but also could join the elite list of players to win the 'Sunshine Double'. However, he is just three wins away from achieving his dream.
Speaking about it after the win against Tommy Paul, he said, "But as I said, it is something that I do not think about that, you know, and try to think about day by day, you know, match by match, and that's all I try to think about. But of course, it could be great to be part of that few, few players."
Alcaraz aspires to join a prestigious list of 11 players who have achieved the Sunshine Double, including tennis greats such as Pete Sampras, Steffi Graf, Andre Agassi, Roger Federer, Novak Djokovic, Victoria Azarenka, Iga Swiatek, and few others. With an impressive record of 17 wins and only one loss this year, Alcaraz is currently in top form and appears to be a strong contender to secure a place on this exclusive list.
Continue Reading:
Carlos Alcaraz reveals his Sylvester Stallone secret for his dominant playing style
Bianca Andreescu gives an update on her freak injury that forced her out of Miami Open, thanks fans for love