Coco Gauff has made it to the big league on the WTA Tour and she is making it known to the world. Her apparel sponsors, New Balance, has released shoes with Coco Gauff's own signature and style reflecting in it. The British athletic footwear company is trying to replicate the kind of success Nike was able to with Serena Williams.
The 23-time Grand Slam champion too had her own signature shoes which she used on the court and in tennis tournaments. But after her retirement last season, the 19-year old player is the only player on the WTA Tour who has her shoes which are specifically designed for her and according to her recommendations.
Hence, the current World No.6 is ecstatic as this new range of shoes hit market shelves. In an interaction with the journalists, she was asked specifically about her feelings as the New Balance shoes which has her mark on it are out with her fans.
"Very privileged. I mean, I don't know, I feel like a lot of athletes on this tour definitely deserve it, so I feel very privileged that New Balance is giving me this opportunity, and I'm very appreciative of that. I don't know if maybe another brand would have done that, especially as much impact from me. Everything that I wear on the court, everything pretty much I get from them, I've probably seen, like, a year in advance and have basically picked out every detail that I didn't like. I'm very happy that they're so welcoming in what I want," she said.
"A lot of brands aren't always like that with all their athletes. I'm grateful I'm able to do that. Most of the time people like that feedback. Obviously they like the feedback, but people who buy the product can kind of tell when a player puts their all into something. I think that's what makes it special with me and the relationship I have with New Balance," she explained the process which went into making these shoes.
Keep Exploring: "If I had been an important player…," Guido Pella rants after enduring verbal abuse in Miami, calls out the double standards of Tour officials
Coco Gauff talked about her feelings about the new shoes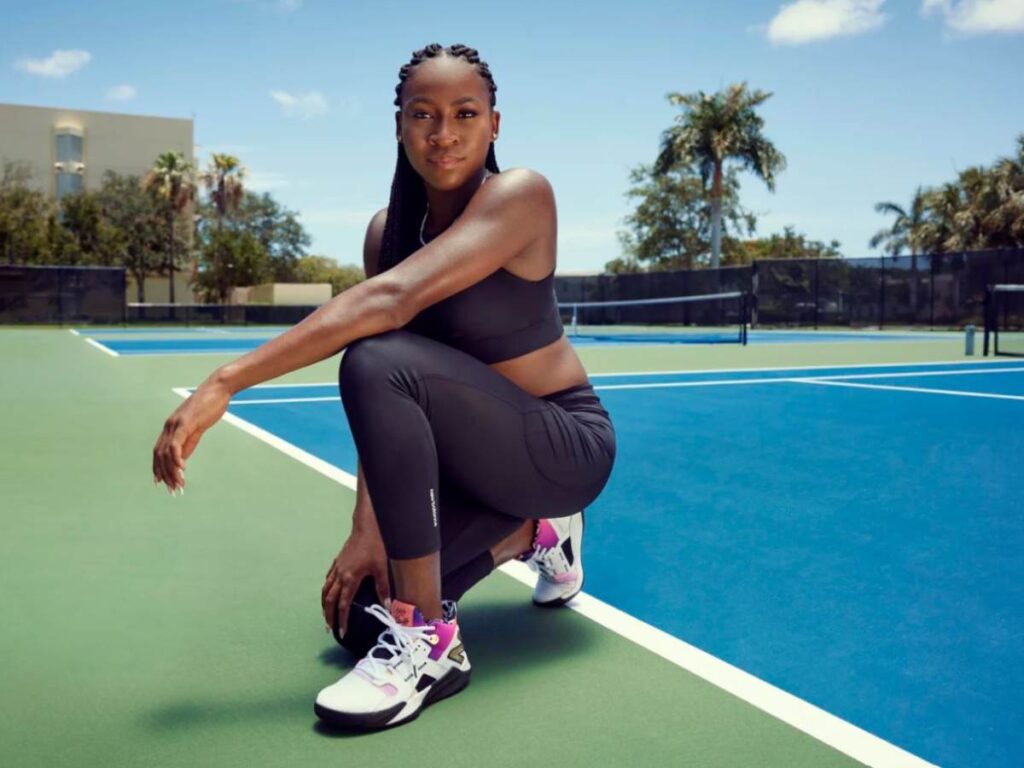 The American is very popular amongst youth and girls which consider her a role model to emulate. She has earned this through toil and hardwork on the court in the last two seasons. The current World No.6 reached the final of the French Open last year in both the singles and doubles disciplines. She also played in the WTA Finals 2022 in both the singles and doubles discipline. Her doubles partner is Jessica Pegula.
This year too Coco Gauff is taking giant strides, improving herself in every match and every tournament she participates in. Hence, New Balance honored her by bringing out shoes which not only carry her name but her style statement.
"I think especially in tennis, not that many people have done it. There's very few tennis players with their own sig. New Balance, honestly, brought it to me. Obviously I'm down for it if someone wants to give me my own shoe. It was really cool. I didn't want it to look like a tennis shoe. I wanted to have, like, a little bit of a basketball court feel. I mean, I couldn't do the high tops. That would have been too hard to play with. So the mid was something I could do," she said,
"Honestly, I love them. I'm not saying that because it's my shoe, because honestly I was a big hater when the first prototype came out. They worked really well with me. The footwork team that New Balance has is incredible. They were able to make those changes. They're always constantly trying to evolve.I don't know, yeah, it's pretty cool," she added further.
Coco Gauff will take on Anastasia Potapova in the second-round of the Miam Open 2023 ladies singles event. Also, she with Jessica Pegula will start her campaign in doubles event by playing against all-Czech pair of Brenda Fruhvirtova and Linda Fruhvirtova.
In case you missed it:
"The players have figured out how to play Iga Swiatek," Mats Wilander backs the Pole's decision to skip Miami and recoup for the Golden Swing
WATCH: Gael Monfils nearly breaks into tears as injury forces him to withdraw after playing only 30 minutes in Miami Masters