Carlos Alcaraz shocked Daniil Medvedev in the final of the Indian Wells Open 2023. The Russian went down in straight sets 3-6, 2-6. For the whole course of the match, the young Spaniard dominated throughout and did not let the Russian even a sniff back into the match.
In the post-match press conference, Daniil Medvedev candidly answered the questions that were shot at him. When he was asked about his take on the performance of Carlos Alcaraz in this match, he praised him for his dominating performance throughout the match. He also complimented him for his abilities and the extraordinary skills that he possess and drew this match comparisons with the US Open finals he played against Novak Djokovic.
"He's playing good. You know, I feel like he was serving well today. Serve and volley was good. Like even I knew that it's never easy to finish a match, especially a final. I was thinking about my match with Novak in US Open, and, you know, try to do the same, put pressure on him. For example, deuce, I made finally like a very good return on his serve and volley, sliding forehand volley, dropshot, yeah. It's not easy to play him," he answered.
He also criticized the surface before admitting that Carlos Alcaraz did played better against him.
"I would definitely love to play him on other surface, like maybe a little bit faster hard courts to see if I could do better. Yeah, again, I don't know if it's his game that didn't let me play my best level today or just, for whatever reason, I didn't play my best level. Mentally I was ready for the match. I don't feel like I kind of took it too easy before the match. I was ready for a fight. I knew that I have a tough opponent on the other side. He played well. Good dropshots in good moments, some good winners to break me. So not much more to add," he continued.
Keep Exploring: WATCH: Andre Agassi joins the Pickleball bandwagon as he hits the courts with Sam Querrey
Daniil Medvedev's winning streak came to an end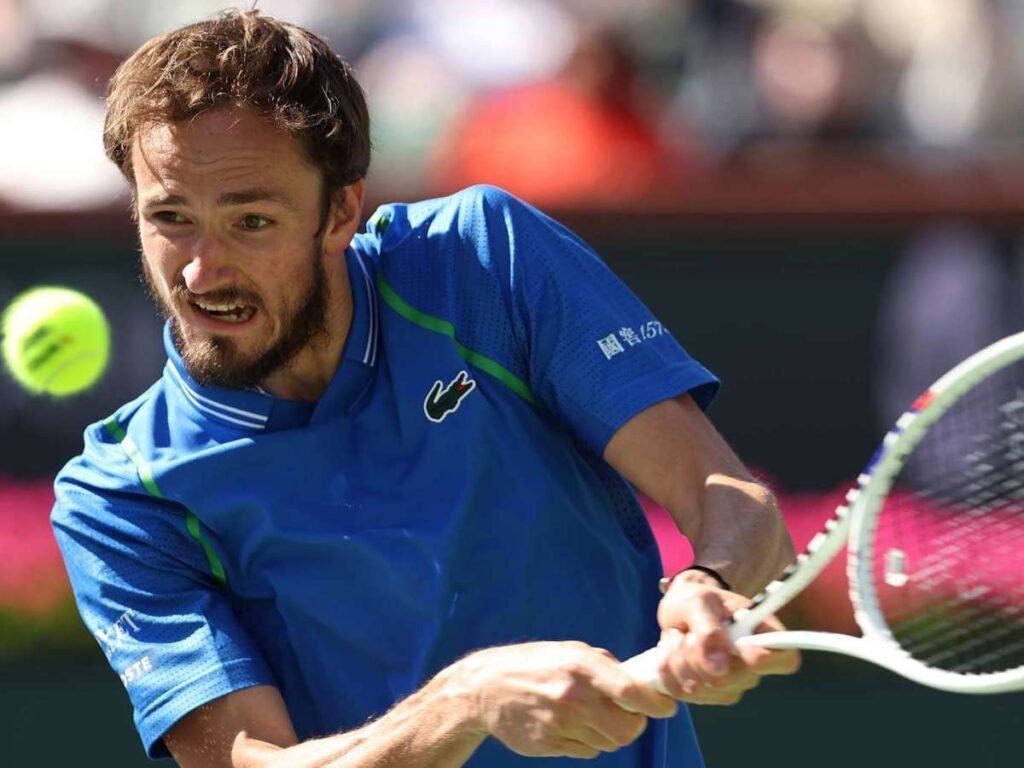 The Russian won 19 matches in a row and won three ATP titles in the course of a month after crashing out in the third round of the Australian Open. He was defeated by Sebastian Korda. Since then, Daniil Medvedev has held himself and won the ATP Rotterdam Open, Qatar Open and the Dubai Tennis Championships beating some of the best players on the Tour.
His winning run continued for 19 matches, however, like a good run it also came to an end. He could not extend it to 20 matches and beyond as Carlos Alcaraz became a challenge far too great for him.
However, the 27-year old also reached the final of an ATP Masters tournament for the first time since he played the final of the Paris Masters in 2021. He lost that match against Novak Djokovic. Reaching the final of the Indian Wells Open was his best performance in this tournament in his career.
In case you missed it:
"I have to leave tennis," Jelena Ostapenko discloses horrors that could happen after halt to state funding
"It just seems like it's made for those conditions," Casper Ruud backs Rafael Nadal to claim his 15th French Open title