After her loss to world No.1 Iga Swiatek at the Indian Wells tournament, Emma Raducanu has expressed her determination to become one of the top athletes on the Women's Tennis Association (WTA) tour. The US Open champion of 2021 had a remarkable week in the tournament, advancing to the fourth round before losing to Swiatek in a 6-3 6-1 match. Raducanu's dedication to improving her physical strength is evident, as she has gained muscle mass in pursuit of her goals.
Emma Raducanu, who is currently the top-ranked British player, secured two significant victories in the Indian Wells tournament, which were her best since winning the US Open. This was unexpected as her participation in the event was uncertain due to her previous injuries and illness. Raducanu's performance has been remarkable, and her victories have surprised many.
Raducanu expressed a positive perspective on her experience, stating that she can view the week in a positive light. She continued: "I think I had a few good wins earlier against some great opponents. I did two good training weeks in London. They paid off to an extent, but ultimately, two weeks of training isn't going to cut it against the world No 1 right now. I'm looking forward to playing her after I've got more time under my belt."
The 20-year-old athlete emphasized her commitment to maintaining the physical conditioning she achieved during the pre-season, in order to compete at a high level with players like Swiatek. She stated that her physical prowess would be a significant advantage for her game and that she is only just beginning to put in the necessary work to achieve her goals. While acknowledging that she has a lot of work ahead of her, she expressed confidence in her approach.
Related: Novak Djokovic's ban from entering the USA is a blessing in disguise believes Mats Wilander
Emma Raducanu is anticipated to face a challenging beginning to her Miami Open journey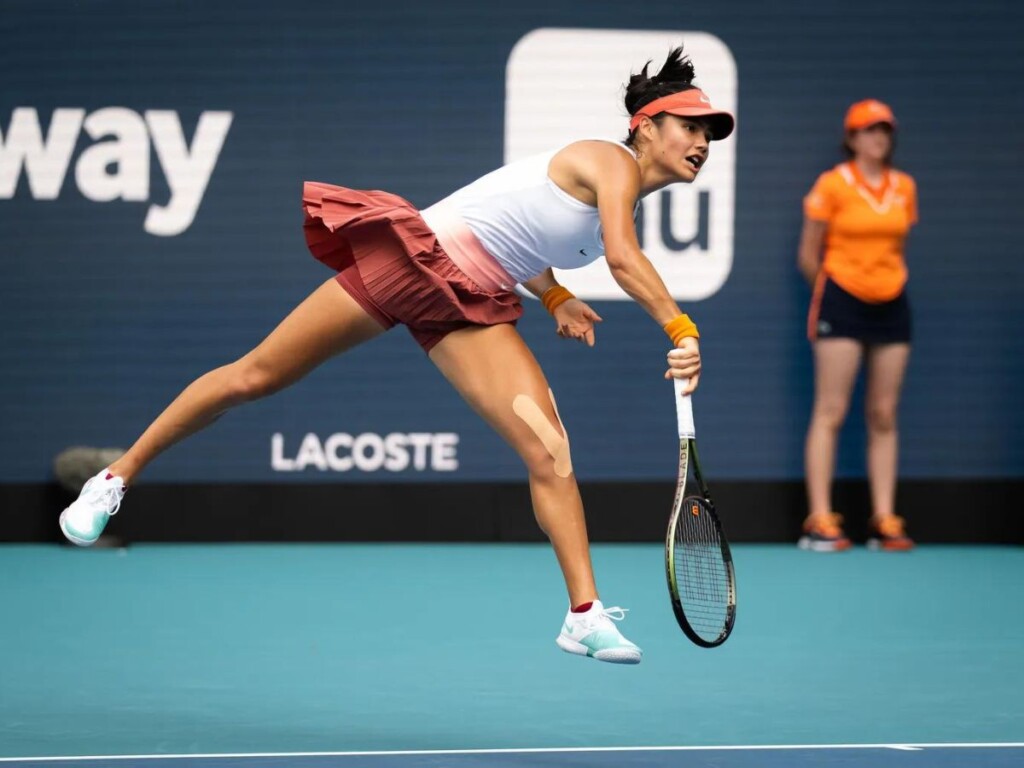 Emma Raducanu and Andreescu may have a chance to compete in what could be the most exciting first-round match, as the top 32 seeds will not participate until the next round. The match features a showdown between two former US Open champions, with Raducanu's recent victory in 2021 occurring two years following Andreescu's win in New York.
Raducanu won three consecutive matches at Indian Wells but lost to the world's top-ranked player, Iga Swiatek, who had also defeated Andreescu. Andreescu has had positive experiences in Miami, having reached the championship match in 2021, although she lost to Ash Barty. Their encounter will take place in the third quarter of the tournament's draw.
The victorious player will face a challenging task in the second round, as they will be up against No. 7 seed Maria Sakkari, who recently reached the semi-finals in Indian Wells. Additionally, the defending champion, Swiatek, holds the top seed position in the tournament's draw.
Also Read: "Not having a crack" : Tennis fans go into a frenzy after Thanasi Kokkinakis clarifies comments about 'nicest girl' Elena Rybakina
Also Read: "We don't have a simple life together," Alexander Zverev's girlfriend opens up on her challenging relationship with German tennis star