Tennis players are known by their performances on the court and in tournaments. However, there are some who are known by their dressing style. Everybody has their own style for drawing attention from the crowd. Frances Tiafoe was able to do just that with his on-court attire and appearances during the Australian Open 2023.
More than his performance in the tournament, his clothes on the court were the talk of the town. And it seems like he has inspired even the British music community. During the Grammy Awards, British singer and songwriter Harry Styles walked the red carpet in an outfit that appeared to be inspired by Frances Tiafoe.
Bastien Fachan, a social media freelancer and tennis enthusiast, rightly pointed out the similarities in the clothing of the two. He shared pictures of both on social media with a hilarious caption.
Frances Tiafoe walked so Harry Styles could run pic.twitter.com/65McbX925k

— Bastien Fachan (@BastienFachan) February 6, 2023
"Frances Tiafoe walked so Harry Styles could run," the caption read.
Frances Tiafoe's outfit was designed by his sponsor apparel giant Nike. Victoria Azarenka wore a similar outfit during her Australian Open 2023 campaign. 
Keep Exploring: WATCH: Rafael Nadal threatened to walk out of the match after heated argument with chair umpire
Social media users are commenting on this post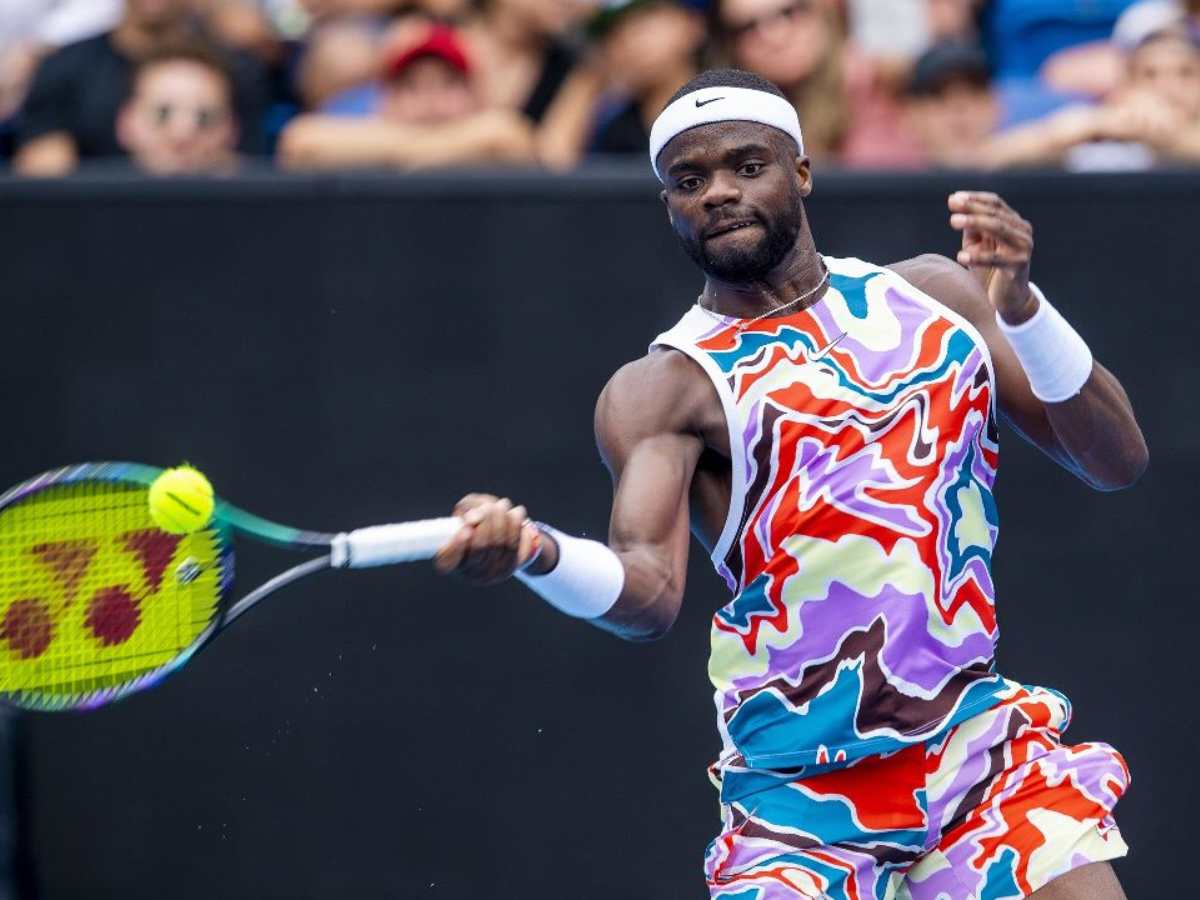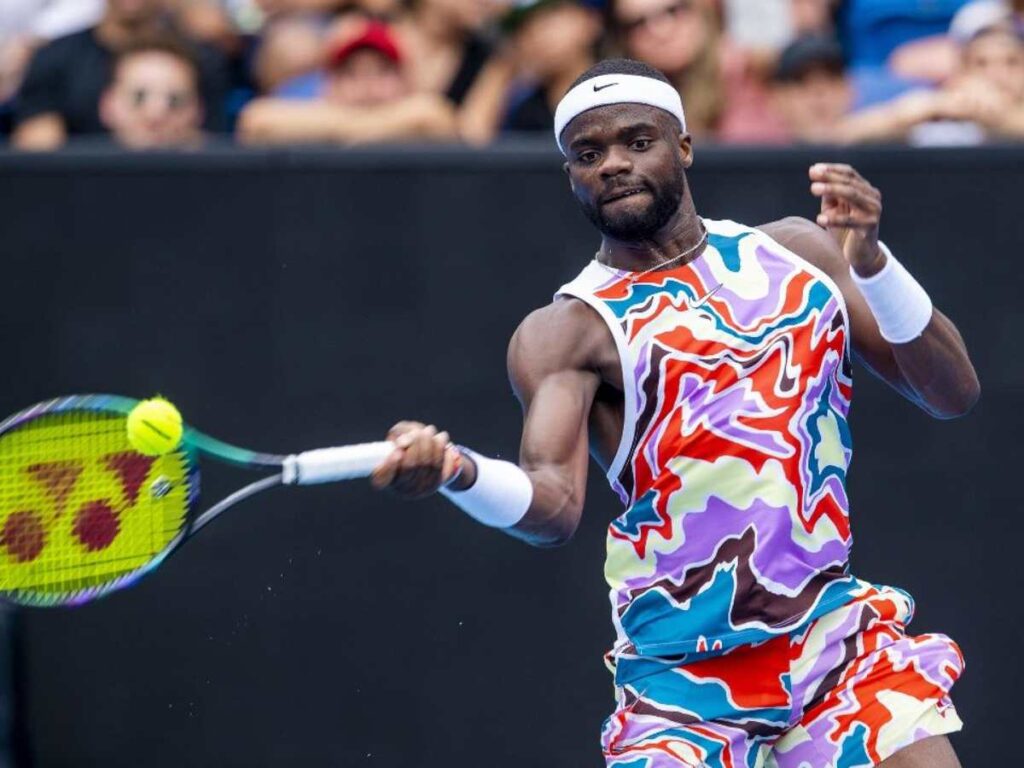 Frances Tiafoe came to the Australian Open with high hopes after a successful season last year. He was also part of the United Cup 2023 winner, Team USA. He was seeded #16 for this tournament. However, he could not translate all the hype surrounding him.
He got off to a good start in this tournament. He won his first-round match against Germany's Daniel Altmaier 6-3, 6-3, 6(5)-7(7), 7(8)-6(6). His opponent in the second round was China's Shang Juncheng. He defeated him quite comfortably in straight sets 6-4, 6-4, 6-1.
However, he could not keep his winning momentum going. He lost to Russia's Karen Khachanov 3-6, 4-6, 6-3, 6(9)-7(11) in the third round of the competition. But his outfit did draw attention from the crowd and media. Whoever saw it could not stop himself or herself from talking about it.
Many social media users are also commenting on the outfits of both gentlemen. Many are also cracking jokes about it. Here are a few reactions that came in.
Lol probably the other way around but still

— Ty Frankel (@TyFrankel) February 6, 2023
Foe oustold

— Waluigi IRL (@NoBSRussian) February 6, 2023
😂😂😂

— Rocco Vertuccio (@RoccoNY1) February 6, 2023
February 6, 2023
As a fan of both let's be real, Frances looks infinitely better https://t.co/rzTBoXRXsE

— maxscot employed era (@fickle_stan) February 6, 2023
Swing and a miss on this one 🤣 #ShootersShoot | @BastienFachan https://t.co/OekYdG7ABy

— Cracked Racquets ® (@CrackedRacquets) February 6, 2023
But it was Grigor who paved the way for both of them! pic.twitter.com/otuGOamBA7

— ferret with a cheese knife (@FerretKnife) February 6, 2023
Off topic but good lord I detest Harry style and every single thing related to this guy https://t.co/9dGjVLeCw3

— Tennis World (Mike) (@secondserves) February 6, 2023
Stylish on the court and on the runways! Like a beautiful Swiss Army knife-versatile and agile!

— Taylor McCutcheon (@Cutch_T) February 6, 2023
Big Foe Big Styles Tones @FTiafoe https://t.co/jcKxfz3ACB

— Steve Weissman (@Steve_Weissman) February 6, 2023
Why do they remind me of the clowns at many kid birthday parties? 🤔

— Ŷαγœκ Şăƒίŋ (@monsafin) February 6, 2023
What in the World? https://t.co/azBdL7GQxB

— Comfort Agyemfra (@CAgyemfra) February 6, 2023
I doubt he can run very far in that outfit

— Vis (@AFCvis) February 6, 2023
Although he could not do much at the Australian Open, his performances helped him climb to the world no. 14 ranking in the 2023 ATP rankings that came out after the conclusion of the Australian Open. He is soon going to participate in the ATP 250 tournament Dallas Open.
Incase you missed it:
Tracy Austin reveals the crucial factors that made Aryna Sabalenka Australian Open champion
"That is why there are so many people who do not like him," Benoit Maylin reasons why Novak Djokovic is hated by many despite his track record