Former tennis player and one of the most highly respected coaches in the world, Ivan Ljubicic is also one of the most respected voices. However, just a few days back media raised a furore over his opinions on the GOAT debate given in an interview to a Croatian channel.
In this interview, the Croatian coach acknowledged that both Novak Djokovic and Rafael Nadal have won more Grand Slam titles than Roger Federer which helped them to walk on the pedestal of GOAT. But he also stated that their legacy may be limited to that, they have more Grand Slam titles than the Swiss legend. Both have won 22 Grand Slam titles compared to 20 Grand Slam titles won by Roger Federer in his career.
His views was highlighted by media. Eminent sports journalist Luigi Gatto had shared this news on social media.
However, recently, Ivan Ljubicic gave his clarifications on the statements he made in this interview. He took to social media to share a new video of his interview, but this time with English subtitles which can help the audience to understand it better.
"Link to my interview where I discussed GOAT debate. A lot of rubbish has been written last few days, translated wrongly. It has English subtitles so no miss understanding," the caption read.
Ivan Ljubicic is currently working with French Tennis Federation (FFT) to groom promising young French players for the world stage.
Keep Exploring: Jamie Foxx gives a special pep talk to Christopher Eubanks before his clash with Daniil Medvedev at the Miami Masters
Ivan Ljubicic picks the player who will finish with most number of Grand Slam titles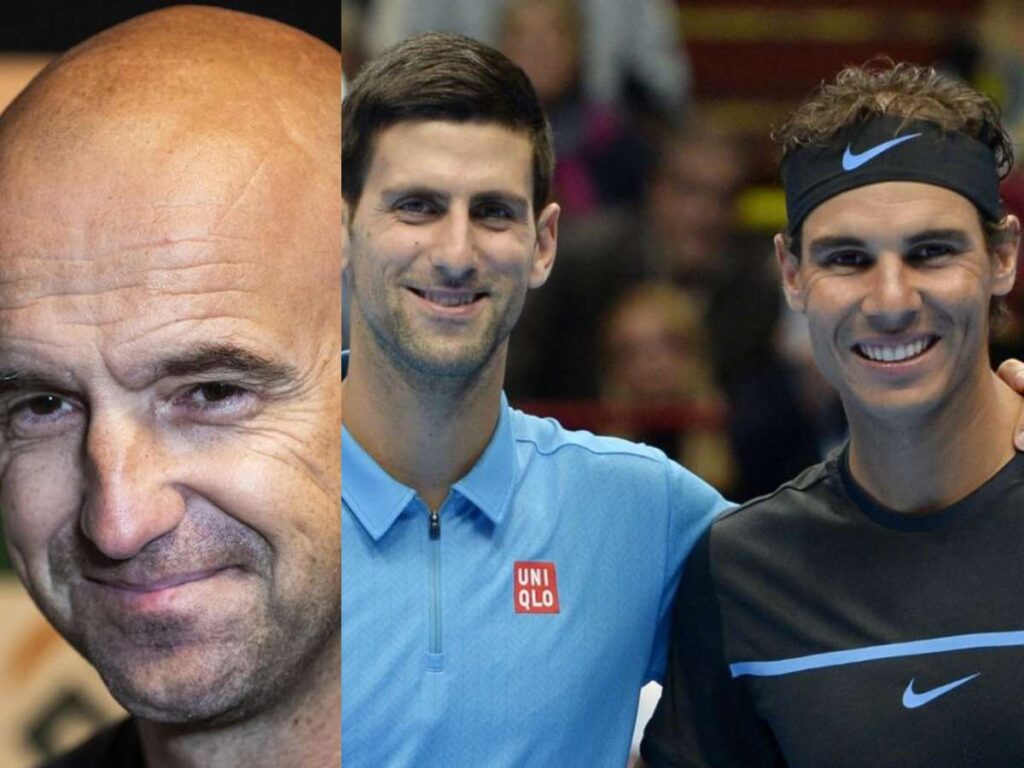 Former coach of Roger Federer, Ivan Ljubicic has given his take on the GOAT debate and who will finish his career with most number of Grand Slam titles. After retirement of the Swiss legend last year, Novak Djokovic and Rafael Nadal are the only remaining vestiges of The Big Three.
Both have won 22 Grand Slam titles in their respective career. Rafael Nadal won his 22nd Grand Slam title at Roland Garros last season. This was his career's 14th French Open title. Novak Djokovic won his 22nd Grand Slam title at the Australian Open. This was his career's 10th Australian Open title. However, both the players are hungry for more.
Ivan Ljubicic who got an opportunity to coach both Milos Raonic and Roger Federer shared his opinions in a recent interview on the qualities of both the players which makes them incredible and who amongst them will end up with most Grand Slam titles.
"I think at his moment Novak is the absolute favorite. Mostly for the reason that he is physically obviously much healthier, more durable and when we look at Novak now and Novak 10 years ago, we practically do not see the difference physically. With Rafa, you can see the difference. If you watch old matches from 2005, 2006, then 2010 you can see that it's a different Nadal who plays differently, plays more aggressively, but physically, you can see the difference," he said.
"You don't see that with Novak. So I think that Novak will win more Grand Slams, I'm not sure about Nadal, but we can now guess and talk as much as we want over coffee. We will see in the end who will be the one who won more," he continued.
In case you missed it:
Nick Kyrgios gives heartfelt reply to Holger Rune's recent comments calling him 'hell of a player'
"It could have been much worse," Bianca Andreescu gives an injury update that forced her to retire mid-match in Miami