Jessica Pegula and Frances Tiafoe have admitted that the United Cup run has drained them completely. The inaugural United Cup was won by Team USA including Pegula and Tiafoe. The two have produced stunning performances and became the X factors for the epic title run by the USA. Both players who are currently preparing for the Australian Open have opened up about their recent performances and their mindset.
World No.3 Jessica Pegula commented, "Depressed this week already" speaking about the Australian Open preparations. World No.19 Frances Tiafoe went a step ahead and remarked, "Bro thought about pulling out (of the Australian Open)". The USA team was bonded quite well in the United cup and the players have given their full support to one another which was key in their title-winning run.
Pegula won 8 of her 9 matches. Tiafoe also had an exceptional tournament as he won 5 out of 5 matches including a mixed doubles victory with Jessica Pegula during the United Cup campaign. Their compatriot Madison Keys and the Greek Stefanos Tsitsipas were the other undefeated players in the tournament. In fact, Tsitsipas is the most successful player in terms of wins. He won 7 out of 7 matches. Keys was able to win 5 out of 5 matches she played. Taylor Fritz won 7 out of his 8 matches for the USA.
Related: Jessica Pegula Net Worth, Tennis Career, Earnings, Boyfriend Coach, Parents and more'
Jessica Pegula and Frances Tiafoe talk about the bond developed within Team USA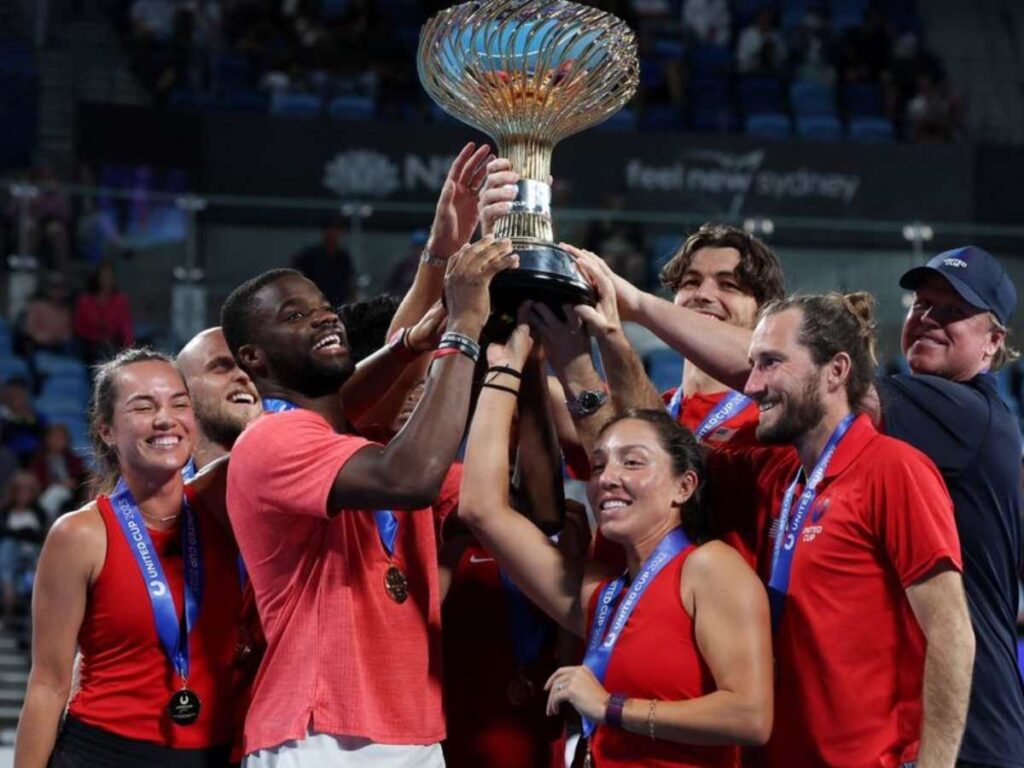 Jessica Pegula spoke about the bonding and the team spirit that put the team together in winning the United Cup, "We have been bonding a lot, I feel like – getting to know each other a lot. It was a good team from the start. We need to do an escape room again to keep the team chemistry going.' I did not think that was going to happen coming into this. Hey, here we are. It was fun."
After this team ride and coming to play a Grand Slam tournament, Tiafoe opened up on his low confidence now, "I think my confidence is pretty low, honestly". The 16th seed is expected to meet 22-time Grand Slam champion Rafael Nadal in Round 4. This will be a repeat of the US Open Round 4 last year. Tiafoe was able to win that epic counter in 4 sets. Later Nadal revealed that his abdomen was not completely healed during the US Open.
World No.3 Jessica Pegula who is in top-notch form and even defeated the Polish World No.1 Iga Swiatek in the United Cup says that she is not in the mindset to think about Australian Open yet, "I don't even want to think about AO. We might be doing an escape room in Melbourne. We have to stay locked. I don't know how else to do that besides like doing another escape room in Melbourne and warming up with Frances every day." (Source: TennisUptoDate)
In case you missed it!
Roger Federer had accused chair umpire Fergus Murphy of 'Stealing his challenge' in a heated match at the Australian Open
Justine Henin believes Rafael Nadal can surprise everyone at the 2023 Australian Open as he did last year