Andy Roddick was the last American male tennis player to win a Grand Slam singles title. He won the 2003 US Open singles title. Since then, almost two decades have passed but USA is still waiting for its next American Grand Slam champion.
However, American tennis legend John McEnroe is hopeful that in the next year and a half, an American will be crowned as the champion in one of the four Grand Slam tournaments. He is optimistic because the American tennis is in ascendancy. In the last two seasons, American tennis players have performed extremely well in tennis tournaments, especially in the Grand Slams.
"I think at this time these players have been pushing each other and that is a good thing. They have spent a lot of time together, growing up as juniors like Tommy Paul, Frances Tiafoe, Taylor Fritz and I think they become better players because of it. [Reilly] Opelka he is another guy you wouldn't want to play," he told in a recent interview.
Besides the four players, he is also betting on young guns Sebastian Korda and Ben Shelton for making the breakthrough this year.
"I would say Korda to me has the biggest upside at the moment. I think Ben Shelton, I haven't seen much of him, but this guy has some serious game and he is really a breath of fresh air," he continued.
However, he is also wary of some of the players weaknesses. He wants them to improve upon it. If they are able to do it, then they will have a greater chance of winning.
"[Tommy] Paul was someone who came onto the scene and a lot of ability, but perhaps wasn't prepared to do what it takes to get himself to that level of fitness and mental strength that you need, but now he has and you see how good he is. [Jenson] Brooksby was a guy a year and half ago that I perhaps would have put as the upside of all the Americans, but his serve needs to get a lot better if he wants to make that breakthrough," he further added.
Keep Exploring: "Shame on you," Arina Rodionova criticizes Novak Djokovic's fans for giving death threats to her
John McEnroe has high hopes from Taylor Fritz and Frances Tiafoe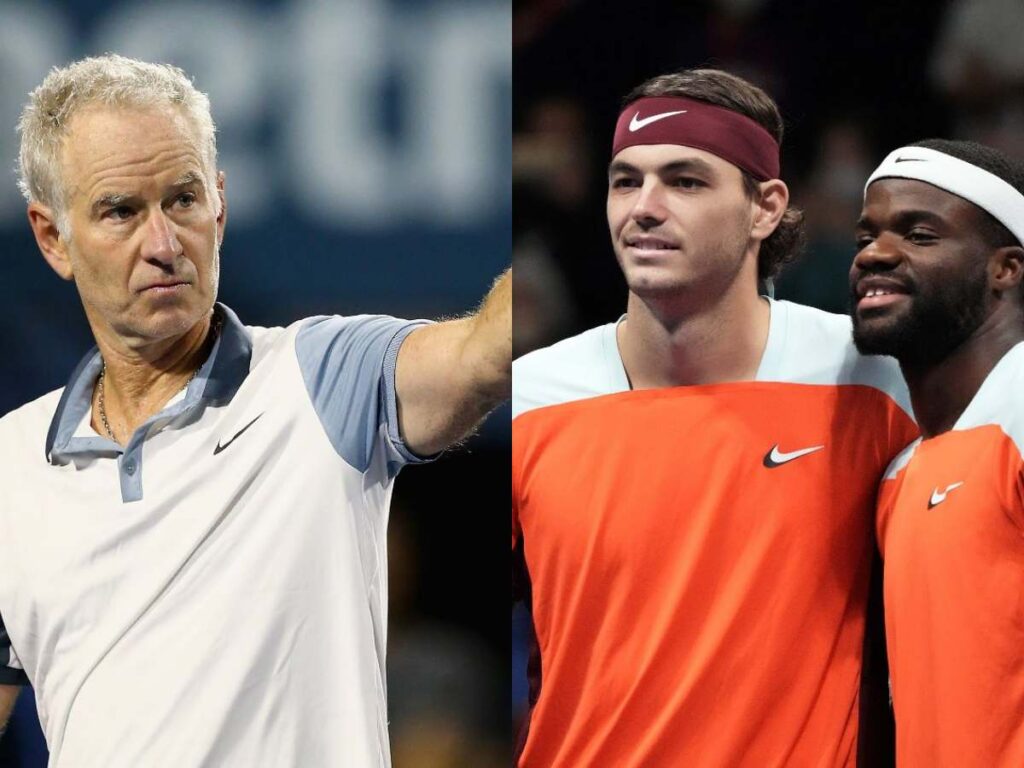 The American tennis legend believes that the best bet of USA in any Grand Slam tournament will be Frances Tiafoe and Taylor Fritz. His hopes renewed with Team USA winning the United Cup 2023, where both the players played an important role in winning the competition for their country. Also, Taylor Fritz's and Frances Tiafoe's performances last year must have also given confidence to John McEnroe.
Taylor Fritz won the Indian Wells Open last season and reached till the semi-final of ATP Finals 2022. Meanwhile, Frances Tiafoe reached the semi-final of the US Open 2022.
"Taylor Fritz is the highest-ranked of all, he hits an incredible ball and he's had some disappointing Grand Slam results the last couple of events, but to me he is a consistent top 10 player. I'm not sure I put him at the top as the highest upside, but he is certainly a great player.
"Tiafoe I would put close to the top in terms of upsides because athletically he could be even the best of them all, but mentally he is getting stronger, disappointing result at the Australian Open," he told.
"I think in the next year or year and half I think you will see one of the Americans win a major," John McEnroe summed it up with his own canny style with lots of enthusiasm.
In case you missed it:
"Better keep the volleys sharp when Roger Federer is hanging just above you" : Holger Rune enjoys a productive first practice session in Rotterdam
"She didn't get millions from her father," Martina Navratilova jumps to the rescue of Rihanna after Donald Trump's ugly remark on the singer