Mirra Andreeva, the latest sensation in women's tennis, is ecstatic after her second-round win over French player Diane Parry. She is even more excited to meet her next opponent, Coco Gauff, who, just like her, was a teenage sensation in her own right. All of 16 years old Mirra Andreeva has big plans for her career and hopes to have a long successful stay on tours.
In her post-match interview, Mirra Andreeva was asked what was her dream for her tennis career. The 16-year-old said, "The dream. I know Djokovic [Novak] did 22 Grand Slams, so I want to get 25, if it's possible. I don't know." Though she gets inspired by one of the greats of tennis, Novak Djokovic, Mirra Andreeva conveniently left out the name of the greatest in women's tennis, Serena Williams. Despite the fact that Serena herself has won 23 Grand Slam titles, Mirra doesn't count Serena as her inspiration on her road to winning 25 Grand Slam titles.
Novak Djokovic and Serena Williams are both exceptional tennis players who have achieved remarkable success in their respective careers. While it's common for aspiring players to find inspiration in different athletes, perhaps even in different sports, the choice of picking Djokovic over Serena could be subjective for Andreeva. It could depend on her playing style or background. But fans would hope to see a young female tennis player quote Serena Williams from time to time instead of naming a male counterpart.
Serena Williams is considered one of the greatest female tennis players of all time. With 23 Grand Slam singles titles to her name, she has set numerous records and made a profound impact on the sport.
Keep Exploring: Jannik Sinner loses a dramatic battle to Daniel Altmaier in the 5th longest match of French Open history
Mirra Andreeva and Coco Gauff face off in Round 3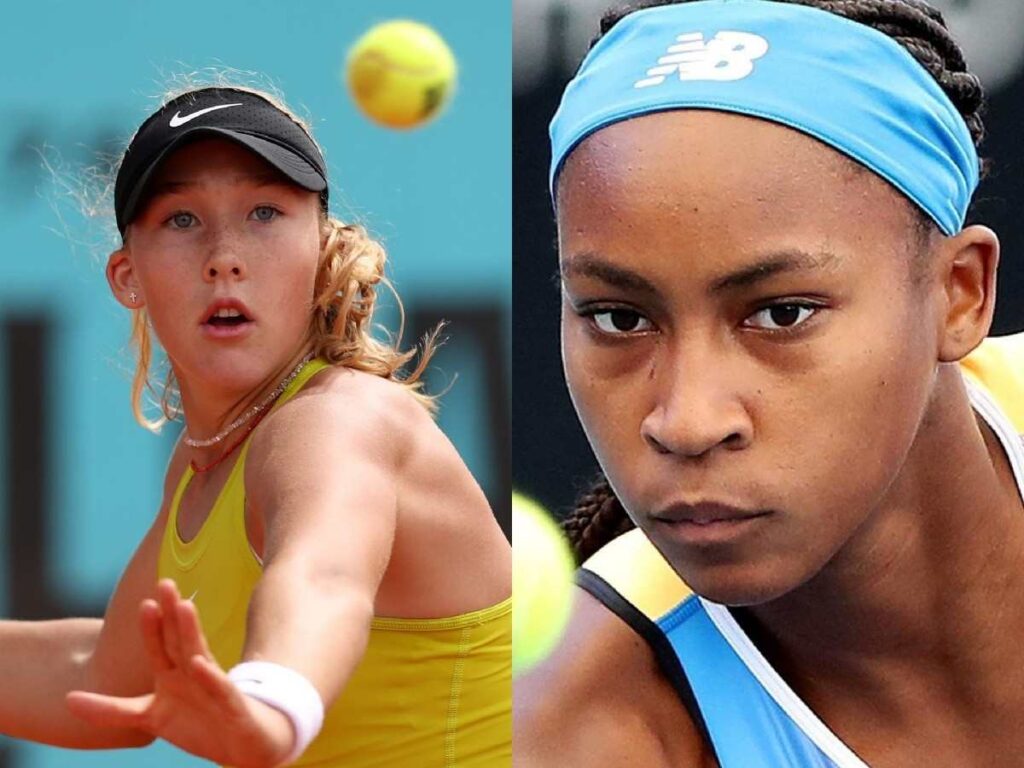 The third round set up for Mirra Andreeva is going to be an all-teen affair. 16-year-old Mirra will take on 19-year-old Coco Gauff. This is the first-ever Grand Slam for Mirra Andreeva. She broke into the majors stage of tennis by reaching her 4th round in the Madrid Open 2023. She defeated big names on the way, including Magda Linette and Beatriz Haddad Maia. Ultimately, the 16-year-old lost to World No. 2 Aryna Sabalenka.
The 3rd round match between Coco and Mirra would be a very exciting one to watch. Both teenagers are strong-willed and have a powerful game. Though Andreeva comes across as more calm and blithe, Coco Gauff is the opposite. She is serious, focused, and determined on the court.
A few ago Andreeva and Coco Gauff practiced with each other and Andreeva almost had a fan girl moment with Coco Gauff. "I actually practiced with Coco here. She's so good. But she plays so fast and she plays so aggressively and she's so nice. She was so nice. Oh my god. So yes, I can say that Coco is the most beautiful face for now that I've seen here," said Andreeva.
This is the first time the 2 teenagers will be playing each other and predictions for the match are equally poised. It will be a very interesting match to watch.
In case you missed it: