A young Spanish boy has taken the men's game by storm. The world of tennis in a long time hasn't seen a more talented 20-year-old. Carlos Alcaraz, with his skill, has been simply the best on the tour in the last 12 months.
His tennis has been lauded by the legendary John McEnroe as well. He hailed Alcaraz as the best 20-year-old and placed him ahead of the likes of Rafael Nadal and Roger Federer as well. That's simply how good Carlos Alcaraz has been on this vastly competitive tour.
Recently a tweet was put out by Mark Petchey. In that, he had a question for all those who follow tennis about Carlos Alcaraz. The tweet read, "What weakness do any of the fans watching @tennischannel see in @carlosalcaraz game?" Many responses came in. However, one response that caught the eyes of many was one by Aussie star Nick Kyrgios.
He came up with a very different angle to solve the question. This is what Kyrgios had to say, "We were saying similar things about Medvedev once upon a time. Not saying a see one, I'm just saying, until someone exposes them, they look unplayable." Kyrgios clearly believes that you need someone to expose it. Extremely talented players seem to be unplayable till another classy player comes and exposes the few weaknesses that may exist.
He also made reference to Daniil Medvedev. Medvedev also looked invincible till his contemporaries exposed a few chinks. Kyrgios believes Alcaraz will look the same till someone out of the blue comes and matches the Spaniard.
Related: French Open 2023: Aryna Sabalenka vs Karolina Muchova Prediction, Head-to-Head, Preview, and Live Stream
Alcaraz is well and truly on course for his second Grand Slam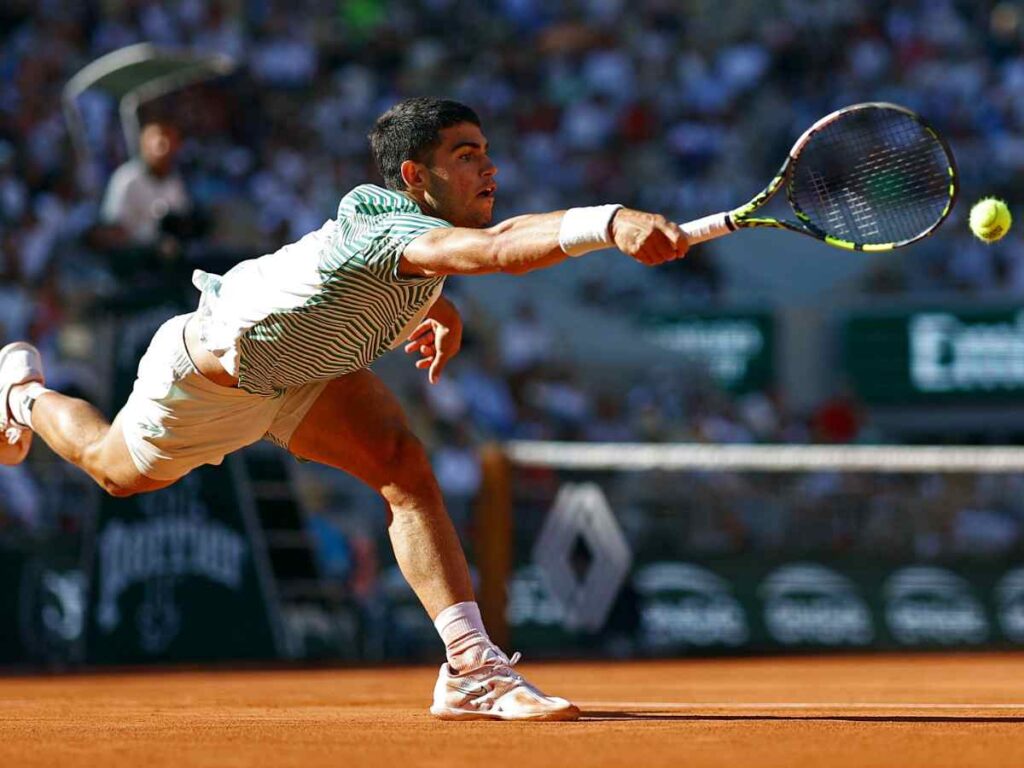 Carlos Alcaraz won his first Grand Slam at the 2022 US Open. He has looked as good as unbeatable in the last 6-8 months. He has improved leaps and bounds over the last 1 year. Unfortunately, he had to miss out on the Australian Open this year. However, he has so far made up for the miss with clinical performances at the 2023 Roland Garros.
He has breezed through all his rounds. He will face his biggest and toughest battle of the fortnight on Friday as he goes head-on against Novak Djokovic. He will be aware of that and will know that if he can ace that semi-final clash, he will get a much easier final match. Can the young Spanish sensation hold his nerve and win the final two matches to claim his second Grand Slam?
In case you missed it: