Poles apart, that's what you could say about Iga Swiatek after the World No.1 was felled by Elena Rybakina in the semi-finals of the BNP Open in Miami, US, on Friday night. These days, it is getting harder for Iga, the Polish superstar, who is notable to justify her World No.1 ranking. It is one thing to be No.1 numerically, in rankings, and quite another to dominate world tennis.
Women's tennis has often seen a few top players dominate, sometimes for months and then for years. If you take longevity and dominance into account, the names of Steffi Graf and Serena Williams will pop up first. Graf has been in the news recently, though she hardly plays any seniors events or exhibitions. It is just that for being No.1 for 377 weeks, her name was dragged into the supremo debate as Novak Djokovic eventually got past it.
Back to Iga Swiatek, the winner of three Grand Slam titles, including two in 2022 — French Open and the US Open — gave an impression she is going to rule. That's easier said than done, for there is any number of players ready to rock and roll and whack the ball. Certainly, Elena Rybakina, the smooth slayer loves to belt the ball against Iga. There has been some kind of love-hate for Elena, needles that. Her fluent win last year at Wimbledon, where she pummelled Ons Jabeur was sensational.
This year, Elena lost the Australian Open final to Aryna Sabalenka. Again, people raked up controversies, when one existed. That match in Melbourne was a bit flat, yet Elena Rybakina was not devastated. She gets ridiculed now and then for her nationality, despite her making it clear she is a Kazakh and the birthplace of Russia means a damn vs a vis the ongoing war.
In case you missed it: "Shame on the United States," Tennis fans slam U.S. government after Novak Djokovic officially withdraws from Miami Open
Iga Swiatek's injury troubles becoming frequent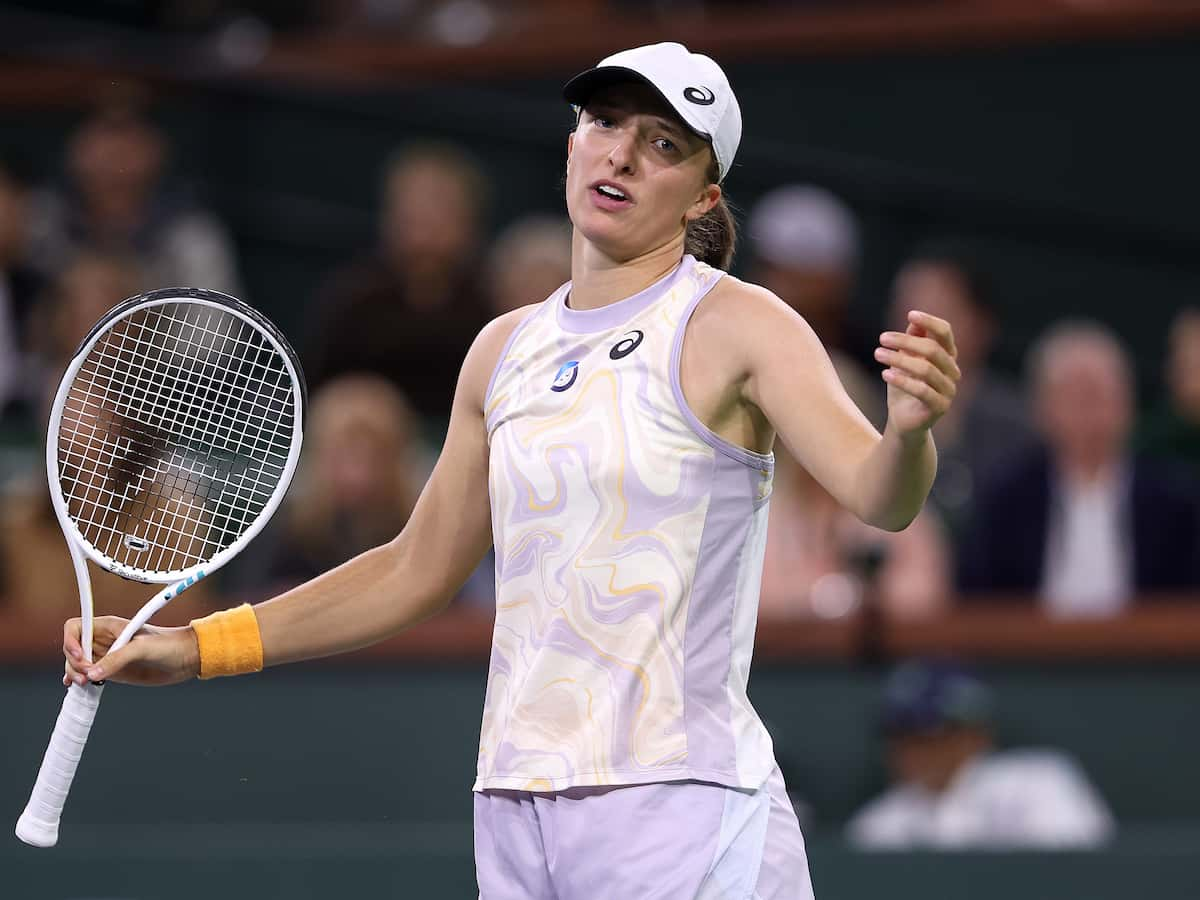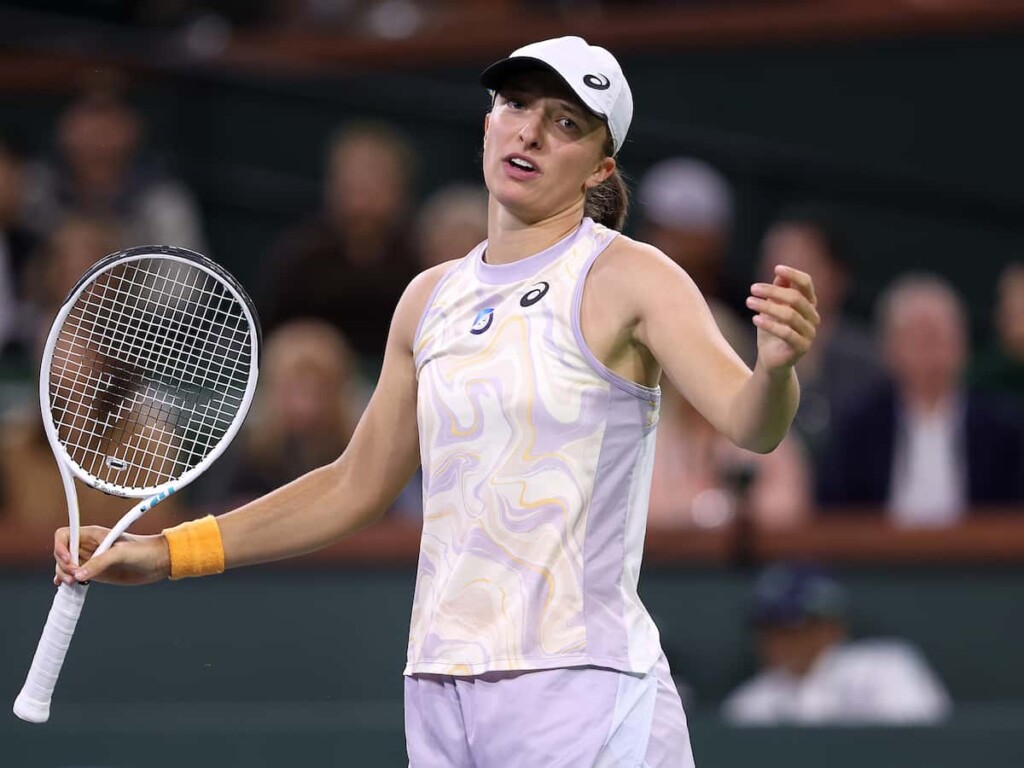 The real war is sort of receding, though the Western world wants to keep hyping it up. But the big deal is Iga Swiatek. She got good press all along. Suddenly, even she realizes, there are people who will take a swipe at her, swoosh like the fly racket to kill the small insect! There is pressure on Iga and even if she says she had pain in her ribs and wants to see doctors, it becomes shambolic.
Being insensitive is wrong, for players face so many issues. If Iga Swiatek has a rib injury, give her the benefit of doubt. She did agree that she was dominated but something was missing. "I gave it all but Elena was a better player," said Iga Swiatek. "Unfortunately I'm feeling discomfort and pain in my ribs and it was challenging for me to compete at my highest level. I will consult with my team and I will definitely use these next days to recover," added the Pole star.
One has to give it to the girl, she played two sets and then lost. But to subject her to mental harassment of sorts is just not needed. Social media is filled with some nasty comments, some calling her like Rafael Nadal, as he sustained a serious rib injury at the Australian Open in January. Comparisons have been made between Nadal and Iga Swiatek, of how injuries are cited/faked as excuses. That is being mean.
After all, even Novak had to hold a press conference and tell some tennis journalists, specifically, he had a massive hamstring tear in Melbourne. In his mid-30s, Novak is philosophical on how long he can play, though he trains very hard and does everything to stay fit. Tennis is extremely physical these days. There is no way you can keep winning and be a 100 percent fit. The breakthrough year is always easier.
Once into the second year as the No.1, when players decode you, it gets tougher. And then the challenge of being fit, day in and day out. Tennis history is replete with instances where, in the old days, top players preserved themselves for the four Grand Slams. This generation may be oblivious to the fact that there was a Spanish armada that played just the clay court season and then skipped the grass season. One cannot do that now.
"Honestly, I haven't played with a lot of injuries," Iga Swiatek said later on Friday night. "It's a new situation for me, for sure. The last time I played with an injury, like the only tournament I can remember is like Roland Garros 2019. So I was pretty young," she said.
One cannot say that Iga Swiatek is faking it. Let her heal and then bounce back, though competing against powerhouses like Rybakina and Sabalenka will not be easy. "Now it's a totally different level. So I feel like going on that matches you have to be 100% fit," concluded Iga. She hit the nail hard on the head!
Continue Reading:
"I cannot control their emotions," Aryna Sabalenka opens up on the locker room tension due to the ongoing Ukraine War
"Didn't expect I'd play that good," Elena Rybakina surprised with her own performance against Iga Swiatek at Indian Wells