In a recent interview, Rory McIlroy, the Northern Irish professional golfer, expressed his admiration for the young Spanish tennis player, Carlos Alcaraz. McIlroy stated that he had been reading Alcaraz's interviews and was impressed by the young player's philosophy, understanding, and conviction. Alcaraz, who is only 19 years old, has been making waves in the tennis world with his impressive performances on the court.
He has been hailed as the next big thing in tennis, and many have compared him to the likes of Rafael Nadal and Roger Federer. As Alcaraz himself explained in a separate interview, he is not trying to be the next big thing in tennis. He is not aiming to follow in the footsteps of legendary players like Federer, Nadal or Novak Djokovic.
McIlroy revealed that he had been reading Alcaraz's interviews, and that one particular quote had stuck with him: "The joy goes. The instinct gets lost. The idea of not making everything monotonous and keeping life fun resonates with me," McIlroy said. "It's something that I think we all need to remember, whether we're playing golf or tennis or doing anything else in life. When you lose that joy and that instinct, things become a lot harder. So I think it's great that someone like Carlos is reminding us of that."
Instead, Alcaraz is focused on playing the game in a way that is true to himself, and that will bring joy to himself and his fans. It's a sentiment that McIlroy can appreciate, having experienced similar pressures and expectations in his own career as a professional athlete. He went on to explain that he found Alcaraz's approach inspiring and that he believed it could apply to anyone, regardless of their chosen field.
In case you missed it: "I'll cheer for you," Carlos Alcaraz and Jannik Sinner's sportsmanship on the net has fans melted
Beyond Tennis, how Carlos Alcaraz inspires athletes from all sports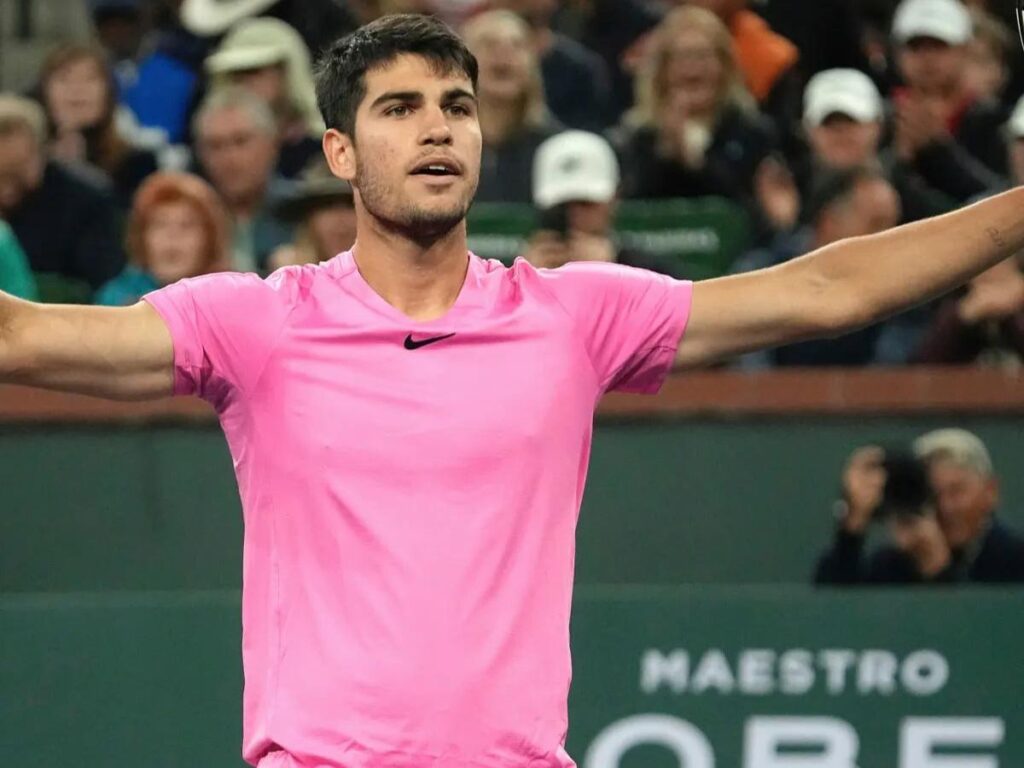 Carlos Alcaraz is a rising star in the world of tennis, but his influence extends far beyond just his sport. The 19-year-old from Murcia, Spain, has inspired not only tennis players but also athletes from a variety of other sports. Firstly, the Spaniard's dedication and work ethic are admirable, even for athletes in other sports. Despite his young age, Alcaraz is known for his intense training and unwavering focus on improving his game.
But perhaps even more impressive is Alcaraz's attitude toward the game. He is not just focused on winning, but on playing in a way that is enjoyable for both himself and his fans. He wants to bring a sense of fun and excitement back to the sport, which is something that has been lacking in recent years as the pressure to perform at a high level has increased.
In a world where success is often measured purely in terms of results, it's refreshing to see someone like Alcaraz who is willing to prioritize joy and instinct over everything else. His approach may not work for everyone, but it's certainly something worth considering for anyone who wants to excel in their chosen field while also maintaining a sense of happiness and fulfillment.
This commitment to excellence has earned him the respect of many athletes, who recognize the importance of hard work and dedication in achieving success. Moreover, Alcaraz's mental toughness and ability to handle pressure are traits that inspire athletes in all sports. In tennis, players must have the mental fortitude to overcome adversity and stay focused under pressure, Novak Djokovic being one of the biggest examples of it.
Additionally, Alcaraz's positive attitude and sportsmanship have earned him widespread admiration from fans and fellow athletes alike. He is known for his graciousness both on and off the court, always acknowledging his opponents and thanking his supporters. His humility and kindness serve as an example for athletes in all sports, reminding them that sportsmanship and respect are essential components of true greatness.
In case you missed it :
Novak Djokovic in contention for upcoming Davis Cup matches as potential clash with Carlos Alcaraz is on cards
Ukraine minister accuses Wimbledon of "Accommodating crime accomplices," as ban on Russian and Belarusians lifted