In the upcoming 2023 Miami Open championship match on April 2, Carlos Alcaraz will support Jannik Sinner, as the Italian faces Daniil Medvedev. On March 31, Jannik Sinner defeated Carlos Alcaraz in the semi-finals of the Miami Open, preventing the Spaniard from achieving the record of being the youngest player to win the Sunshine Double. Sinner, who was seeded tenth, won the match 6-7(4), 6-4, 6-2. The highly anticipated match between the two young players lasted for three hours and was full of fantastic points, showcasing their incredible skills and pushing them to their limits.
Alcaraz, who is only 19 years old, had a successful start to the season by winning two titles and had only lost once in 20 matches before facing Sinner in the Miami Open semi-finals. He also defeated Medvedev to win his third Masters 1000 title at the BNP Paribas Open in Indian Wells earlier this month.
Sinner evened their head-to-head record to 3-3, with Alcaraz showing sportsmanship in his loss. After the match, the two players hugged each other at the net, and the 2022 US Open champion said that he would be cheering for 21-year-old Sinner in his match against Medvedev for the title. "Go for it man, I'll cheer for you," Alcaraz said and Sinner replied, "Thank you,".
Sinner shared his contentment with the level of tennis played in the match and expressed happiness in his victory during his post-match interview. The upcoming Miami Open final will be Sinner's second Masters 1000 final; his previous appearance was in 2021 Miami Open where he lost to Hubert Hurkacz. Sinner has faced Medvedev five times in the past, and unfortunately, has been defeated by the Russian player on all five occasions.
Also Read: "I was shaking so bad," Boris Becker reveals how an inmate tried killing him recalling the horrors of prison life
Here are some fans' reactions on Twitter: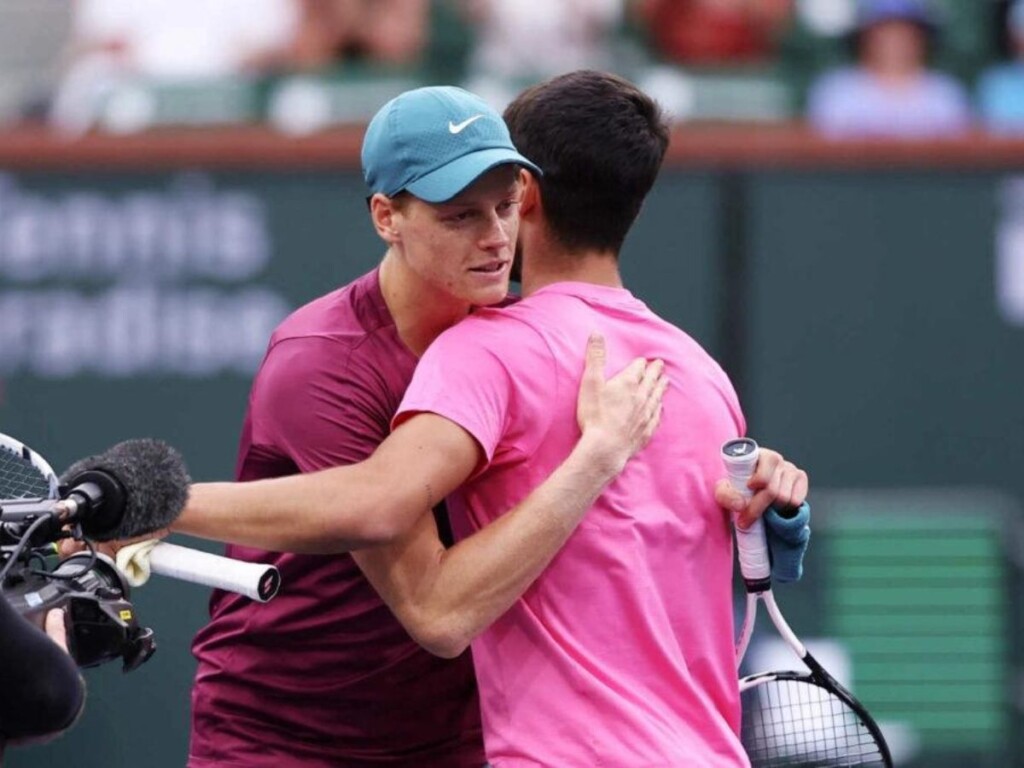 Despite the disappointment of losing, the 19-year-old Spaniard showed remarkable sportsmanship and graciousness in defeat. In a show of class and respect, Alcaraz was seen embracing Sinner at the net and congratulating him on his victory. This gesture by Alcaraz has been widely appreciated by fans across the world. Many have taken to social media to applaud the young Spaniard for his humility and grace in defeat. Fans have praised Alcaraz for his sportsmanship and have hailed him as a role model for young tennis players.
It is not often that we see such acts of sportsmanship in professional sports, especially in high-pressure situations like the semi-finals of a prestigious tournament. Alcaraz's reaction has been a breath of fresh air for fans who are used to seeing players engage in on-court arguments and disputes. As for the final, fans are now divided on who to support. While some are rooting for Sinner to finally win a Masters 1000 title, others are hoping that Medvedev will continue his impressive form and clinch his first title of the year.
In case you missed it:
Venus Williams closer to comeback as she gives another update on her return
Rafael Nadal honored by the French Open with a special gift at his Academy