The 2023 Australian Open continues to be embroiled in controversy. The tournament sees nine-time champion Novak Djokovic return after his deportation last year. While the player has not held any grudges, the tournament and spectators have also welcomed him with open arms.
Ahead of his fourth-round match against local boy Alex de Minaur, his fans were stopped by security. As fans prepared to enter Melbourne Park for the Day 8 of the Grand Slam, a few Serbians had a shocking experience that led to them being thoroughly frisked.
The video was uploaded on Twitter by a channel going by the name 'Donbass Revolution'. As the fans were making their way into the stadium, a security official stopped them and questioned them for carrying 'Russian' flag. Although the spectators argued that the flag is of Serbia and not Russia, the security did not allow them and continued to argue.
The matter eventually ended when security opened a book where flags of different countries were mentioned. The confusion was eventually cleared after the security was able to distinguish between the Serbian and Russian flags.
Related: Crime experts monitoring 'Person of Interests' at 2023 Australian Open for possible doping and corruption charges
Novak Djokovic's fans and Australian Open officials have a fiery abusive exchange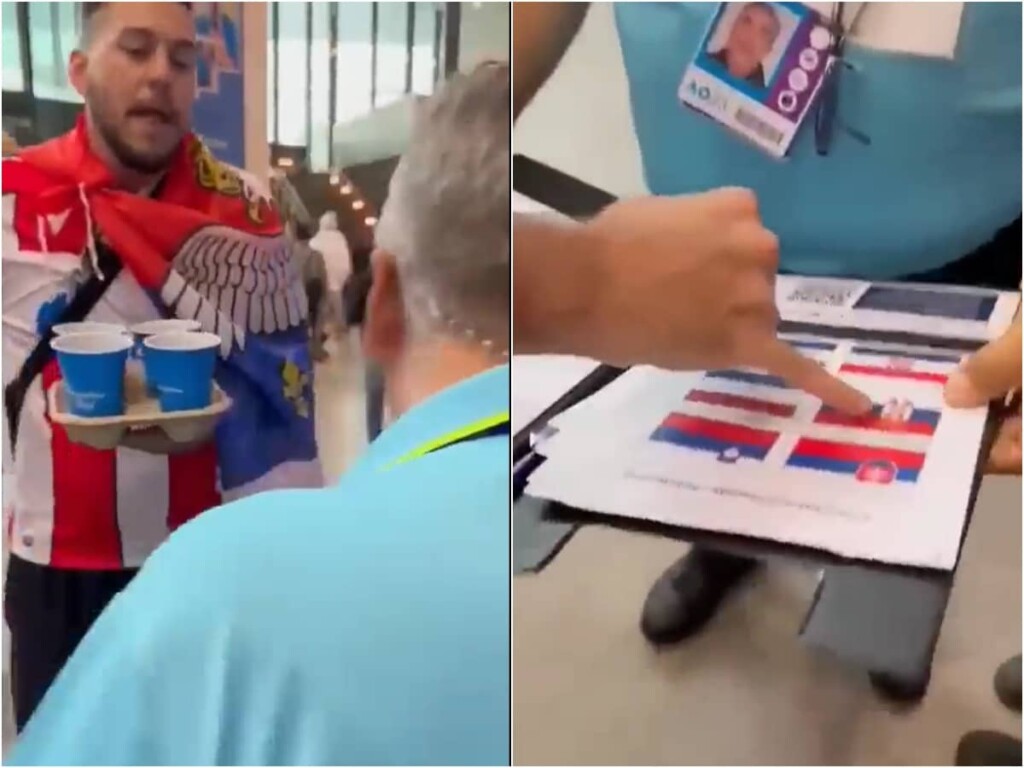 The stopped spectators immediately started filming the whole injustice that was happening to them. "Call the cops, arrest us, you're gonna be on YouTube," said one of them. The official replied smilingly "You're a lovely man."
Things escalated quickly."You're f***ing racist," one fan was heard saying. "It's a Serbian flag. Serbia is central Balkans region in Europe. Do you know what a country is?" added another. The security then called them "F***ing idiots," before a female security official came and resolved the matter.
The incident is a result of the Australian Open's late adopted policy. After a Russian flag was spotted during the match between Ukraine's Kateryna Baindl and Russia's Kamilla Rakhimova in the first round. Tennis Australia did not initially have the policy but the pressure from Ukrainian Ambassador led to the decision being taken on a complete ban on Russian and Belarusian flags.
Craig Tiley-led Tennis Australia is yet to comment on the embarrassing incident which should end with only the fans being apologized to by the tournament and the security. As for Novak Djokovic, he would want to shift his focus on his fourth-round match as he stands a golden chance to win his 22nd Grand Slam singles title this week.
Continue Reading:
Sebastian Korda recalls how Novak Djokovic made him switch from hockey to tennis in 2009
"I'm going to give her hell," Victoria Azarenka sends warning to Jessica Pegula ahead of Australian Open 2023 quarterfinals