The Nadal family is set to introduce two new talents after Rafael Nadal. They are his cousins, Toni Nadal Jr. (17) and Joan Nadal (16), sons of Toni Nadal. Toni is the former coach of Rafael Nadal and the elder brother of Spanish professional footballer Miguel Angel Nadal. He currently coaches Felix Auger Aliassime. 
Both Toni Jr. and Joan are following in the footsteps of their brother, Rafael, in tennis. They are currently a part of the Rafa Nadal Academy and train regularly. Joan got a wildcard at an ITF event at the Rafa Nadal Academy. Unfortunately, he lost the match 6-1, 6-3 to Turkey's Kuzey Cekirge. However, he bounced back stronger to beat world No. 661 Denis Klok 6-2, 5-7, 10-8 in the first round of qualifying at another ITF M15 in Manacor. 
In the same tournament, his elder brother, Toni Jr made his debut against Luxembourg's Lennart Melzer beating him 6-2,6-2. Both Joan and Toni compete at the ITF circuit at the junior and senior levels. The Spaniards took part in several junior-level competitions so far in the ITF circuit.
Joan's best performance was reaching the quarterfinals of the J5 event in Montemar. The Nadal brothers are already rising through the ranks under their father and cousin's guidance. Fans believe that they will definitely star in the future and win Grand Slam titles.
Related: REVEALED: Rafael Nadal's path to Grand Slam record-extending Australian Open title
Is it the end for Rafael Nadal?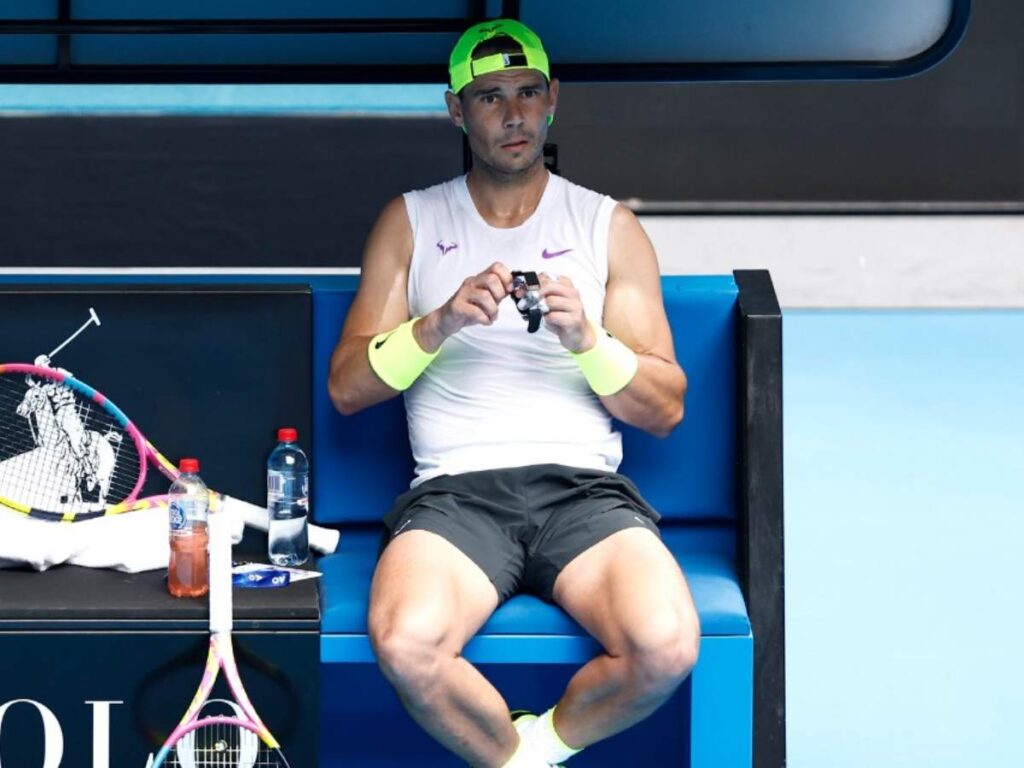 Rafael Nadal is currently world No. 2 and won two Grand Slam titles in 2022. The 37-year-old Spaniard may look old on paper but is definitely not old on the court. He remains one of the favorites to win Roland Garros, as well as other majors. His love for the clay court is something else, and he will always be a threat in Paris. 
Just like Roger Federer, he can start playing only selected tournaments to attain longevity in his career. He turns 38 in 2023, and apart from a few niggles here and there, he's fit all the time. However, with the amount of physicality that the sport now requires, he must stay fresh and fit. Especially, in those tournaments where he is likely to win. The clay season starts as soon as the Australian Open is done, and that is where he is strong.
A bunch of five to 10 young players in men's singles has already started making their mark. Some of these have defeated Rafael in the past. These young guns are highly athletic and competitive. This former world No. 1 is currently the leading Grand Slam title winner, with 22 major titles to his name. He also has a record of 14 Roland Garros titles to his name.
Continue Reading:
Rafael Nadal launches the Kia fleet ahead of 2023 Australian Open
Justine Henin believes Rafael Nadal can surprise everyone at the 2023 Australian Open as he did last year