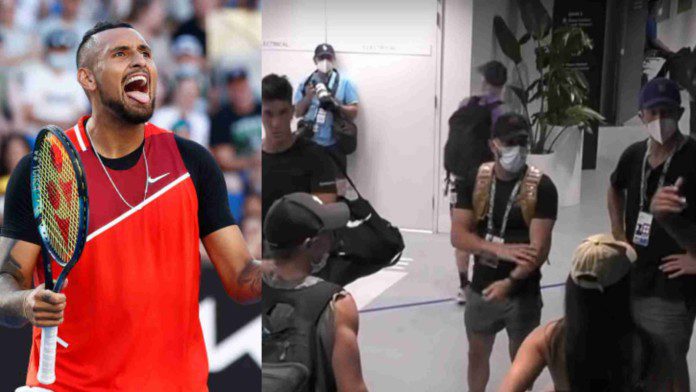 Tennis' bad boy Nick Kyrgios is definitely the most entertaining player on tour. The energy and drama he brings on the court is unmatched and fans love to see him play. In Singles, he bowed out in the second round of the ongoing Australian Open to second seed and tournament favorite Daniil Medvedev before giving him a stern fight.
But Kyrgios is still not done at the 2022 Oz Open. He is still alive in Men's Doubles with friend and fellow countryman Thanasi Kokkinakis. The Aussie duo, in their second round pulled off a major upset and defeated top seeds Nikola Mektic and Mate Pavic of Croatia in straight sets 7-6(8),6-3.
Mektic and Pavic were definitely the hot favorites to win the title in Melbourne this year and losing in the second round wouldn't be the best thing on their parts. Kyrgios, later on the day tweeted an incident involving Mektic's coach threatening to fight him in the locker room.
Context to that is during one of the rally, Kyrgios blasted a very big forehand from the middle of the court towards Mektic, who was standing on the net. Kyrgios intentionally tried to hit the shot on Mektic's body in order to win and the Croat's coach definitely didn't like his attitude- hence the threat.
"Just letting you know after yesterday's chop fest in doubles my opponents coach and trainer proceeded to threaten to fight in the players gym," Kyrgios tweeted. "Tennis is a soft soft sport Thanasi Kokkinakis, all because I moved and hit them with a tennis ball!" he further added.
He later revealed for the Croats' physical trainer invited him for a fight in the gym and termed it as 'disgusting'. "Mektic and Pavic's physical trainer turned me in, inviting me to fight in the gym. All this just because I accidentally hit him with a ball. I'm disgusted, this has nothing to do with tennis," he said.
Can Kyrgios-Kokkinakis go all the way?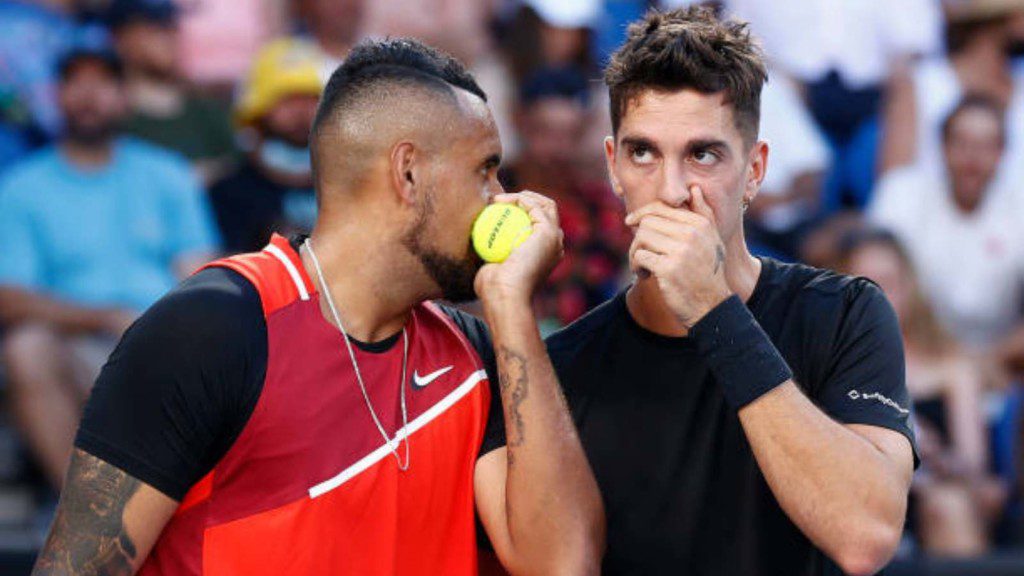 The wild card Aussie duo of Kyrgios and Kokkinakis are now a serious threat after upsetting the top seeds. Nobody gave them a chance when the draw was announced and a chance of Kyrgios winning a major in Melbourne could be the highlight of the tournament.
He has never reached anywhere close to winning a grand slam- be it doubles or singles. But Kokkinakis will be the key player in the duo, given that he's coming off his first tour title in Adelaide. The duo has boded well in the first two rounds and will look to go deep in the tournament. They will face 15th seeds Gonzalo Escobar and Ariel Behar in the Round of 16 and could go onto face 6th seeds Puetz and Venus in the quarterfinal.
Doubles have time and again produced unexpected winners and this year, Kyrgios and Kokkinakis will definitely be the dark horses this tournament.
Also read: 'It's easier to play a guy from Netherlands than a guy from Australia in Melbourne!' Daniil Medvedev makes it to the Fourth Round of Australian Open