World No.1 Novak Djokovic will leave Tokyo without any medal to his name. The Serbian machine lost his bronze medal match on Saturday against Pablo Carreno Busta in three sets 4-6,7-6,3-6 and then withdrew from the mixed doubles bronze medal match citing citing a 'serious' injury.
Djokovic was visibly disappointed after the turn of events and said that he regret not winning a medal for his country. The Serb revealed that he was exhausted mentally and physically but gave it all.
"I do have a regret for not winning a medal for my country, both in singles and mixed. I just didn't deliver yesterday and today. Level of tennis dropped, also due to exhaustion mentally and physically," he said.
Many questioned Djokovic's decision of coming to Tokyo given he was coming off an intense Wimbledon. But he said that he doesn't regret coming to the Olympics and these loses will only make him stronger.
He said: "I don't regret coming to Olympics at all. I believe that there are no coincidences in life, everything happens for a reason. I had some heartbreaking losses at Olympics and big tournaments, and I know that those losses have usually made me stronger."
He then apologized for not winning a medal and stated that he will be back in the 2024 Paris Olympics and give another shot. "I know that I will bounce, I will try to keep going for Olympics in Paris, to try to win a medal for my country. I am sorry I disappointed a lot of fans in Serbia, but that's sport, I gave it all, whatever I had left in the tank, which was not so much."
Djokovic withdrew from the mixed doubles bronze medal match too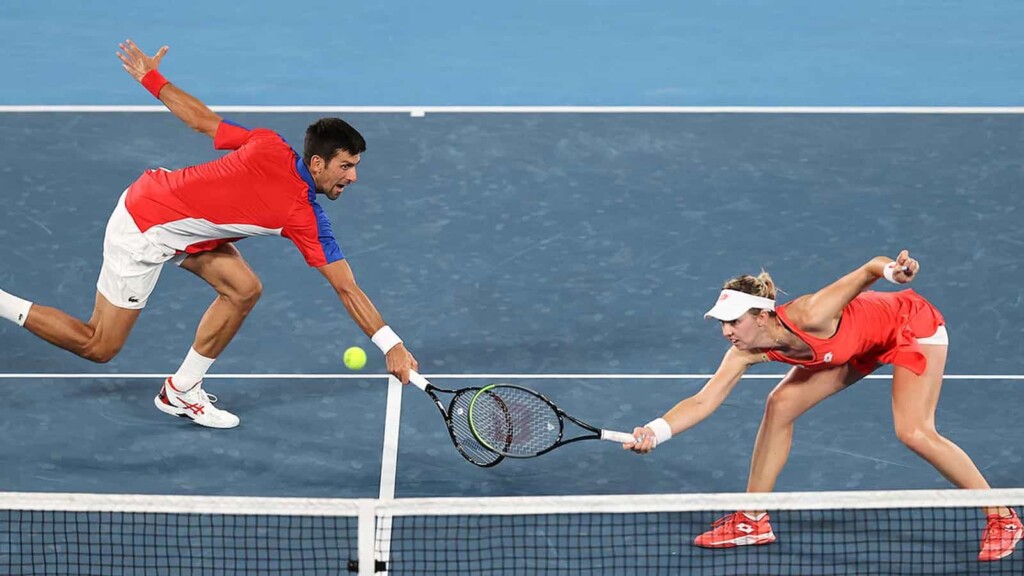 The 20-time grand slam champion is hopeful of returning at the US Open and has no regrets of coming to Tokyo. "I hope that the physical consequences won't create a problem for me for the US Open. That is something I am not sure about right now, but there are no regrets, you have to give your all for your country."
He also apologized to his mixed doubles partner, Nina Stojanovic for not being able to compete in the bronze medal contest.
"I have withdrawn (from mixed) because of injuries, not only one. I hope that won't stop me for playing the US Open. Third time in semis I lose… For my standards, "only" one medal…"
"I feel bad for Nina because we did not fight for a medal in mixed, but my body said 'enough': I have played under medications and abnormal pain and exhaustion. My heart is in the right place, because I know that I gave my all," he concluded.
Also read: Pablo Carreno Busta upsets Novak Djokovic to win the bronze medal in men's singles