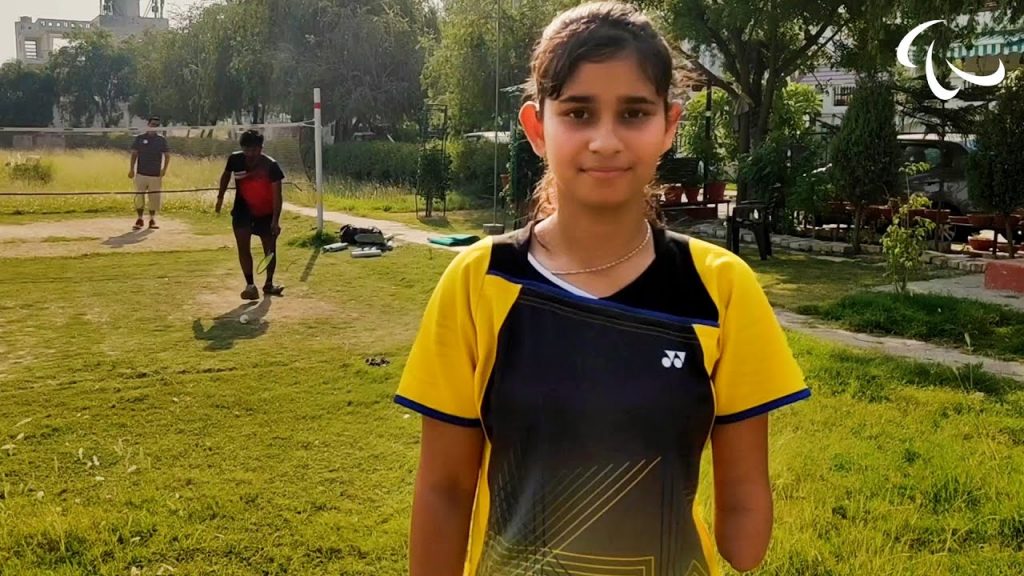 18-year old Palak Kohli has steadily been making her mark in para-badminton. The teenager from Jalandhar has attained the eligibility in Women Doubles partnering with Parul Parmar with good difference and thereby almost secured her position to qualify for the Tokyo Paralympics 2021. The wait is only the formal announcement, which previously was supposed to be done during 1st week of April 2020 but had been postponed. It is also a historic qualification as she is the youngest athlete to do so and would be the only athlete who would get the opportunity to play in two events i.e. Women Doubles and Women Singles.
The prodigy who has a deformed left hand by birth, made her debut last year at the nationals where she won three golds. The youngster has been staying in Lucknow to train along with other Para athletes with Coach Gaurav Khanna amidst the pandemic. Even during locked down, she has continued her practice at an outdoor makeshift court at a garden with social distancing near her residence in UP's capital city and has stayed away from home to work towards winning a medal at the 2021 Paralympic Games. She also aims to win medals at the 2024 and 2028 Paralympics.
Hence for followers of Indian sports, it comes as a huge surprise that Palak Kohli and her partner Parul Parmar has not been a part of senior TOPs yet. To a bigger surprise, her name is not there even in latest TOPs Development Group list released by SAI for Jr.TOPs athletes. In fact, not just her, no para-athlete has been included in the list.
Palak is disappointed after her exclusion from TOPs
The top 6 ranked players on the list published by International Paralympic Committee qualify automatically for the Paralympic games.
Unsurprisingly, Palak expressed disappointment as her and her partner's name is not included in TOPs yet neither with senior TOPs athletes nor with the TOPs Development Group for junior athletes. She said in a tweet, "When to catch those who are probable for current #Tokyoparalympic and "YOUNG" too but even not taken in TOPs?"
Palak, who turned 18 years of age this month, has already made the cut for the Tokyo Games and is ranked 5 in the world.
Her achievements speak for themselves. She has four international medals already in her young career and that too in Paralympic qualification events and plays both singles and doubles. The inclusion in TOPS can be a great support and a morale booster for an upcoming athlete like her.
Plight of para-athletes
Right from Rio 2016, it has been para-athletes who have been making India proud at the biggest global stage. To not include even a single para-athlete in the TOPS Development Group shows a bias on part of the SAI and the Sports Ministry.
By highlighting cases like Palak's, we aim to make sure the Indian authorities do not discriminate between para and able-bodied athletes. After all, each athlete competes for the same tricolour and each wants the 'Jana Gana Mana' played from top of the podium. Then why the double-standards?
Also Read: Para-Shuttler Palak Kohli dreams to win a Paralympic medal
Also Read: Rising against the odds: Our Women Para-Badminton Stars