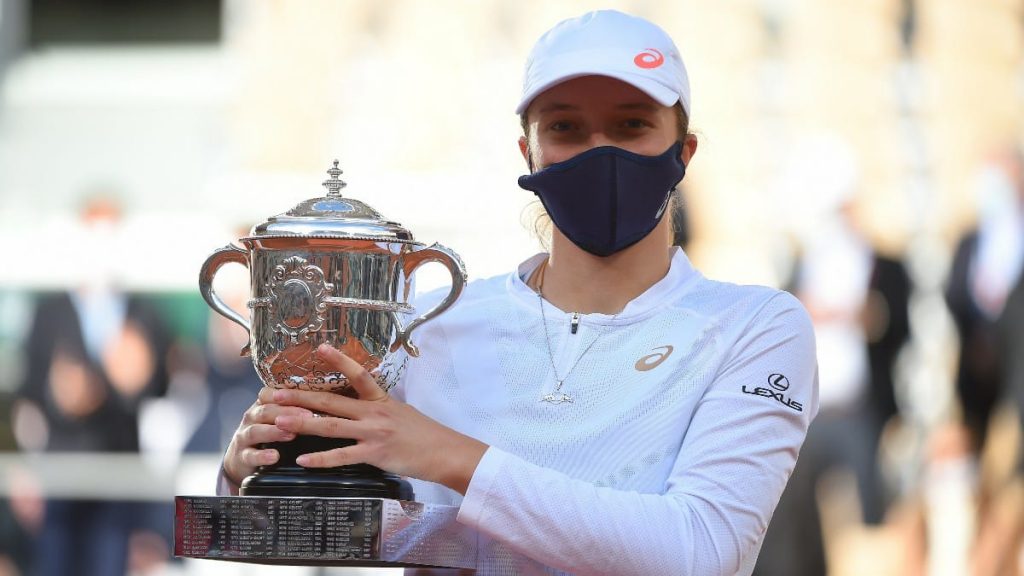 Iga Świątek, 19 year old teenager from Poland created history on Saturday by becoming the First Polish woman to win a Grandslam title in the Open Era. The Pole defeated 4th seed, Sofia Kenin in straight sets in the final by a scoreline of 6-4 and 6-1 to become the youngest player to win the French Open Women's singles title after Monica Seles won it in 1992 at the age of 18.
It was a fairy tale ending for Świątek as she completely outplayed her opponent in the final giving the Australian Open 2020 champion, Sofia Kenin no chance to stamp her authority on the match.
Iga Świątek could hardly hold back her tears in her post match speech and spoke about what an unbelievable journey it had been. Świątek overwhelmed by the moment said," It's crazy for me because I was watching every year how Rafa lifts the trophy so it's crazy that I'm in the same place but I want to thank all the fans and the people who are watching in Poland. I know it's pretty crazy back home."
The 19 year old did emulate her idol Rafael Nadal at the French Open this year as she won in the same dominating fashion as the Spaniard always does. The 19 year old did not drop a single set and more surprisingly did not drop more than 5 games in any of her matches at the French Open 2020.
"I was just mentally consistent, and I just wanted to play aggressive: Iga Świątek
Iga Świątek has played aggressive tennis during the past 2 weeks, overpowering her opponents right from Round 1. She outplayed top seed, Simona Halep with her heavy hitting in Round 4 in straight sets and she displayed similar ruthlessness in her final victory over Sofia Kenin to claim her first major Grandslam title.
Speaking about her strategy in the post match winner's speech, she said that she wanted to be aggressive and outplay her opponents as she has done in previous rounds. She also said that her mental toughness and consistency was one of the major reasons she could win the French Open title.
The 19 year old also jokingly said that she was not good at making speeches because she had not won many tournaments prior to the French Open 2020 and also thanked the French authorities for holding the Grandslam in the time of such difficulty.
Świątek said, "First of all I'm not very good at speeches so sorry because I won my last tournament like three years ago and I really don't know who to thank, but I want to thank every person that's made this tournament possible because in these times it was pretty hard for the federation, the organisation to do the tournament."
Maybe it had to be that another underdog had to win a grand slam in women's tennis right now," says Świątek
Iga Świątek pointed out to the fact that it was yet another underdog to win a Grandslam title in Women's tennis. The past 4 Grandslams have seen 3 new winners each time. At 2019 US Open, Bianca Andreescu won her maiden title, Sofia Kenin won the 2019 Australian Open title and she won the French Open title. Świątek was relatively an unknown player in tennis before the tournament ranked around 54th in the world.
The 19 year old has certainly made a name for herself and announced herself on the big stage. With age on her side, the French Open title might be just the beginning of her trophy-laden career.
Also Read: Photo Gallery: Rafael Nadal, King of Clay's dominance at the French Open over the years