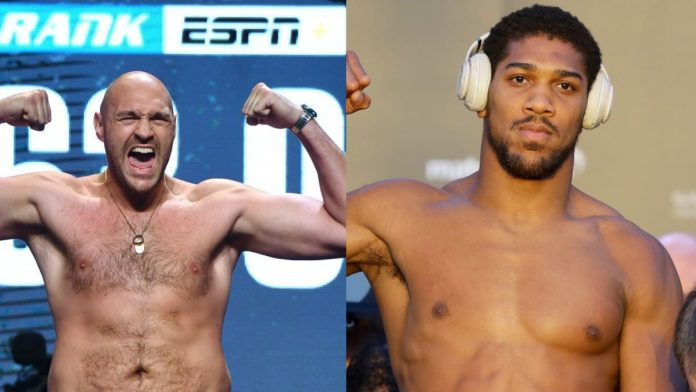 With the negotiations in full swing, Anthony Joshua and Tyson Fury have begun calling out each other. Anthony Joshua recently tweeted that an offer for the location has been made, after Tyson Fury's tweet caused speculations that the fight might be cancelled.
More recently, Tyson Fury speaking in an interview with Behind The Gloves channel on YouTube acknowledged the fact that the parties have begun hunting for a possible venue, however while still warning that he will move on if he doesn't get to know anything by Tuesday. He cited waiting for an extensive period of time as the reason for saying the same.
'We have to go to Monday, Tuesday by the latest' – Tyson Fury
Fury said, "I'm waiting. There's a few good offers on the table, I've been told, from a few different countries, which is exciting news for me. I've always been quite sceptical about it all. Like before, I've been told there's quite a lot of big offers on the table, from a few major players, so very interested and excited to finally hear what they are and to see if they are one, feasible and two, can make it happen in whatever country wins the bid for it.
He continued, "We have to go to Monday, Tuesday by the latest. If I don't know anything by Tuesday, I'm just going to move on, because it's been a long time in the making. Now finally the offers are on the table. We'll go through them and take the best one."
It sure has been a long time for Tyson Fury. He has not fought since his demolition of Deontay Wilder, back in February 2020 at the MGM Grand Garden Arena. He is a man who lives a carefree life, seldom do we see him in shape during off seasons. However, now it looks like a conclusion might be reached soon.
As for Anthony Joshua, staying in shape has never been a problem. He is coming off a knockout victory against Kubrat Pulev in December, last year. He will be looking forward to keeping that winning momentum going.
Also Read : 'May 15 and July 10…Book it' – Michael Chandler offers himself to face Conor McGregor
Also Read : 'I would love to see her fight Joanna Jedrzejczyk' – Daniel Cormier on Mackenzie Dern's next opponent