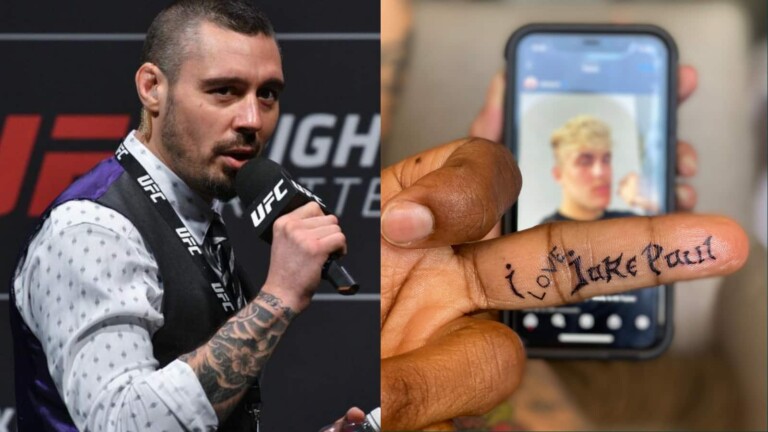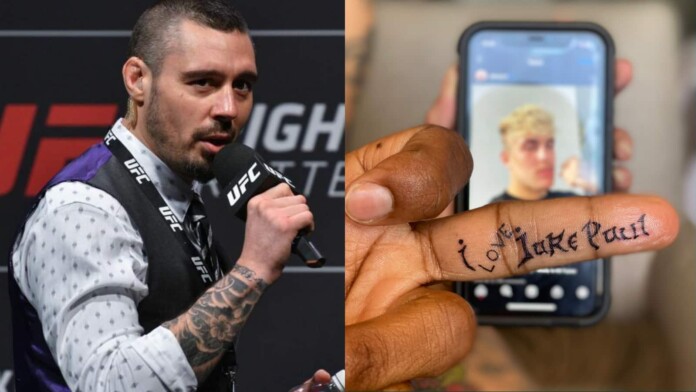 The former UFC Welterweight champion, Tyron Woodley shared a photo and video on his Twitter yesterday in which he got engraved the 'I Love Jake Paul' tattoo on his finger. Woodley got this tattoo in order to get a rematch from Jake Paul and avenge his loss in the first-ever professional boxing match of his career.
After Tyron Woodley shared the image of the tattoo he got mixed reactions from the MMA fraternity. Many people praised Woodley for being a man and getting the tattoo, while some of them directly called his tattoo fake and former UFC Welterweight fighter, Dan Hardy was the leading one amongst them.
Right after 'T Wood' shared the image, Hardy called his tattoo fake saying, "Anyone who has a tattoo knows that's not a tattoo. What a dork." Woodley didn't take it easy and ripped him with a reply which says,
"Keep my name out your mouth. Name aint d*ck. I told you once. you haven't fought in a century. you are a spectator and fan now. just watch buy event tshirts" Dan Hardy again shared an image he has written on his finger with a pen.
Replying to Woodley shared the video in which he is getting the tattoo with the caption, "You were saying?" Hardy didn't even stop here, he further shared more tweets saying,
"So you left out the 'LOVE' part, and that's written in pen, Tyron Woodley Well played. It looks like a tattoo your friend did when you were both drunk. An embarrassing tattoo is one thing, but a bad embarrassing tattoo is a whole other."
"Your UFC career is embarrassing," Tyron Woodley questions Dan Hardy's UFC career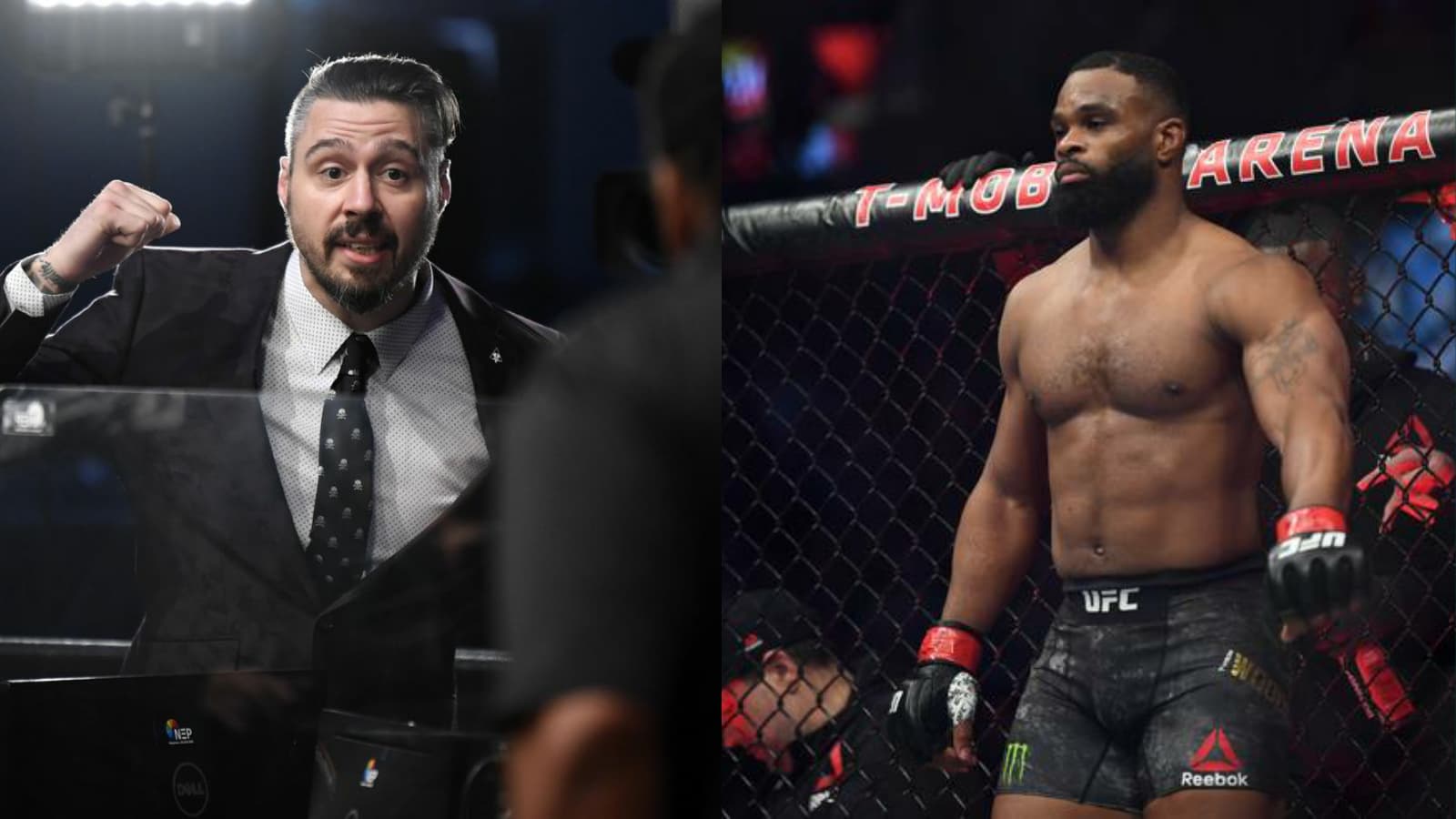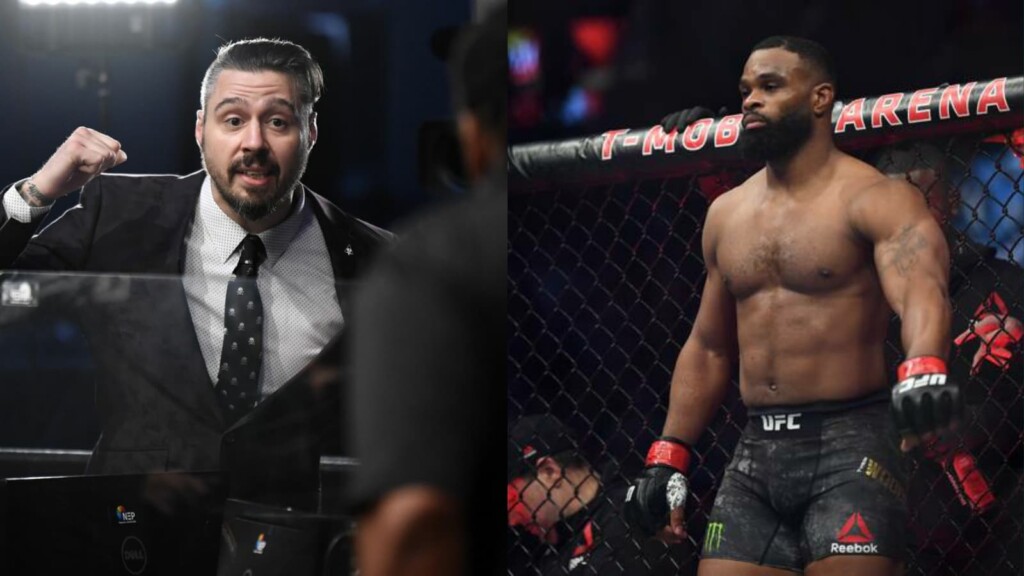 The former UFC Welterweight champion, Tyron Woodley was in no mood to let Dan Hardy make fun of his tattoo and after his repeated tweets, Woodley straightly attacked Hardy's UFC career.
Woodley says, "Your ufc career is embarrassing. You claim to fame is you got stomped by GSP and didn't die. everything was by design. i'll keep setting trends while you tweet."
Hardy also attacked Woodley and added that he is trending only because of Jake Paul, he said, "You're trending because you've got Jake Paul tattooed on your finger. Congratulations on your championship success. I remember the crowds booing in appreciation as you wore your heel out against the fence, backing up and avoiding the fight."
Woodley added, "Belt and titles. Things you dreamed of. They cheered as you were carried out on a stretcher. Champs now were in diapers last time you fought. Keep living your dream on the bag in your garage. From Outlaw to Uber Black driver."
Dan Hardy replied, "We're the same age, you fool. It's just that I was competing in the UFC a bit earlier, during the reign of the greatest welterweight champion of all time. You came after."
This war seems to be getting as ugly as it gets, now it would be interesting to see who'll be making the next move.
Also Read: Tyron Woodley gets inked; calls out Jake Paul for an "a** whipping".