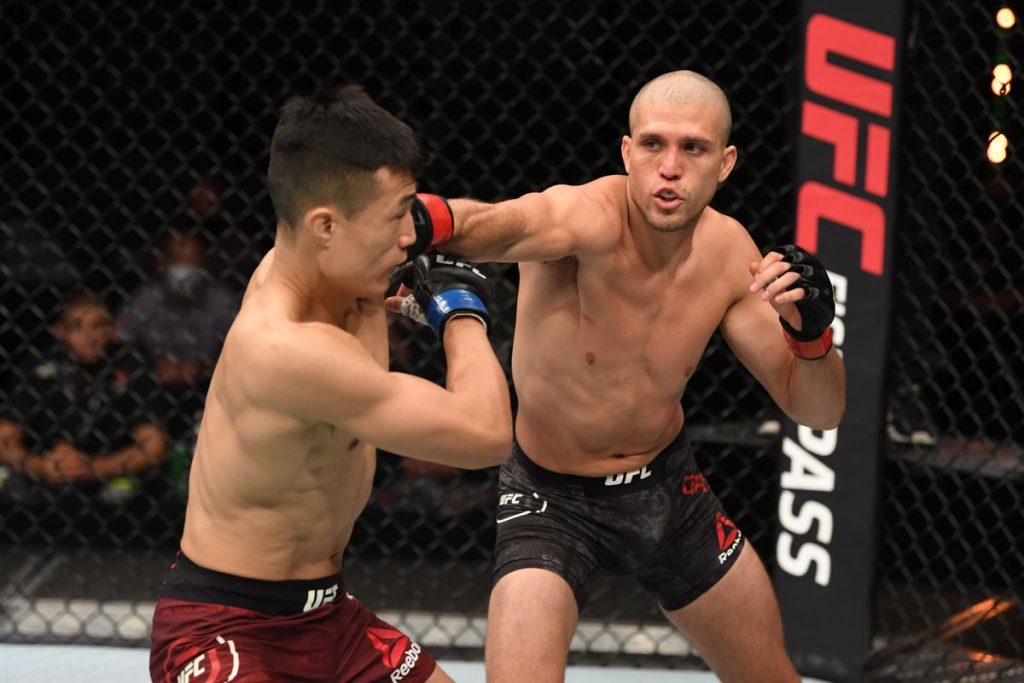 The fight between Brian "T-City" Ortega and "The Korean Zombie" Chan Sung Jung served as the main event of UFC Fight Island 6 at Yas Island, UAE. The two fighters were supposed to meet in December 2019 but Ortega had to be sidelined due to a knee injury.
Ortega showed clinical work in his return fight, moving one step closer to fighting for the UFC Featherweight Championship. Ortega was visibly dominant throughout the fought and also had a better guard throughout the fight.
Fight Analysis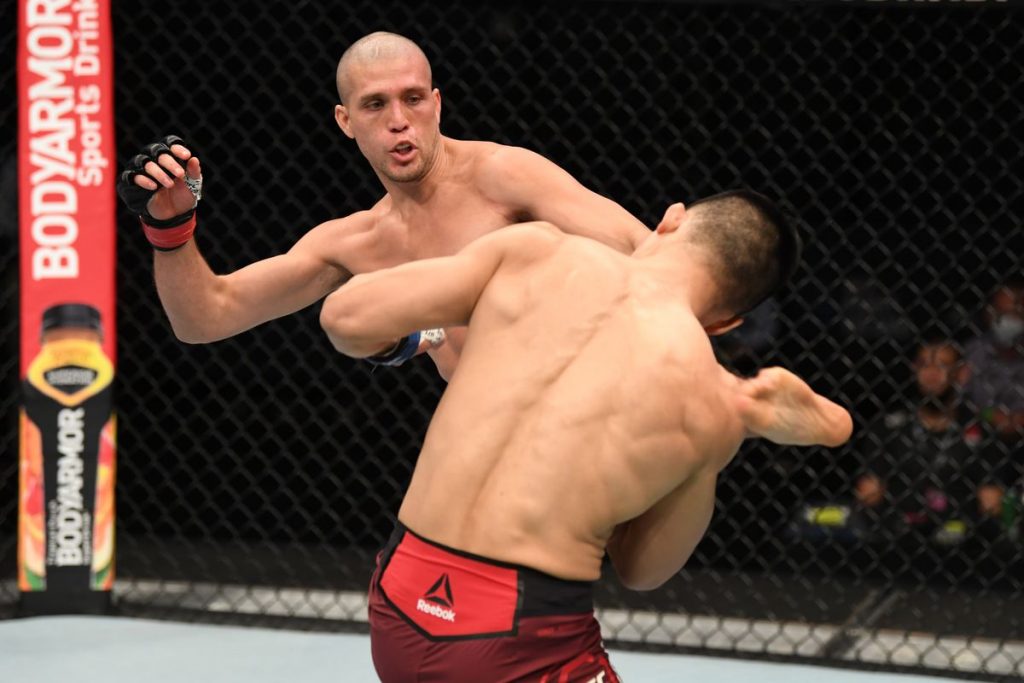 The first round doesn't escalates quickly, both respect each other's striking range a lot. Zombie lands a punch, returned by a teep kick from Ortega. Ortega lands a good lead leg kick to Zombie's lead leg. Both the fighters however show a similar trait of covering each other's jab while preparing to plant a power punch, in caution though. Things get a bit exciting when Ortega lands a right hook and just waits for the right time to land a clean straight punch that leads to a knockdown, but Zombie, for his high state of durability, recovers quick enough. Zombie lands a high kick followed by a clean right hand. The round ends with a body kick from Ortega.
Round 2 – a good improvement in Ortega's striking, with which circling around Zombie. Zombie goes in for a flurry of punches against which Ortega defensively shells himself. Ortega goes for a take down attempt, Zombie stays strong nevertheless. Zombie lands a good jab. Ortega goes for a body kick. Zombie lands some good uppercuts. Climax of second round stands out when Zombie extends himself to deliver a straight punch to which Ortega slips away, only to deliver a bashing spinning elbow on Zombie's face which leads to the second knockdown favoring 'T-City'. Followed by a brief but a wild exchange of punches dominated by Ortega. Ortega finally reveals his old arsenal only to get 2 consecutive take downs successfully. Ortega goes for a brief ground and pound. The bell rings proceeding for the next round.
Round 3- Ortega lands a good right straight, a leg kick, a body kick and a body punch. Ortega knows how to mix his strikes well and that too by also taking his time with patience. Zombie goes for a rush of hooks with moderate power though. Some distance in space and time and Ortega immediately lands a high kick defensed timely by Zombie. Noticeable in third round is that Ortega is doing a good job on Zombie's lead leg with his powerful lead leg kicks. In an unusual state of exchange, Ortega creatively lands a couple of jabs on Zombie's legs. Ortega goes for a take down attempt following which he lands a right straight after giving up on attempt. Ortega lands a beautiful teep kick on the face followed by which the bell for the end of third round.
Round 4- Zombie attempts for another body kick that is caught by Ortega, however loosing hold of it. Ortega goes for a left straight, landing well followed by a couple of body kicks. Ortega goes for a take down, in middle of which he also lands a clean punch. On the ground preceded by take down, Ortega tends to go for a back control on Zombie, out of which Zombie successfully escapes from the attempt. As the fight continues, Ortega lands a leg kick. Zombie proceeds with a good body kick but gets unfortunately caught by Ortega who in counter delivers punches. Ortega keeps on preferring to circle around his opponent and mixing his strikes well in general. A take down attempt by Ortega followed by which the bell rings and we go on to witness the final round of the fight now.
The last round of the fight. Ortega landing a good leg kick followed by Zombie's return with a one-two punch combo. Ortega has made Zombie guessing throughout the fight by changing levels to his striking targets in success as well as his unseen take down attempts. Zombie lands a lead overhand punch shouldered away by Ortega in defensive return. Ortega goes for a straight cross, followed by a body kick. Ortega slips back timely from a Zombie straight punch. A straight punch to the body by Ortega. Another one-two by Zombie. Good couple of jabs and an oblique kick from Ortega. Zombie rushing with hooks but with loss of target estimation and not much power in delivery. Ortega lands a great extended cross followed by Zombie's patient return with a jab and hook. Couple of more hooks from Zombie and the fifth round ends with Ortega finishing with couple of good power jabs and an attempted spinning elbow attack stopped by the bell. Eventually, 'T-City' showing a display of dominant distance covering over his opponent.
Conclusion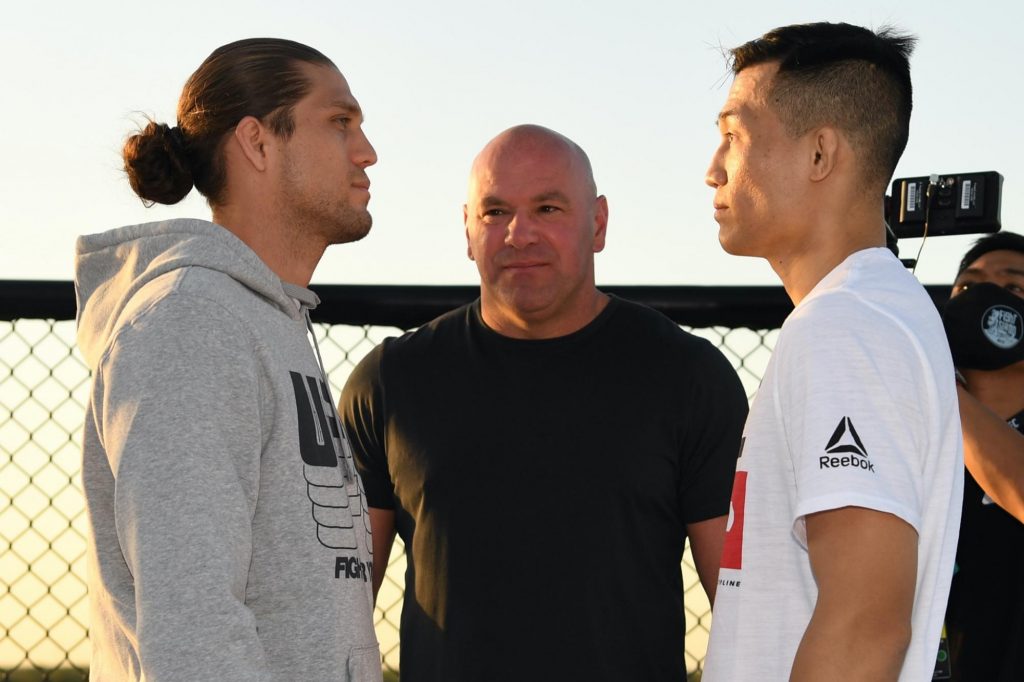 This fight surprisingly goes to distance, yet it was intriguing to watch both men exchange. Both the guys finally squash their beef, happily hugging each other and bowing down in respect. In Brian 'T-City' Ortega, we saw an evolution today and a much dangerous fighter for tomorrow. He was smart, creative and versatile in his approach against a Feather Weight legend in 'The Korean Zombie' Chan Sung Jung tonight. Quite expected, all the judges scored the contest 50-45 in favor of Ortega making him the winner by Unanimous decision.
Shutting down doubters in his post fight interview, Ortega is also thankful for the team behind him. Coming back from surgeries, Ortega did the best he could and he indeed got the best of his performance. Dana is in for giving Ortega a title shot. Alexander Volkonowski is the current Feather Weight champion with one title defence in his record. Let's see how and when this intriguing title fight goes into paper and eventually, a remarkable reality.
Also Read: UFC Fight Island 6: Jimmy Crute gets the KO against Modestas Bukauskas